I have jettisoned most of the real estate investment trusts (REITs) that I had a heavy allocation in to begin 2014 within my portfolio. The surprise fall in interest rates this year has boosted the performance of high-yield sectors like REITs, and as a result, I received what I would consider a full year's or better of expected gains in the first couple of quarters of 2014. I have sold out of over half of my allocation to REITs, as there were better areas of the market, in my opinion, to invest in and the next major move in interest rates should be up not down.
There are some exceptions to this "lightening". I continue to hold several lodging REITs as demand continues to exceed supply in this space resulting in higher occupancy levels and strong RevPAR (Revenue per available room) growth.
I also continue to hold a few other REITS outside of lodging including American Realty Capital Partners (ARCP). I have two main drivers for holding the largest single tenant REIT in the market. First, I believe last year's acquisition of Cole Real Estate will produce significant economies of scales and some growth opportunities as well. In addition, the shares based on AFFO (Adjusted Funds from Operations) are trading a significant discount to American Realty's two largest single tenant REIT competitors, Realty Income Corporation (NYSE:O) and National Retail Properties, Inc. (NYSE:NNN). I believe this valuation discount will narrow significantly over the next 12 months as American Realty integrates the purchase of Cole.
That merger is starting to deliver some results. The company announced this morning that Cole Corporate Income Trust, Inc. ("CCIT"), managed by Cole Capital, ARCP's private capital management business; has entered into a merger agreement relating to the sale of CCIT to Select Income REIT (NYSE:SIR), creating liquidity and value for CCIT's stockholders while also delivering positive results for ARCP stockholders. This transaction will also add two cents per share of AFFO to this year's results for American Realty. The market evidently likes the additional bump to AFFO as well as the simplification somewhat of American's portfolio as the REIT is up in Tuesday's trading even as most REITs are falling on a bit of a spike in the 10-year treasury yield today.
I was happy to see American Realty provide shareholders a measure of value from its purchase of Cole. Hopefully this is a start of a nice positive run where the REIT starts to narrow the valuation discount to its two main peers. As one can see from the chart below, American Realty not only delivers a much higher dividend (7.5% annually paid in monthly installments) but sells at a much lower forward consensus AFFO as well.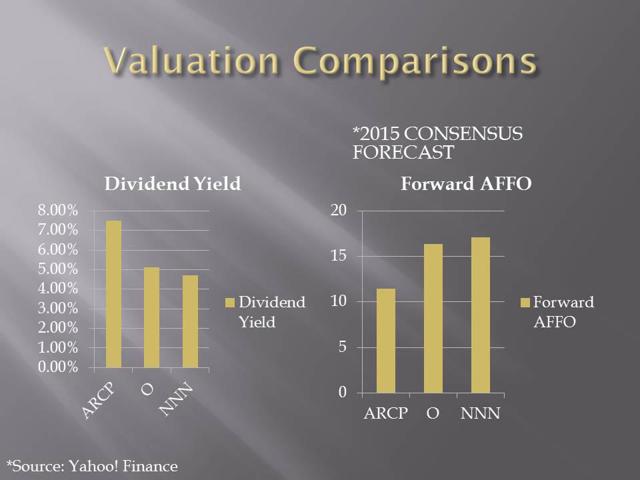 Click to enlarge
In addition, the consensus calls for American to boost revenue from continuing operations next year in the mid-teens where these peers should see revenue growth year-over-year in high-single digits. Although I am neutral on REITs with some exceptions, American Realty's undervaluation and high dividend yield are too good to let go of. ACCUMULATE
Disclosure: The author is long ARCP.
The author wrote this article themselves, and it expresses their own opinions. The author is not receiving compensation for it (other than from Seeking Alpha). The author has no business relationship with any company whose stock is mentioned in this article.