(Editor's Note: Investors should be mindful of the risks of transacting in illiquid securities such as NUTCF. Nutreco's share listings in Europe, including NUI.AS, may offer stronger liquidity.)
Hi everyone in today's article I'll explain why Nutreco (NUTCF) should be in your portfolio as a great long-term investment and why it offers massive returns for patient investors.
DISCLAIMER: Nutreco is a European, Dutch company quoting on the Amsterdam Stock Exchange. So all the figures in this article are in EURO. There is no point whatsoever for American investors not to buy this stock from its original exchange. The company's ISIN is: NL0010395208 and its ticker is: NUO. So again; don't buy this company from the gray American market.
The business
Nutreco is a true global player that operates in the fish feed and animal nutrition industry. Currently the company produces feed for a diversified portfolio of more than 60 species of fish and shrimp in 16 countries, with sales in over 40 countries. And with a revenue of over €3.8 billion (almost $5 billion) the company can be seen as an absolute leader in fish and shrimp feed (33% market share) and is the number two when it comes to Animal Nutrition (12% market share). In 2013, 48% of revenue came from animal nutrition and 52% of fish feed.
The obvious long-term growth driver: 9 billion people to feed
The UN projects the world population to grow to more than 9 billion by 2050 and that changing diets will lead to more demand for food. The FAO forecasts fish sourced from aquaculture will surpass wild catch for human consumption in 2015. These mega-trends combined with increasing resource scarcity mean the world has to get better at sustainably producing more with less.
This is Nutreco's long-term growth factor as the challenge for animal nutrition and fish feed companies is to provide sustainable feed that enables farmers to meet the rising demand for highly nutritious protein products in their region and also generate sufficient income from their farming activities.
With its knowledge and expertise Nutreco is best positioned at the essential link in the feed-to-food chain to address these challenges. The expertise of Nutreco is to convert low value raw materials into safe, nutritious feed for animals and to develop models and management insights that enable farmers to be more productive while reducing environmental impact.
The more people living on this planet => the more animals that have to be raised and fed to feed all those people. It is as simple as that.
If one knows that there are 75 million people being born on this planet every year, and that the average person in the U.S. consumes 31 animals per year, it becomes pretty clear that Nutreco is a company that won't go out of business any time soon and will continue to see revenue growth for decades to come.
Buying back shares and strategic acquisitions
Nutreco is a cash generative company and is using its financial strength to support organic growth and make selective acquisitions. The company is continuously exploring acquisition opportunities, and will continue to make one or two strategic acquisitions a year.
Currently the company is enjoying ample financial room to achieve its growth objectives so in order to optimize the efficiency of its balance sheet and enhance its future earnings per share, the company will undertake an additional share buy-back program of € 100 million in the second half of 2014.
This indicates that the company is seeing itself as undervalued and attractive. Depending on the share price, the buy back will cause Nutreco to buy back around 2 - 2.75 million of its own shares. This will have a positive impact on earnings per share of around 4% for 2014 and 2015 combined.
The first batch of 91,743 shares has al ready been bought back between 26-29 August 2014 at a great average price of €29.36 (Nutreco's 52 week low).
Side note: Don't confuse this with the company's regular share buy-back program of €40 million that is used every year for the long-term incentive plan of management and for the 60% shareholders that prefer stock over cash, which by the way 60% of its shareholders do.
The Russian sanctions
On August 8 Russian Prime Minister Dmitry Medvedev said that the country would ban all cheese, fish, beef, pork, fruit, vegetable and dairy imports from countries that have imposed sanctions on Moscow over its support for separatists in eastern Ukraine. Norway, while not a member of the European Union, has said it would probably follow the latest set of EU sanctions that target Russia's finance, energy and defense industries, and is among the countries targeted by the bans.
Investors thought this was absolutely no good news for Nutreco that gets a large chunk of its revenue and profits from Norwegian salmon farmers and decided to leave the stock (hence the 52 week low). A full ban from Russia towards Norwegian salmon would cause a 14% drop in salmon prices, as there would be a sudden drop in demand of 7%.
However this situation is not a complete disaster for Nutreco. Nutreco would experience an impact from the ban only when the farmers actually started to lower their production capacity and ordered less feed. But this is not the case.
One should also know that when Russia completely bans Norwegian salmon, it has to import it from elsewhere. Chances are quite high Russia will start to import from Chile. And thanks to Nutreco's fantastic geographic spread; it is also highly active there. In fact, the company has even more employees located in Chile than in Norway. On top of this it is important that to know that salmon has a production cycle of three years and thus that a temporary ban will make it unlikely that Norwegian farmers actually reduce their orders for salmon feed.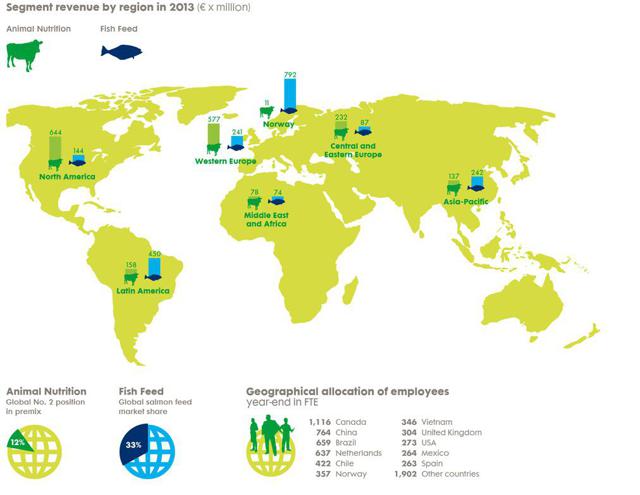 Click to enlarge
The earnings-model
In order to see what potential a company really has, I always try to make an earnings-model by looking at past performances. This gives us a somewhat realistic preview of what the company might report within a few years.
Of course any earnings model will never be 100% accurate, but being approximately right is far better than just being wrong and having no clue of what might happen.
For Nutreco I made an earnings model till 2017 with following assumptions:
-Rising revenue growth of 3% and 3.5% for 2014, 2015 respectively and then a stable revenue growth of 4.5% for 2016 and 2017.
-Since revenue is rising, the company also needs a higher input of raw materials. I've taken growth percentages of 1.6%, 2.5% for 2014, 2015 and 3.5% for 2016 and 2017. So there's always a gap of at least 1% between revenue growth and growth of raw materials cost as I belief the company will become more and more efficient with its raw material inputs. This will lead to a gross margin of 23% by 2017 vs. an expected gross margin of 21% for 2014.
-Further I've taken into account the expansion of the company and therefore rising costs of personnel with +2%, +3%, +3.5% and +4% for 2014, 2015, 2016 and 2017 respectively.
-For depreciation of property, plant and equipment - which is a bit harder to estimate - I've simply taken the 8 year average depreciation number, which came in at €54 million. The real figures may differ a lot from my number (depreciations came in at only €42 million in 2013) but I belief it is best to be a little conservative when making an earnings model, so there's no harm by using this number for now.
-For the other operating expenses I've used a safe 10% growth rate for 2014 and further a 12% growth rate for the following years. This makes that the operating expenses, as a percentage of revenue will come in at around 16%, which lies in line with previous years.
-Shares in results of associates and other investments are expected to take a dive of 60% in 2014 as the first half of 2014 saw a serious decline in this part of the income statement. I expect this to increase in future years by €1 million a year as Nutreco is known for picking great investments and associates that return profits.
-I've chosen a taxation percentage of 25%, in line with previous years.
-Nutreco has a splendid dividend history and policy that goes a long with a payout ratio that lies between 38% and 50%. So for the dividend purposes I've assumed a payout ratio of 45% each year.
-Last but not least I expect the total amount of shares outstanding to decline with one million in 2014 and 2015 each.
The above-mentioned assumptions lead to the following Earnings-Model: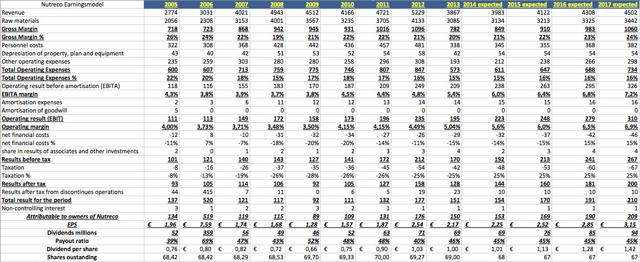 Click to enlarge
At a share price of €29.69, Nutreco is currently quoting against a P/E of 13.19 for 2014 and an expected P/E ratio of 12.11. Which makes the stock extremely attractive.
Following my earnings-model the company could report EPS of €3.07 by 2017 which would indicate a share price of €46 at a solid P/E ratio of 15 which Nutreco deserves considering is leadership in the industry and its strong balance sheet. This gives the share price an upside potential of 54.9% in 3 years.
EBIT margin would also come in at what management is forecasting as its target. Following my model, an EBIT margin of 6.9% should be in sight by 2017.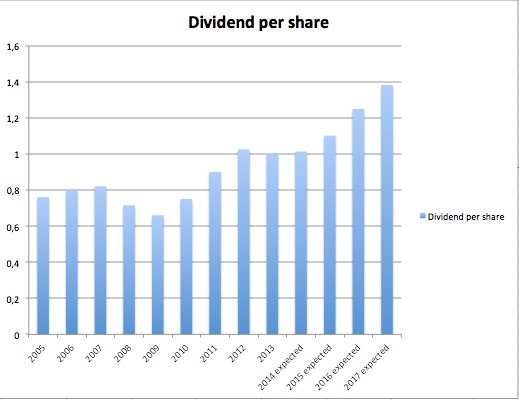 Further, dividends are expected to rise year-over-year with an average of 9.5%. For 2014 a total dividend of €1.01 is expected. But keep in mind though that an interim dividend of €0.3 has already been distributed and thus that investors can expect a final dividend of at least €0.7 for 2014.
Including the €4.43 total amount of dividends that could still be collected if you got in today, your total return could be as high as 69.85% within 3.5 years.
Conclusion
Nutreco is currently quoting near a 52 week low due to overblown Russian sanctions. This gives investors the possibility to get in at a very reasonable price of €29.69 while the average price target of 12 analysts is €34.73. On top of this, the company offers - following a very reasonable earnings model - an upside potential of almost 55% in three years and a total return of 70% if we'd include dividends.
The current valuation of the stock indicates an expected P/E of only 12 and is just too cheap considering the company's strong fundamentals such as a very strong balance sheet (net debt/EBITDA ratio below 3, a net debt/equity ratio below 1 and an interest coverage above 5) and its solid prospects. Nutreco's median P/E ratio over the past 10 years was 14.69, so in that aspect the stock is also undervalued.
Normally Nutreco is always nicely priced at a solid P/E around 15 and does not offer a lot of attractiveness for new investors. Today is a unique day, as it is not only attractive for dividend investors (current yield of 3.36%) but also for growth investors who will (following my assumptions) see an increasing share price.
My first price target is: 15 times its 2014 earnings, which would be €33.75 - offering an immediate 12.5% upside potential. Combine all of this with an extra €100 million share buy-back that is supporting the share price, and I'm sure we'll be at €33.75 in no-time.
Disclosure: The author has no positions in any stocks mentioned, and no plans to initiate any positions within the next 72 hours.
The author wrote this article themselves, and it expresses their own opinions. The author is not receiving compensation for it (other than from Seeking Alpha). The author has no business relationship with any company whose stock is mentioned in this article.
Editor's Note: This article discusses one or more securities that do not trade on a major U.S. exchange. Please be aware of the risks associated with these stocks.