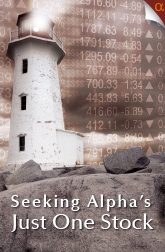 Several times a week, Seeking Alpha's Jason Aycock asks money managers about their single highest-conviction position - what they would own (or short) if they could choose just one stock or ETF.
---
Channing Smith is director of equity strategies for Capital Advisors, a wealth management firm based in Tulsa, Okla. A CFA charterholder, he earned an MBA from Southern Methodist University with a focus in finance and accounting.
If you could only hold one stock position in your portfolio (long or short), what would it be?
Abbott Laboratories (NYSE:ABT), a leading global healthcare company developing, manufacturing and marketing products in the following four areas: pharmaceuticals (estimated 57% of revenues), medical devices (estimated 11% of revenues), diagnostics (estimated 11% of revenues), and nutritional products (estimated 16% of revenues).
The stock has trailed the overall market since the March 9 low, as evidenced by the 8.7% total return compared to the S&P 500 total return of close to 93% through Dec. 31. Yet, since 2008 the company has grown earnings at an average 12% clip, compared to approximately mid-to-high teens for the S&P 500. Management expects the recent trend in earnings growth to continue in the coming years, which should give investors comfort with regard to earnings visibility. Today, investors can pick up the stock at roughly 10.3 times 2011 consensus earnings ($4.66, according to Bloomberg) and receive a 3.6% dividend yield, which is twice the dividend yield of the S&P 500.
With an estimated $7 billion in free cash flow likely this year, we expect the company to make it 38 consecutive years of a dividend increase this spring. At Capital Advisors, we believe this stock provides investors with limited downside from a valuation perspective relative to the overall market, and excellent upside at these levels.
Tell us more about the company behind the stock.
Abbott Labs is a sustainable growth company that - unlike its industry peers - is not plagued by patent expirations in its existing product lineup. The company has seen tremendous growth from two of its flagship products in Humira, which is a biologic treatment for autoimmune disease, and Xience, which is a drug-eluting stent.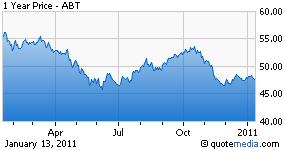 Humira generated $5.5 billion in worldwide sales in 2009 and management expects to see worldwide growth of Humira approaching 20% in 2010. We expect Humira to continue to see extremely robust growth in the next several years not only with its core indications in rheumatology, psoriasis and Crohn's Disease, but also in product extensions in other rheumatology therapies, dermatology and gastroenterology. Should the drug prove beneficial in these areas, the revenue and earnings growth will likely be underestimated. Investors should not overlook the success the company is having in its other business segments.
Xience is currently the leading stent player in the US market, with sales of over $1.6 billion in 2009. Currently, the vascular business is supported by 100 brands across over a dozen segments. Abbott is the world's leading manufacturer of coronary stents and guidewires. Additionally, the company's medical devices focus on diabetes care and animal health, and Abbott Medical Optics is also among the best in the industry. Within Abbott Medical Optics, the company currently holds the No. 1 position in Lasik procedures and the No. 2 position in cataracts. The laboratory diagnostics division is also strong with the No. 1 position globally in blood screening and immunoassay diagnostics.
What else is beyond the flagship products?
In addition to existing product growth, the company's future growth is broad-based and promising with more than 350 clinical trials underway and 75 new products and indications in the pipeline across its pharmaceutical, medical devices, diagnostic and nutritional products segments.
The company also provides investors with a very balanced geographic mix with the majority of its sales coming from faster-growing overseas markets. Currently, Abbott Labs garners more than 20% of its revenues from emerging markets and management expects to see roughly one-third of its global pharmaceutical sales coming from those high-growth markets in five years.
Over the last 18 months the company has strengthened its emerging-markets presence with two strategic acquisitions. Solvay Pharmaceuticals was acquired in September of 2009 which made Abbott a major player in branded generics, but, more important, expanded Abbott's footprint in Eastern Europe, Russia, Brazil and India. This past August, management announced the acquisition of India's Piramal healthcare solutions business, catapulting Abbott to the No. 1 pharmaceutical player in the $8 billion Indian pharmaceutical market, which many analysts expect to double in the next five years.
How does your choice reflect your investment approach? Tell us more about your approach and goals.
Handicapping the markets in the coming years seems particularly challenging because the outcome is heavily dependent on the path of government policy to unwind the massive stimulus programs that were enacted since the financial crisis. At Capital Advisors we continue to see a very uncertain world with numerous risks (sovereign debt issues, potential slowdown in China, rising interest rates, etc.) which could derail the current economic expansion, or at a minimum slow global growth going forward, as we look to "pay for" the stimulus through a combination of restrained government spending and or higher taxes in the coming years.
Our macro view of the world directs us to "high-quality" large-cap stocks like Abbott Labs where the valuations are compelling. Going forward we expect high-quality global companies should be better positioned to outperform the overall market in what we expect to be a slower economic growth environment. Large-cap stocks are better positioned to grow in a slow-growth environment due to their economies of scale/operating leverage, ability to raise prices, strong balance sheets (self-funding), and exposure to faster-growing international markets (greater percentage of revenues from overseas). In this type of environment we would expect blue-chip companies to trade at least in line with the overall S&P 500 multiple and potentially at a premium, due to the excellent earnings visibility that companies like Abbott Labs offer investors.
Investors worried about downside risks should take comfort in the below-average price-to-earnings ratio of this large-cap class due to the attractive dividend yield many of these high-quality names provide. Should downside risk materialize, the valuations of stocks like Abbott might have less downside because they might "already be there" if the aggregate valuation for the stock market drifts lower over time.
How much is your selection based on Abbott Labs' industry, as opposed to a pure bottom-up pick?
We screen a universe of about 1,000 stocks every week with two filters. One is a valuation filter based upon traditional fundamental analysis, where we are looking for markers of undervaluation for a given stock relative to its peer group or its own historical metrics. The second screen searches for markers of near-term positive change, using quantitative variables like relative stock price performance, trends in operating margins, and trends in insider trading and analyst sentiment, among others. We are looking for companies that rise to the top of both of these filters simultaneously. We run a relatively concentrated portfolio of about 40 stocks because stocks that meet both of these characteristics simultaneously are relatively rare.
When we have a particular sector bet, it's usually because that sector is demonstrating the characteristics we are looking for rather than us having some sort of a macro vision for the future of the industry. Healthcare has become more prevalent in our portfolio lately for this reason. Many stocks in the healthcare sector look cheap after several years of underperformance, yet there are indicators of positive near-term change for many parts of this industry.
We pay attention to the underlying business trends of our portfolio companies and when the trends are improving, the majority of the time the share price will rise to reflect the value the company is creating.
How is Abbott Labs positioned with regard to competitors?
The healthcare industry is extremely competitive. Most of the industry continues to face patent expirations of key drugs which support their valuation. Abbott Labs currently does not face the expiration pressures relative to its peers in the industry. Due to the long lead times of approval of pipeline drugs, investors are able to monitor competing therapies and react to the potential of competing drugs on a company's existing therapies. Abbott's key products do not face patent expirations and the product pipeline is robust.
How does ABT's valuation compare to its competitors?
Abbott Labs trades at a premium to its peers but at a discount to the overall market. Most of the premium can be explained by the fact Abbott has been able to continue to grow its earnings in the low double digits, compared to flattish to modestly positive earnings growth for the overall pharmaceutical industry. Looking ahead to consensus estimates, Wall Street analysts expect the S&P 500 Index earnings to grow from $82.32 in 2010 to $92.42 in 2011, which represents 12.3% earnings growth. On a Price-to-Earnings basis, using the current 1,285 level, the S&P 500 is trading at a 13.9 multiple.
Wall Street analysts expect Abbott to grow earnings from $4.17 in 2010 to $4.66 in 2011, which represents 11.8% earnings growth. On a Price-to-Earnings basis using Tuesday's $48 price, shares of Abbott Labs are trading at a 10.3 multiple. We believe this discount is not warranted, considering Abbott has similar earnings growth and a dividend yield nearly twice that of the overall market. We are using a 12.5 multiple, which would result in a target price of $58 per share, or over 20% upside from these levels, excluding the dividend. Should the stock trade in line with the S&P 500, the share price would trade around $65 per share, which is 35% upside from current levels.
Does your view differ from the consensus sentiment on Abbott?
Capital Advisors combines quantitative disciplines with fundamental analysis. The overriding consensus view is that the valuation is attractive. Where we differ is the sustainability of the double-digit earnings growth trend due to growth of existing products; an enviable position in the emerging markets, where prescription growth should witness double-digit growth over the next decade; and the tremendous prospects of the deep product pipeline.
Our quantitative indicators are mixed:
The stock price is trading around its 50-day, 100-day and 200-day moving averages, which is neutral

Recent price performance vs. the market is neutral

Recent brokerage analyst sentiment is negative
We expect continued strong earnings results going into the fourth-quarter 2010 earnings, which could strengthen the current quantitative readings.
Does the company's management play a role in your selection?
Absolutely. The Abbott management team has shown excellent stewardship over the last decade. The company has balanced investment of capital, as evidenced by the execution of a number of value-enhancing acquisitions over the last decade, and returned capital to shareholders. For example, over the last year Abbott has returned more than $2.5 billion to shareholders in the form of dividends. Lastly, the company has driven efficiency in the underlying business from both a cost perspective and an investment perspective which has driven top-line growth.
What catalysts, near-term or long-term, could move ABT stock significantly?
The key catalyst for a healthcare company like Abbott is the impact the pipeline drugs could have on future revenues, earnings and free cash flow the company will generate. In the end, drug development is a numbers game. With 75 internal drug candidates and resources to partner for and/or acquire dozens more, Abbott has a number of "shots-on-goal" that could drive future earnings much higher. Here's a handful of therapies that could result in product launches which have billion-plus peak revenue potential:
Absorb, Abbott's innovative dissolving stent, could be an enormous breakthrough in the field of cardiology. Initial trial results have been extremely positive and a second study is under way to prove the advantages over existing stents. Should the company succeed with this product, Abbott's current 40% existing market share in the stent market will expand. Additionally, we would expect to see further penetration for the treatment of coronary clots.

In the multibillion-dollar oncology market, the company is advancing 15 different compounds at various stages for cancer and tumor types highlighted by the following treatments.

ABT-888 – Breast Cancer – Phase III

ABT-869 – Liver Cancer - Phase III

ABT-869 – Other Cancer Types – Phase II

Elotuzumab – Multiple Myeloma – Phase II

ABT-263 – Solid Tumors – Phase I

Abbott recently entered into a collaboration agreement with Reata Pharmaceuticals to develop and commercialize bardoxolone, a promising late-stage compound for the treatment of chronic kidney disease.

In neuroscience, Abbott is working on 14 new molecular entities which are in human trials to address conditions such as Alzheimer's disease, schizophrenia, pain and MS. Currently, three compounds are in Phase 2 development for Alzheimer's. Additionally two of these treatments area being tested for schizophrenia.

Daclizumab is a biologic currently in phase III testing for multiple sclerosis, which is a multibillion-dollar market opportunity.

In the diagnostics segment, the company currently has 12 new products set to be introduced to the market over the next two to three years.
Should even a fraction of these pipeline drugs prove successful, earnings and revenues should be set to move considerably higher in the coming years.
What could go wrong with your pick?
The industrywide threats will never go away, which include pipeline disappointments, competitive pressures to existing drugs, and unexpected side effects to existing drugs.
In the near term, the single largest threat to the investment thesis would be a setback from the Humira franchise, which currently makes up a considerable chunk of the company's profits. This could come in two forms. A deceleration in revenue growth would put pressure on both the Street's and management's earnings expectations, as the drug is the key driver of earnings leverage in 2011.
Secondly, Pfizer's (NYSE:PFE) pipeline drug Tasocitinib is showing some promise, and if its safety profile were to improve could pressure Abbott's dominance in the rheumatology end markets starting in 2013. We see both of these threats as remote at this point, but Pfizer's next clinical report, due out in the second half of 2011, will be closely watched.
Another potential disappointment could be if the recent acquisitions of Solvay or Piramaldo don't provide the earnings accretion investors are expecting. Lastly, although the demographics are favorable for the industry, there remains considerable uncertainty with regard to the potential healthcare changes which could be made by Congress in the coming years. Markets tend to discount the worst possible outcome until the uncertainty subsides. However, with uncertainty comes opportunity. Abbott Labs is currently one of those opportunities.
Aside from competitive risks to Humira - Eli Lilly (NYSE:LLY) and AstraZeneca (NYSE:AZN) are also working on similar arthritis drugs, like Pfizer is - there's the legal risk: ABT appealing the $1.7B case lost to Johnson & Johnson (NYSE:JNJ) on patents, prevailing over Bayer (OTCPK:BAYRY) this week on a similar Humira patent issue, and a suit filed by a Humira user.
Because in a way Humira is "the franchise," what's the potential impact of these cases, especially Johnson & Johnson?
One of the more frustrating aspects of investing in the biotechnology/pharmaceutical sector is the legal risk that comes from competitors and patients who have claimed a debilitating side-effect. Investors should not be surprised to see a higher incidence of litigation when investing in healthcare companies. However, any potential threats to existing product lines must be taken seriously, especially when there is legal risk to Abbott's most profitable drug franchise.
Specifically, the three cases you mentioned:
The $1.67 billion award against Abbott for patent infringement against Johnson & Johnson's Centocor unit will go to the Federal Appeals Court (three-judge panel) this year. We are not legal experts, but would not be shocked to see Abbott prevail. The $1.67 billion has been escrowed (set aside) on the balance sheet already.

Obviously the Bayer news out yesterday was positive.

The Murthy v. Abbott Laboratories case seems like a stretch, but will likely be immaterial financially and will probably settle out of court. The safety profile is pretty tight with regards to Humira, so the legal team might decide it is worth the cost to fight it.
Thanks, Channing, for sharing your thesis today.
Disclosure: Long ABT in personal and client accounts.
Read more Just One Stock interviews »
If you are a fund manager and interested in doing an interview with us on just one stock or ETF position you'd hold, please email us at Just One Stock.