After solid performances earlier in the week, U.S. equity markets tumbled in Thursday trading thanks to weakness in the health care sector and a surprise increase in jobless claims. The Dow sank by 24 points on the session while the S&P 500 and the Nasdaq both fell by two points on the day. Commodities reversed their recent trend by sliding as well; gold and oil were both down about 0.8% while soft commodities, such as orange juice and cotton, led on the downside with losses exceeding 2.6%. These moves lower came despite further weakness in the greenback, as the U.S. dollar index shed 1.1% thanks to a nearly two cent loss against the euro.
American stocks also experienced weakness thanks to Merck (NYSE:MRK), a Dow component that shed more than 6.6% on the day after it was forced to discontinue a study on its blood thinning drug Vorapaxar. Many analysts had developed high expectations for the drug, believing it to be a future blockbuster that could help drive the company's earnings for years to come. However, it appears as if that is unlikely to be the case at this point, leading many investors to sell off their shares in the pharma titan. Traders were also disappointed on initial jobless claim figures showing that 445,000 people applied for jobless benefits, a sharp increase over analyst expectations which had forecast a gain of just 410,000 in comparison. "It's going to be a struggle," said Kevin Bannon, chief investment officer at Highmount Capital LLC in New York. "Some of the economic reports may be doing a little bit to dampen the rush of enthusiasm at the end of the year about the economy clearly turning the corner."
One of the biggest ETF winners on the day was the Vanguard Long-Term Bond Index Fund (NYSEARCA:BLV), which rose by 0.8% in Thursday trading. Today's gains came as traders bought up long term bonds across most maturity levels in response to moderating fears over the economic situation in Europe. Thanks to solid bond auctions in both Spain and Italy, traders are now growing increasingly optimistic over the long-term health of debt markets, leading many back into longer dated securities such as BLV. The fund from Vanguard focuses in on bonds that have at least 20 years until maturity and these issues saw their yields decline by about three basis points down to roughly the 4.5% mark for 30-year U.S. government bonds.
Click to enlarge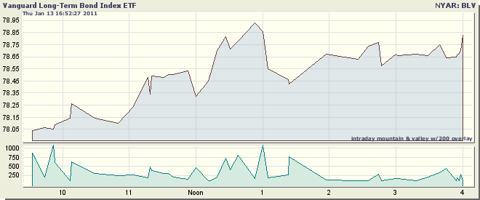 One of the biggest losers in the ETFdb 60 was the United States Natural Gas Fund (NYSEARCA:UNG), which tumbled by 2.6% on the day. Today's losses in the product came after traders sold off the popular heating fuel in light of the weekly storage report issued by the EIA. In the report, the organization showed that supplies declined by 138 bcf to just under three trillion cubic feet. While this decrease in supplies was a good sign for the oversaturated natural gas market, it represented a smaller drawdown than analysts were expecting, and it still left supply levels of the fuel more than 5% above their five-year average That caused traders to sell off the fuel heading into the final session of the week.
Click to enlarge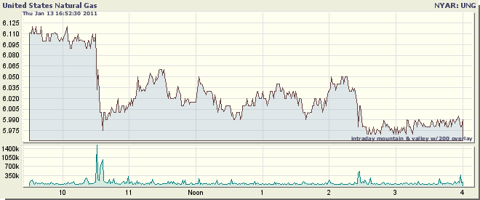 Disclosure: No positions at time of writing.
Disclaimer: ETF Database is not an investment advisor, and any content published by ETF Database does not constitute individual investment advice. The opinions offered herein are not personalized recommendations to buy, sell or hold securities. From time to time, issuers of exchange-traded products mentioned herein may place paid advertisements with ETF Database. All content on ETF Database is produced independently of any advertising relationships.