Google (NASDAQ:GOOG) (NASDAQ:GOOGL) "X" Lab has long been known as the innovative heart of the King of Search, and one of its latest projects - dubbed "Project Wing" - is no exception. The initiative is an attempt to develop the technology needed to allow self-flown drones to deliver packages, thus revolutionizing the ecommerce universe. Not surprisingly, anywhere that ecommerce exists, Amazon (NASDAQ:AMZN) is thick in the mix. While even Google itself expects the project to be several years from viable commercial applications, this is another instance of the company taking what CEO Larry Page refers to as "moonshots." These attempts to push technology forward are why Google not only remains a buy here, but should be a core holding of every technology portfolio.
Drone Delivery
Project Wing recently completed its first test flight as seen in this video. The initiative, which was announced late last week, is the latest in a series of ambitious programs that have come out of the Google X Lab, including Google Glass and self-driving cars. Still, Project Wing is not entirely new, but rather a significant expansion of the same-day delivery option that Google has already rolled out in parts of San Francisco, New York, and Los Angeles. The company explains that "Self-flying vehicles could open up entirely new approaches to moving goods, including options that are cheaper, faster, less wasteful and more environmentally sensitive than what's possible today."
Aside from the technology, which still has quite a bit of development ahead of it, there are the regulatory issues. Both Google and Amazon would need to gain approval from various control organizations, including the Federal Aviation Administration (FAA) in the U.S. if delivery drones are to be commercially viable. AP recently reported: "Amazon last month asked the Federal Aviation Administration for permission to expand its drone testing. The FAA currently allows hobbyists and model aircraft makers to fly drones, but commercial use is mostly banned." It is hard to imagine delivery drones peppering the skies, to say nothing of the potential for collisions or other accidents. Still, it is staying at the forefront of a potentially huge development that crosses industries including technology, ecommerce and shipping.
Race for the Skies
Efforts to become the first ecommerce company to effectuate drone-based deliveries is not the only area in which Google and Amazon are competing. Amazon is trying to challenge Google in areas ranging from mobile devices - through the Kindle Fire and Fire Phone - to online video. While Prime and YouTube currently fill different spaces in online video, as each company continues to expand its offerings, more direct competition is inevitable. Staying in the race is important for Google to secure its long-term position.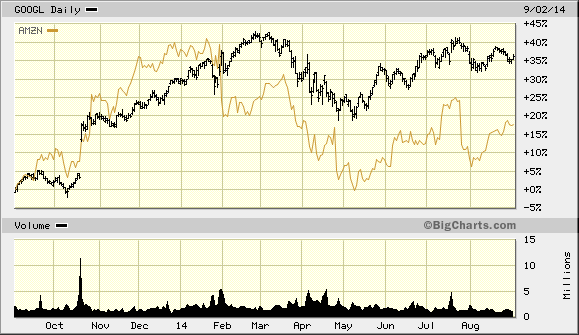 Still a Buy?
With Google trading below its 52-week high, but still with a P/E over 30, it is reasonable to wonder if the stock continues to have upside. As the company continues to expand into new arenas, continues to see growing market share for Android on a global basis, and continues to innovate, the stock should rise. One of the largest risk factors to the stock is a broad market correction that will pull down shares, but the market feels like it has some upside left. Google remains the King of Search, but continues to push forward, making me a buyer here and a long-term holder of shares for any technology portfolio.
Disclosure: The author has no positions in any stocks mentioned, and no plans to initiate any positions within the next 72 hours.
The author wrote this article themselves, and it expresses their own opinions. The author is not receiving compensation for it (other than from Seeking Alpha). The author has no business relationship with any company whose stock is mentioned in this article.