An Overlooked Gem?
Analog Devices, Inc. (NASDAQ: ADI), a tech company that manufactures high-performance integrated circuits, is probably not the first company that income investors think of as they are planning out their portfolio. However, a lot of the older tech companies have become dividend plays, and ADI is one of them. Let's take a look at ADI and see if it measures up to being called a dividend growth stock worthy of your interest.
ADI's Fundamentals
Our first stop is inside ADI's annual reports, which invariably serve to get us acquainted with a company and reveals what it is all about financially.
Analog Devices Fiscal Year Financial Performance
| | | | | | |
| --- | --- | --- | --- | --- | --- |
| Fiscal Year | Revenue | Net Income | Shares | Earnings/Share | Div/Share |
| 2008 | $2,582.9 | $712.1 | 292.7 | $2.65 | $0.76 |
| 2009 | $2,014.9 | $247.8 | 291.4 | $0.85 | $0.80 |
| 2010 | $2,761.5 | $786.3 | 297.4 | $2.39 | $0.84 |
| 2011 | $2,993.3 | $867.4 | 308.2 | $2.81 | $0.94 |
| 2012 | $2,702.1 | $651.2 | 306.2 | $2.13 | $1.15 |
| 2013 | $2,633.7 | $673.5 | 314.0 | $2.14 | $1.32 |
Source: Analog Devices Annual Reports. All amounts in 000s except per share data.
Our main reactions to this set of numbers are the following:
Revenues have fluctuated up and down since the recession, but appear to have reached and stayed in a comfort zone;
Share count has been increasing slowly but steadily;
Earnings per share are lower than they were before the recession, but rebounded nicely off the lows of 2009;
The dividend has increased at a rapid rate.
Everything looks in order, with no red flags. At least over the past six years, ADI has been a steady performer without too many theatrics financially. For practical purposes, the dividend is the main enticement to owning the stock.
The payout ratio has gone from 29% in 2008 to 62% in 2013. A 62% payout ratio certainly is sustainable, but investors prefer to see that below 50%.
It's kind of surprising that ADI hasn't been reducing its share count like many other firms that have been taking advantage of low interest rates and a recovering economy. However, there's also nothing wrong with that, and at least it shows that the company's earnings performance is organic and not juiced up by financial legerdemain induced by a dwindling share count. They also may have had other uses in mind for that money, which will become apparent below.
Let's make sure that the dividend is safe by checking cash flow.
Analog Devices Fiscal Year Cash Flows
| | | | | | |
| --- | --- | --- | --- | --- | --- |
| Fiscal Year | Net Cash From Operating Activities | Capital Expenditures | Free Cash Flow | FCF/Share | Stock Repurchased |
| 2008 | $699.4 | $157.4 | $512.0 | $1.75 | 3.2 |
| 2009 | $432.1 | $ 56.1 | $376.0 | $1.29 | 0.0 |
| 2010 | $991.2 | $111.6 | $879.6 | $2.96 | 0.2 |
| 2011 | $900.5 | $123.0 | $777.5 | $2.52 | 1.5 |
| 2012 | $814.5 | $132.2 | $682.3 | $2.23 | 0.7 |
| 2013 | $912.3 | $123.1 | $789.2 | $2.51 | 0.2 |
Source: Analog Devices Annual Reports. All amounts in 000s except per share data.
These figures also tell a story:
Net cash from operating activities is higher than before the recession, but also appears to have stalled out at a high level;
Capital expenditures are steady and appear reasonable given the amount of net cash from operating activities;
Free cash flow has been strong, and the free cash flow per share amply covers the dividend;
The company is not buying back many shares, though it does have some sort of program in place to do so and appears to buy in spurts, probably when the company feels the shares are undervalued.
The most important takeaway from the free cash flow numbers is that the dividend appears perfectly safe and may have room to grow some more.
As a check on the annual numbers and to see if any changes may be in the works, let's look at the most recent numbers reported by ADI and compare them to similar periods over the past few years.
Analog Devices Third Quarter Financial Performance
| | | | | | |
| --- | --- | --- | --- | --- | --- |
| Fiscal Year | Revenue | Net Income | Earnings/Share | Div/Share | Long Term Debt |
| 2011 | $757.9 | $220.0 | $0.73 | $0.25 | $871.9 |
| 2012 | $683.0 | $169.8 | $0.56 | $0.30 | $842.5 |
| 2013 | $674.2 | $176.2 | $0.56 | $0.34 | $872.2 |
| 2014 | $727.8 | $180.6 | $0.57 | $0.37 | $877.7 |
Source: Analog Devices Third Quarter Reports. All amounts in 000s except per share data.
The quarterly numbers suggest that the company has been performing in line with the last several years, with just a touch of improvement but nothing that makes a whole lot of difference. These numbers suggest that 2014 may be better than 2013.
We included a look at long-term debt just to make sure that there isn't anything going on that is skewing the books. On the contrary, long-term debt is very stable and there is nothing in these numbers to suggest that the company should have any difficulty continuing to service its debt.
The rate of growth in the dividend has slowed, increasing by $0.05 from 2011 to 2012, then by $.04, and most recently by $0.03. This suggests that the earlier rapid rate of dividend increases may be becoming a bit played out. However, the dividend increases have been large and steady for many years, showing that the company is committed to them.
Analog Devices Dividend History 2004-2014: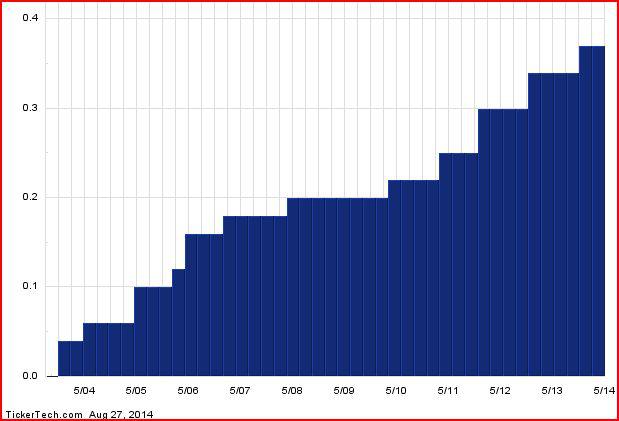 Source: Forbes
Incidentally, many news outlets reported the most recent quarterly earnings as $0.63 and revenues as $722 million. Those are the non-GAAP numbers that exclude the Hittite Microwave Corp. acquisition effects, a deal that closed with ten days left in the company's third quarter. We go with the GAAP figures above simply to maintain some kind of consistency in our review, but the GAAP figures may slightly understate the company's 2014 performance.
Our conclusion from looking at the fiscal year and quarterly numbers is that ADI is a mature company with a steady business that at some point a number of years ago realized that shareholders were better off getting some of its profits back in the form of dividends. However, they have kept the stock repurchases to a minimum and must have had something else in mind for that money.
The Wild Card: the Hittite Acquisition
That "something else" turned out to be the 2014 acquisition of Hittite Microwave Corporation, a designer and manufacturer of high performance integrated circuits, microwave equipment and other advanced products. ADI both announced and finished its acquisition of Hittite during the quarter, giving a total enterprise value for Hittite of approximately $2 billion that Analog Devices funded through a combination of cash on hand and short-term debt financing. Oppenheimer, for one, thought the price quite reasonable for such a high-margin business and forecast that Hittite could be 15% accretive to ADI's earnings in 2015.
Though it sounds like a great acquisition, completely in tune with ADI's own business, it has introduced an uncertain element into the picture. Let's take a close look at the impact to give a clearer picture of what we can expect down the road.
On the conference call, the company said this about paying for the transaction:
"During the quarter, we raised approximately $2 billion in additional debt financing to fund the acquisition of Hittite. It is anticipated that the $2 billion in short-term debt financing will be repaid by the end of this week."
This is reassuring. You would not want to see the short-term costs of the acquisition converted into long-term debt.
Next, the company expects the acquisition to be accretive to earnings next quarter:
"Based on this estimate, diluted earning per share in the fourth quarter are planned to be in the range of $0.66 to $0.70 which include an estimated 8% contribution from Hittite and excludes acquisition related items."
Hittite should be able to contribute right off the bat because it is a strong business on its own merits:
"Notably, Hittite revenue grew 9% sequentially and 12% year-over-year in the three period which ended June 30. In addition, over the 12 months ended June 30, Hittite generated $100 million in operating cash flow and $87 million in free cash flow which of course are great results and highlight the strength of this RF and microwave franchise."
One of ADI's strengths is its high margins. Hittite strengthens that advantage with its own superior margins:
"Hittite obviously has gross margin that are higher than our corporate average. And so that will be accretive to the company's gross margin by about 30 basis points."
As to the overall effect of Hittite on ADI, management had this to say:
"Customers are very excited. Customers you know particularly in the aerospace area, aerospace and defense area, that's where Hittite I think had a lot more focus than ADI and we are being drawn into bringing all the pieces of the combined companies together. That's very, very encouraging. Our field activity, there is, I think if you talk with the ADI field sales force there, there's tremendous acceptance of the possibilities and we are starting to see the opportunity pipelines get loaded up with a lot of new opportunities that the ADI sales force, which was about 15 or 20 times bigger than the Hittite sales force, is now able to create leverage on the 1000 products that we've gained. So, overall, I think we are opening new doors."
The ideal merger/acquisition creates the sorts of synergies being described here, with new marketing opportunities opening up for the acquiring company along with the new product lines of the acquired entity.
As a general matter, it is better from an investor standpoint for a company to grow its earnings per share through new business rather than share repurchases (which can always be reversed down the road should conditions change). That shows a healthy underlying operation. A 15% bump in earnings for years to come is something shareholders should welcome - if nothing else, it will support further dividend increases. If this acquisition works as hoped, Hittite and ADI could be a very good match and is something shareholders should be excited about.
Looking Forward
The company's report for the fiscal third quarter met analyst expectations for earnings and beat revenue forecasts by about $6 million. It gave very detailed guidance looking ahead. The company forecast non-GAAP earnings of $0.66-0.70 per share next quarter on revenues of $790-820 million. This compared to Thomson Reuters' consensus estimates of $0.67 in earnings per share and $761.2 million in revenues for the fourth quarter. Revenues were up 7.2% from the year-ago period.
The company is very profitable, with extremely high margins, and that is not expected to change. Its reported gross margin for the quarter was 65.4%, down 70 basis points (bps) sequentially but up 90 bps year-over-year. The year-over-year increase in gross margin was attributable to higher utilization rates and a favorable mix.
They project slightly higher gross margins of 66.2% in the fourth quarter and said this:
"So I am optimistic that we can improve gross margins from these levels. And I think 66.5%, 66.2% depending on what quarter we are talking. A pretty down good gross margins anyway. They are the envy of probably almost all of the S&P 500 but we are looking to try to get them up from here as we talked about at the Analyst Day, given that we have a model to be - to high end to be at 68%."
Any time you have gross margins that high, you are doing something right. If you like stocks with persistently high margins, you won't do much better than ADI. Improving gross margins and more revenues from Hittite should take care of a lot of investor worries down the road.
Valuation
Analog Devices has a price/earnings ratio of 22.6, which compares favorably with competitors NXP Semiconductors NV (37) and Texas Instruments (23.7). It is above that of the S&P 500, which sits at 19.86. ADI's gross margin ttm of 0.66 is higher than its competitors and well above the industry average of 0.40, as is its operating margin at 0.31 compared to the industry average of 0.05. Its five-year PEG of 1.78 is not out of line with that of TXN at 2.00 and NXPI at 0.63. Price/sales is a bit high at 5.91, compared to the industry 2.34, and its quarterly revenue growth is in the middle of the pack at 0.08, compared to the industry 0.15.
Morningstar confirms that on the key measures aside from price/sales, ADI looks like a better value than its peers.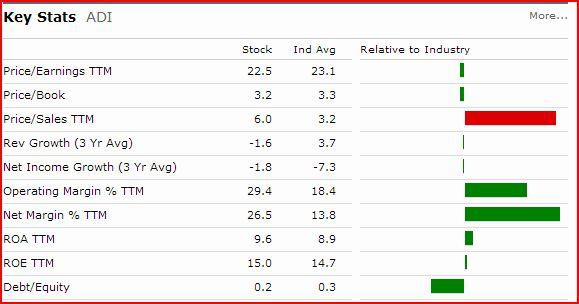 Source: Morningstar.com
Our conclusion is that ADI is not a wild bargain, but it certainly is not overpriced, either. That makes it a buy on dips.
While the company's stock repurchase program is less active than some, with the share count rising over time, it is there waiting in case the stock price tumbles too far:
"In addition, we repurchased 1.1 million shares or $57 million of our stock with approximately half of repurchases occurring toward the end of our third quarter as our stock buyback program responded to a lower stock price."
It is always good for traders to see that the company is ready to step forward to mitigate losses in the stock price when it dips. In other words, the company is buying the dips alongside you. As noted above, the company seems to step in only when it thinks the stock is undervalued, and it is a good sign for those contemplating an entry that the company has been buying recently.
Short interest in ADI stock has been stable this year, hovering around the three-days-to-cover mark. That's a good indication that there hasn't been anything to scare investors recently, so the stock's regular drops are more on the noise side than reflecting anything fundamental.
There have been numerous insider sales, which some will take as a red flag. They are primarily of the option-execution variety, part of management's pay, which we deem a non-issue and not a reflection of the company's prospects. In fact, insider sales take place for a variety of reasons and do not necessarily mean the insider has a negative view of the stock. However, some investors place more importance on these transactions than we do, such as the 8,000 shares sold by the CEO on 1 August 2014 at an average price of $49.69, for a total value of $397,520.00. That price, incidentally, is lower than where the stock currently sits.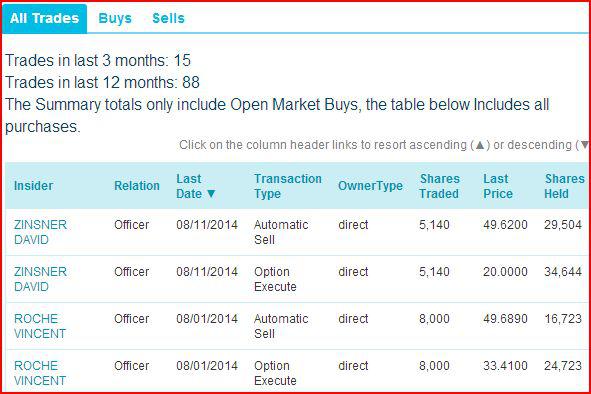 Source: Nasdaq.com. There are more entries of a similar nature, please visit the page to review them if interested.
Analysts are moderately bullish on ADI, with a consensus $57.50 price target.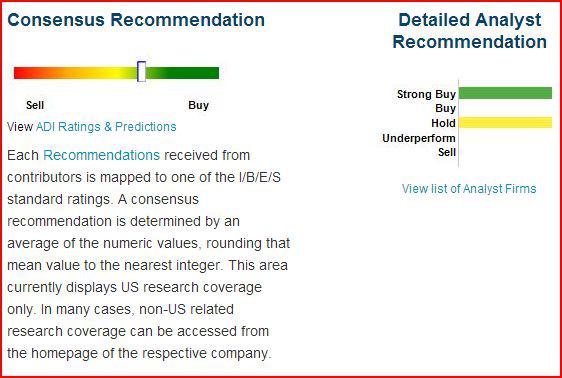 Source: Nasdaq.com
Technically, the chart for ADI is a mixed picture. ADI was on a continuous trend higher since October 2011 that recently violated the lower end of its trend channel. The stock has a history of cycling up and down, and may just be in a down cycle. It has been hovering around the 200-day moving average recently without a decisive break in either direction. It may be forming a long-term head-and-shoulders pattern with its head in June, or it may simply be in the process of forming a bull flag after the prolonged run higher. The stock price could be supported by the growing dividend, which would suggest that big dips are buying opportunities for the aggressive trader.
With a history of volatile moves within fairly narrow bands and a growing dividend, ADI could be appropriate for both the short-term trader with propitious timing or the longer-term investor enjoying a strong and growing dividend.
Conclusion
There are not a lot of negatives about ADI, while there are some distinct positives. Its valuation is not at bargain levels after the three-year run-up, but it isn't at nosebleed levels, either. It is a reasonably valued stock with good prospects.
The positives are the growing dividend yield of 2.9%, which should support the stock price, and the possibilities that are opening up with the Hittite acquisition. This is one instance where share repurchases would have been the wrong strategy, considering the easy way that ADI was able to pay for Hittite. The company seems excited at the new markets the acquisition opens up, which could impact ADI's core business in a positive way.
So far, investors have been skeptical about the acquisition, with the stock falling from its high of 56.18 on 9 June, around the time the deal was announced, to the current 51.12. It's quite possible that the stock could see sideways action until the value of the Hittite deal is proven over time and investors no longer have to ask ADI to "show me the money." Time heals a lot of issues like this, and that will be the case for ADI if the acquisition works out as planned. This is a solid choice for income investors as part of a well-diversified portfolio.
Disclosure: The author has no positions in any stocks mentioned, and no plans to initiate any positions within the next 72 hours.
The author wrote this article themselves, and it expresses their own opinions. The author is not receiving compensation for it (other than from Seeking Alpha). The author has no business relationship with any company whose stock is mentioned in this article.