By Maria Halmo
Please see Part 1 and Part 2 for an introduction to the study as well as an examination of price performance.
Examining Performance from a Total Return Perspective
For the purposes of this study, the comparison between each basket's total return and the AMZEX (the total return version of the AMZE) is not quite apples to oranges-think of it like a Granny Smith to Gala apple comparison. Total return for each basket is approximated by adding the distributions paid throughout the year to the final price at year end. Said otherwise, distributions are reinvested annually, after being held as cash throughout the year. However, the AMZEX has distributions reinvested immediately on ex-distribution dates. With distributions reinvested in a rising market, the returns listed for the index will be a little sweeter, a little juicer.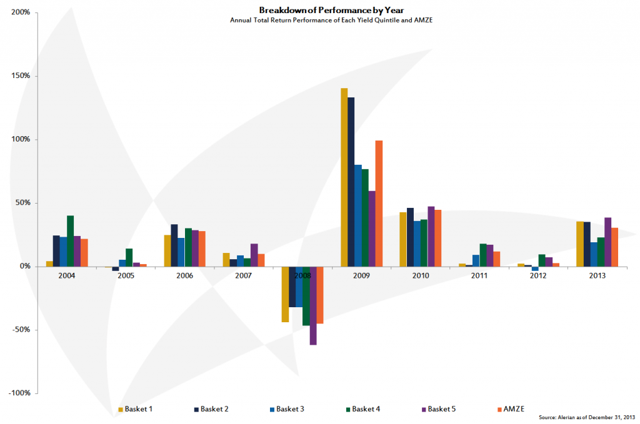 Looking at the performance from a total return perspective, we can see the effect of the risk of owning the highest-yielding names (Basket 1): namely, investors are taking on significant risk and sometimes the highest yields are signs of impending instability or low or no distribution growth, not success.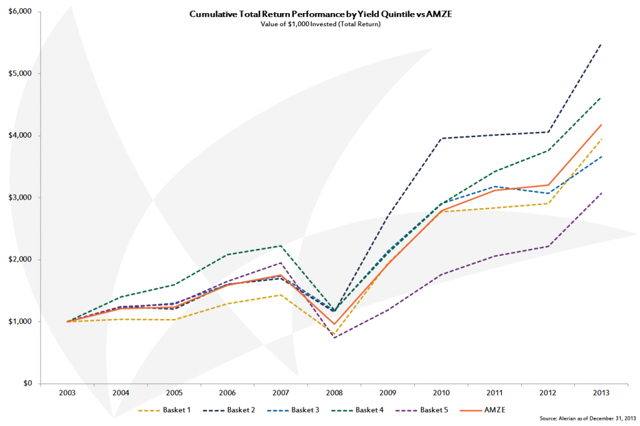 Compared to the simple price return chart, however, Basket 1's performance pulls ahead of Basket 3, showing the reward potential of higher distributions. Basket 2, which is the second-highest quintile on a yield basis, outperforms even more dramatically. The outperformance is most notable during the recovery years of 2009 and 2010. Basket 4, the second-most conservative quintile, outperforms during years of steady growth. The lower yield can imply a lower cost of equity, which makes growth less expensive.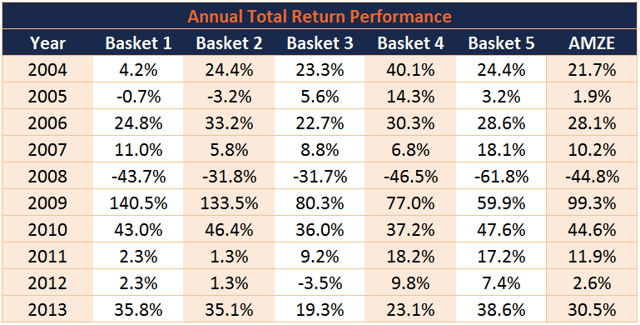 Interestingly, during the financial crisis in 2007-2008, Basket 5, containing what some consider to be the high-growth names, fell the most. Basket 5 lost 62% on a total return basis, compared to losses in the 30%-45% range for the other baskets [1]. And despite being the best-performing basket during the four-year 2010-2013 period, Basket 5 failed to catch up to the other baskets and the AMZE. Again, investors in Basket 2 were rewarded for taking on additional risk without swinging for the fences.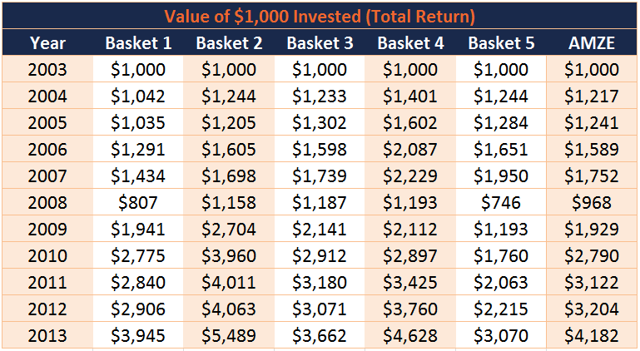 In short, those MLPs with the highest yields will occasionally outperform, however, our data shows that they'll more often underperform with added volatility. In fact, it is the MLPs with lower (but not the lowest yields) as well and those MLPs with higher (but not the highest) yields that outperform the index over the long term and for which investors are best paid for the amount of risk taken.
Footnotes:
[1] Crosstex Energy Inc (XTXI) is the major outlier in this basket. During 2008, XTXI fell from $32.74 to $3.90, and cut its distribution completely. That 86% total return loss significantly impacted Basket 5's results. Hiland Holdings GP (HPGP) also fell 87% on a total return basis. Without these two results, the total return loss would have been only 56%, but still worse than the other baskets.
Disclosure: © Alerian 2014. All rights reserved. This material is reproduced with the prior consent of Alerian. It is provided as general information only and should not be taken as investment advice. Employees of Alerian are prohibited from owning individual MLPs. For more information on Alerian and to see our full disclaimer, visit http://www.alerian.com/disclaimers.
Maria Halmo is the Director of Research at Alerian, which equips investors to make informed decisions about Master Limited Partnerships (MLPs) and energy infrastructure. Ms. Halmo leads the firm's research efforts, which include examining MLP regulatory filings, monitoring legislative activity, and investigating industry developments. She also oversees Alerian's public communications strategy through investor and media outreach. Ms. Halmo is a former Associate at SteelPath Capital Management LLC, a Dallas-based MLP investment manager, where she conducted valuation analyses of petroleum transportation partnerships and researched macro-level energy issues. Ms. Halmo graduated with a Bachelor of Arts in Astrophysics from Barnard College at Columbia University. She is also a contributing author to Midstream Business, a monthly publication addressing the need for business market intelligence on North American energy infrastructure.