Barron's Stock Picks Consistently Beat the Right Benchmarks. Don't be Fooled by Fool's Report Card
Barron's Performance Report Card
Barron's has just published their own performance "report card" in their weekly magazine.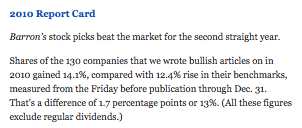 This offers a good opportunity to see how Barron's has done and to consider some of the industry issues with performance reporting and benchmarking.
Barron's excels at leading the market in terms of accountability. Stock picks are posted clearly and are always available on their site. Barron's also attempts to assign a benchmark for each stock and notes that there should be differences in the selected benchmark depending on the security.

Since Barron's considers itself a long-term value investor, it notes continued performance of 2009 picks as well. LikeAssets also tracked the Barron's picks and can verify that the magazine picks beat the benchmarks. There are some differences: (1) Barron's does not include dividends and LikeAssets does, which helps Barron's, especially as a value investor; (2) LikeAssets uses some different benchmarks, like emerging markets for some Barron's picks and more small cap in general, but we give Barron's kudos for making an effort to use benchmark on their own.
Barron's Print Magazine Performance since 2009 - LikeAssets
Beating LikeAssets benchmark by 13%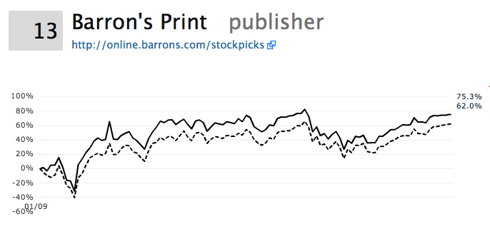 Some of the biggest winners for Barron's picked in the recent 6 months include Coventry Health (CVH), 7/3/2010, DineEquity (NYSE:DIN), 7/10/2010, Johnson Controls (NYSE:JCI), 8/15/2010, and Alpha Natural Resources (ANR), 11/5/2010.

Here is "additional analysis of Barron's picks and their stock pickers."
Comparing Report Cards - Barron's and Motley Fool
Barron's efforts to report performance of their research is the best we have seen in the financial media and financial blogosphere. The exercise does point out noteworthy issues to consider as we try and track the explosive growth of ideas and research and advice across the Internet. If all sites decide to do their own report cards they will inevitably use different indexes/benchmarks, different performance calculations (dividends or not, dollar weighted, time weighted, etc.). This will make it impossible for investors to reasonably track and understand performance.
Motley Fool also tracks performance, but the contrast to Barron's approach should raise a few eyebrows. Like Barron's, Motley Fool prominently posted some performance information on its landing page: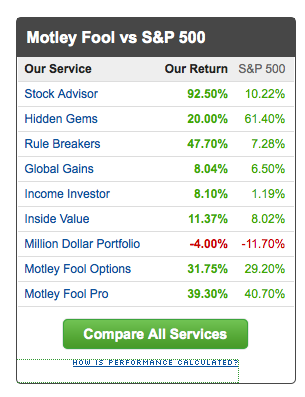 But the fine print here is worth reading (see "How is Performance Calculated"). There are significant variances for performance calculations even within the different newsletters at Motley Fool. Some of the S&P500 results consider dividends and some do not. Is it ok to consider S&P500 dividends in performance calculations for income investing and ignore the S&P500 dividends for growth investing? That approach is inconsistent within the Fool's own investment research world. In addition, by using only the S&P500, the Fool has a significant reporting advantage over a site like Barron's. I am sure many of the Fool's picks are small cap, emerging markets, etc., which would look much worse if compared to the appropriate benchmarks - something both Barron's and LikeAssets provides. So I see a couple of significant issues with Fool's report card.
Disclosure: I have no positions in any stocks mentioned, and no plans to initiate any positions within the next 72 hours.