The race to make our wallets electronic, once led by Google (NASDAQ:GOOG) (NASDAQ:GOOGL), has many participants with competing versions of the concept. Over the holiday weekend, however, e-commerce giant Alibaba (NYSE:BABA) announced via its blog that it plans to revolutionize electronic payments through its Alipay Wallet app and in partnership with smartphone maker Huawei. The app will utilize biometric security measures - specifically a user's fingerprints - to make purchases both more convenient and secure. While other technology providers offer fingerprint technology, Alibaba believes its version will change the landscape of mobile payments. The release may temporarily be a blow to Google Wallet, but ultimately it should push the industry forward and be a positive for Google shares and others.
Alibaba's Tech
Huawei is set to release its new smartphone, the Mate 7, within the next week, and the new fingerprint feature in the Alipay Wallet will be integrated into the device. The blog post explains what Alibaba believes are the advantages:
Biometric technology such as fingerprint or retina recognition is touted as a more secure and convenient of method of identity authentication. Banks, governments, credit-card companies and mobile phone manufacturers have been exploring possibilities in the industry, but the development path has some potholes. Fingerprint readers on Samsung's (OTC:SSNLF) Galaxy 5 and Apple's (NASDAQ:AAPL) iPhone 5 have been successfully hacked, defeating the security function that prevents unauthorized use.
Creating a fingerprint technology that can be relied upon to be essentially hack-proof is a critical step to allowing biometrics to replace long, and easily forgotten, pass codes. The fingerprint data will remain encrypted on the Mate 7, making it impossible to access - a critical feature for the technology.
Competitors
Alibaba and Huawei are hardly the first to explore the concept of the eWallet. Google, Amazon (NASDAQ:AMZN), Apple (AAPL) and eBay (NASDAQ:EBAY) through PayPal are all pressing to develop a reliable alternative to traditional payment methods. Beyond e-commerce, likely the primary focus of the Alipay Wallet, each of these competitors is looking to find ways to allow smartphones to more fully replace traditional payment methods. This requires product adaptation by both vendors and consumers, but one of the most critical pieces is both the perception and reality of security.
If the technology proves to be as effective as Alibaba hopes, it will give Huawei a significant advantage, particularly in China. With tensions between the U.S. and China in the technology space particularly high, an added advantage for Huawei - currently the third largest smartphone maker by volume - should not be overlooked. While the company still relies on Android, with China promising to develop its own OS, an alliance with Alibaba matters.
For Alibaba, on the verge of what could prove to be the largest IPO in history, a clear expansion of its influence in China will make the stock even more appealing upon its release. Mostly likely to be hurt if the technology plays out as hoped is Amazon. The recently released Fire Phone was Amazon's attempt to redefine the role of the smartphone in terms of e-commerce. If Alibaba is able to beat Amazon to the punch with a secure fingerprint system, it will have an impact. Nonetheless, it will take time for Huawei smartphones to gather momentum, if they can at all, in the U.S.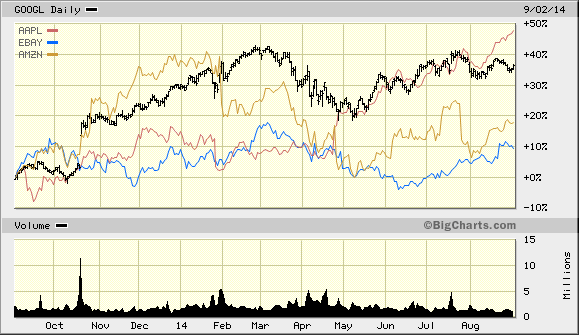 What About Google?
Across each of the major U.S. tech firms, there have been a series of starts and stops on the concept of the electronic wallet; thus far, no clear winner is evident. Despite this, Google remains attractive at current levels. One reason I favor Google, even against the backdrop of a major step forward by Alibaba, is that the King of Search seems most suited to change and willing to advance new technology. Several companies are already working on retinal scanners that could be integrated into Android someday, and the Alipay advance could serve as a roadmap from which Google can learn. It remains too early to know how this news will impact the market long term, but for a variety of reasons, Google remains a buy.
Disclosure: The author has no positions in any stocks mentioned, and no plans to initiate any positions within the next 72 hours.
The author wrote this article themselves, and it expresses their own opinions. The author is not receiving compensation for it (other than from Seeking Alpha). The author has no business relationship with any company whose stock is mentioned in this article.