The behavior of small cap indices in the US, notably the Russell 2000 Growth Index, was one of the primary reasons we turned bullish on US equities in November 2008 and have stayed bullish ever since. The outperformance of growth stocks tells you a lot about the prospects for the economy and the primary direction of major market indices.
The Russell 2000 Growth Index has consistently outperformed all the major market averages over the last two years and it continues to show no sign of backing off on its absolute and relative performance. It has been rather amusing how, with this blatant behavioral trend, analysts have been consistently behind the "curve" with respect to their earnings estimates.

Russell 2000 Growth Index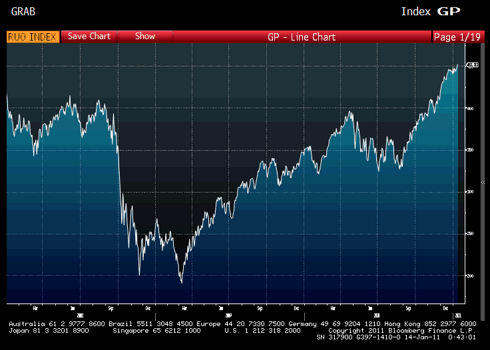 Click to enlarge

(Click charts to enlarge)
Now I could look like a hero (or irritate you) by talking about the continued bright outlook for US equities (as we have been doing so for two years now), but I won't. Why? Well I think there are better prospects elsewhere. The market I have in mind is Japan. Yes I have been going on about Japan for the last month or so because I feel very strongly that something really bullish is building up.
While everyone (albeit most) have "herd" about the Russell Growth/Value indices in the US few take notice of similar indices in Japan. I would like to introduce an index to you that you probably have no idea about (or If you know it exists you probably have no idea of what it is). The Tokyo Stock Exchange Mothers Index. Now how exactly it got the name "Mothers" I don't know but in any event it is an index of about 180 high growth/emerging stocks, I guess the nearest thing you would get to a small cap growth index in Japan. Perhaps it is the Japanese idea of the LSE techMARK index except it is not limited specifically to technology stocks.

TSE Mothers Index 1996 - Present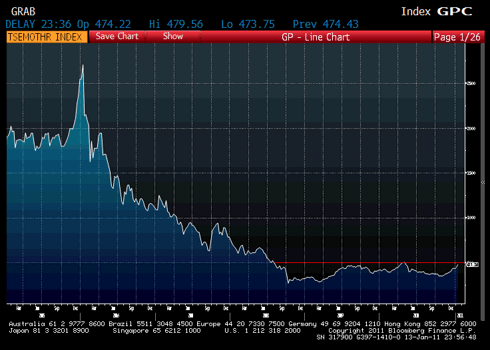 Click to enlarge
Note how this index started turning down as early as 2006, perhaps second only to US homebuilders in foretelling the impending disaster of 2008. Notice how this index tends to move in relatively distinctive trends, anyone who follows the behavior of the Nikkei would appreciate this. Also note how the Mothers Index is very close to breaking out of what appears to be a 2 year old bottoming process.
Now the significance is this. I have noted on many occasions that the longer a market moves in a sideways direction and the tighter the trading range the more sustainable the breakout will be when it occurs. Suffice to say, I think the TSE Mothers Index is hinting that we are about to see a dramatic move higher in the Japanese equity market and that it is unlikely to be another false move for which the TSE has been irritatingly famous for over the last decade.
Will this be the start of the next bull market in Japanese equities? Well who knows, but given that valuations are very attractive (near all time lows), debt levels of Japanese companies are one of the lowest in the world, cash levels one of the highest and exposure to Japanese equities is at all time lows domestically and globally - an ultra strong case can be made for this being the start of "a big one". We are not getting too carried away and trying not to have too many preconceived ideas, rather we are going to ride the bullish breakout for all it is worth.

Disclosure: I am long EWJ, JOF and long 1314 JP on the TSE.