Warrant Terms
JPMorgan Chase & Co. (NYSE:JPM) has one outstanding issue of warrants that represent the right to purchase 88.4 million shares of common stock, which would account for 2.35% of shares outstanding. A summary of important warrant terms can be found below.
| | |
| --- | --- |
| | JPM WS |
| Exp. Date | Oct. 28, 2018 |
| Years Until Exp. | 4.185 |
| Initial Strike Price | $42.42 |
| Div. Adj. Threshold | $0.38 |
| Warrant Premium | 3.6% |
| Initial Shares/Warrant | 1.0000 |
In any quarter where the dividend payout exceeds the dividend threshold amount, an adjustment will take place where the exercise price is reduced according to the following formula: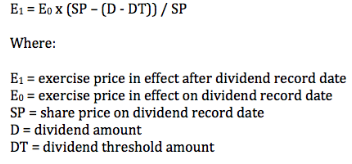 Additionally, the number of shares purchasable per warrant, starting at 1.0000, will increase according to the following:

Since JPM's most recent quarterly payout of $0.40 exceeded the $0.38 dividend threshold, the strike price has been adjusted down by $0.015 to $42.405, and the number of shares purchasable has increased to 1.00034. These are certainly miniscule adjustments, but keep in mind that this is only the first; and, as we see future dividend increases, the adjustments to strike price and number of shares purchasable per warrant will increase by the time we get closer to expiration.
Common Stock
To place a value on JPM common stock, I want to look at a few things: 1) The company's equity growth rate. 2) The market's valuation of the company's equity. 3) Quarterly dividend payouts.
1) For equity, we'll be taking a look at the company's book value per share, which the company has been growing at a compound annual rate of 7.25% over the past 5 years. On a quarterly basis, that would make for a 1.77% growth rate. We'll maintain a more conservative outlook by using a 1.5% quarterly book value growth rate.
2) The company currently trades at a 1.07x P/B multiple, which is well below its pre-recession levels of around 1.4x. For this analysis, we'll assume that the market assigns JPM a 1.23x multiple by the time of expiration. We'll account for this by increasing the P/B multiple by 0.01 points each quarter.
3) For dividends, we'll assume that the company maintains its $0.40 quarterly payout through the end of 2014, which then increases $0.02 per quarter at the beginning of each new year.
Assuming all of the above hold true, stock returns relative to book value would look something like this: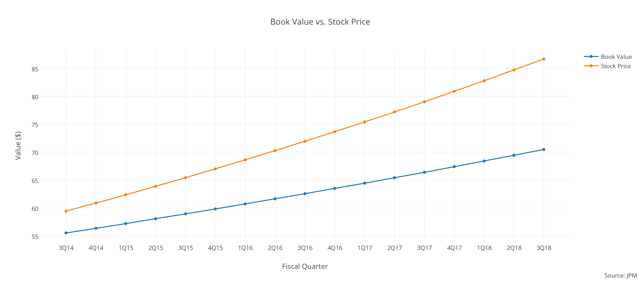 Click to enlarge
Including dividends, that makes for a 46.6% gain over 4.185 years, which translates to an average compound rate of 9.44%. Those are decidedly decent returns, but you can do considerably better with the warrants.
Warrant Returns Relative To Common
If the above scenario should play out, the strike price of the warrants would have been adjusted downward to $41.75 and the number of shares purchasable per warrant would increase to 1.016. To determine the intrinsic value of the warrants at the time of expiration, all we have to do is take the stock price, subtract the adjusted strike price, and then add the value of the shares purchasable per warrant. Under these circumstances, the warrants would be worth $46.31 (86.67 - 41.75 + (.016 * 86.67)). Assuming that your entry price for the warrants is the current $19.20, that would make for a 141.2% return (23.4% on an annualized basis). That compares very favorably to the return of the common stock.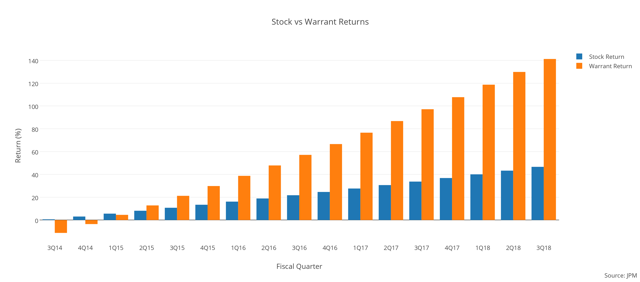 Click to enlarge
Final Thoughts
While I've never really had an interest in going long JPM stock, mainly because I feel there are steeper discounts in the banking space, these warrants are extremely appealing to me because they offer such incredibly cheap leveraged exposure to a quality bank. At current prices, you are paying a paltry $2.13 for 4.185 years of time. That's $0.51 per year. This will prove to be extremely lucrative if the stock continues its upward climb, but could spell trouble if the stock should encounter any serious hurdles close to the time of expiration. As I've said many times before, and as I'll say many times again - warrants aren't for everyone. There is inherently more risk involved in warrants compared to common stock. For risk averse investors, common stock is usually the way to go. However, if you can handle risk, and in this case there really doesn't seem to be all that much compared to other warrants, the potential rewards seem quite attractive.
Disclosure: The author has no positions in any stocks mentioned, and no plans to initiate any positions within the next 72 hours.
The author wrote this article themselves, and it expresses their own opinions. The author is not receiving compensation for it (other than from Seeking Alpha). The author has no business relationship with any company whose stock is mentioned in this article.
Additional disclosure: I may initiate a long position in JPM WS over the next 72 hours.