By Bryan McCormick
As part of an ongoing review of sector performance ahead of earnings season proper, today I will be looking at the industrials. Our chart is a one-year daily view on a percentage change scale of the S&P 500 (teal) and the Industrial Select Sector SPDR (NYSEARCA:XLI) (magenta).
If you have looked at the previous two sector reviews on financials and consumers, you will find the importance of September making itself felt once again. The industrial sector crossed back above the zero line on Sept. 1, while the index did so with finality only at the end of that month.
It is easy to see that the shapes of the two lines are remarkably similar, though on different scales. There is little doubt that the leap in the industrials in September was an important event for the broader index.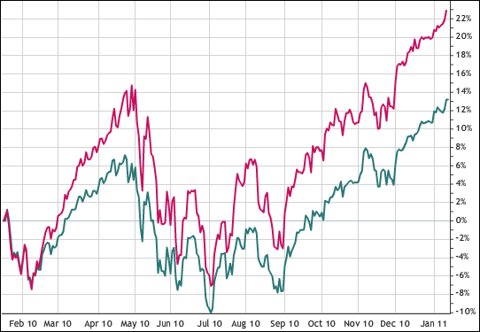 At a weight of nearly 11 percent of the S&P 500 itself, the sector's nearly 2-to-1 outperformance has made it a very heavy lifter. That is also evident in December when the sector jumped nearly 5 percent in a matter of days, helping to pull the index higher by 4 percent.
Looking now beneath the waterline of the sector, there was a key move in one stock that helped set it afire: General Electric (NYSE:GE). GE had been in negative territory in late November but then gained roughly 17 percent from that November low. Why is that important?
The stock is very heavily weighted within the sector, at nearly 11 percent. That is nearly double the weight of the next stock in the list, United Technologies (NYSE:UTX). Next among the top five are United Parcel Service (NYSE:UPS), 3M (NYSE:MMM), and Caterpillar (NYSE:CAT). All but UPS will report in the next two weeks; GE will be the first to report earnings results, on Jan. 21.
These top five names compose nearly a third of the weight of the entire sector, and each is a bellwether for its peers. While it is important to pay attention to all the stocks in a sector, it is crucial to follow these five. Even if you are not trading them directly, their results will color the sector and the broader tape.

Disclosure: No position