Gilead Sciences (NASDAQ:GILD) has had a tremendous run since about one month before reporting Q1 results through the present.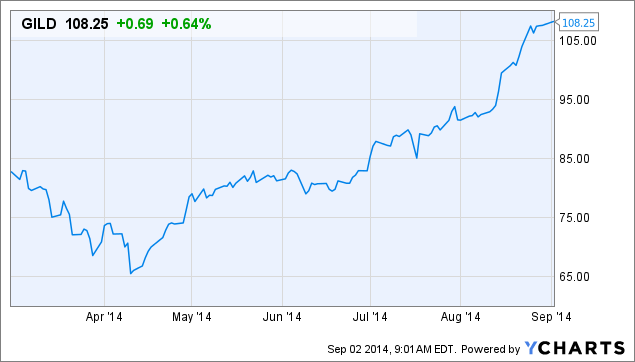 In less than five months, Gilead has risen over 60%. Should investors start taking profits?
In this article, I will calculate a valuation for Gilead based on an approach that is a bit unusual, but then Gilead has had a rather unusual 2014.
The Earnings "Step Function"
A step function is a function that increases or decreases abruptly from one constant value to another.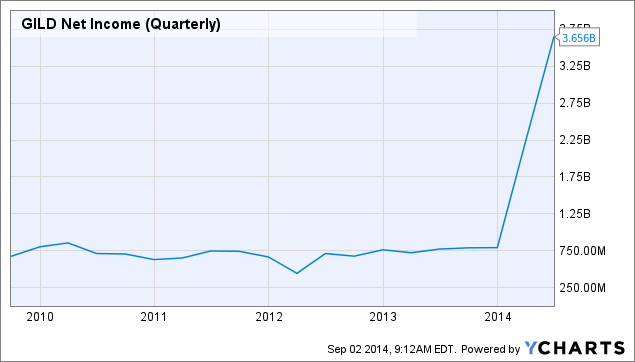 GILD Net Income (Quarterly) data by YCharts
We are seeing a step function - not exactly, but about as close as company earnings ever get - in Gilead's net income after the launch of Sovaldi. For the upcoming Q3 and Q4 results, guidance from Gilead indicates that we should see similar numbers to Q2, and the graph above will show somewhat of a plateau once the Q3 and Q4 numbers are added.
The reason I am talking about this step function will become apparent in the next section of this article -- valuation. I am going outside of the norm with my discounted earnings calculations in that I am not going to perform the calculations based on today's figures, but rather the expected figures after Q4. And that is due to the aforementioned step function.
Gilead's earnings growth from 2014 to 2013 is very high, and it is, of course, not sustainable. With earnings up 300%-400% in 2014, in my opinion it behooves us to look at 2015 and start fresh, so to speak, from that point.
Taking this approach, I will show that Mr. Market is valuing GILD shares as if the company's growth will be like that of a 100-year old value stock rather than that of a growth stock.
Discounted Earnings Analysis
The first step in my approach for a forward-looking model is to set the starting point of where I expect Gilead's earnings to be after Q4 2014 results are reported in February 2015. According to Yahoo Finance, the average analyst estimate for 2014 is $8 per share.
Since the company issued its own 2014 guidance along with Q2 results, I also calculated an expected EPS from those figures as a sanity check. Gilead's guidance results in an estimated 2014 EPS of about $7.20 per share, depending on several assumptions that were not put forth in the guidance, such as shares repurchased, interest expense, and royalty revenues.
Given Gilead's propensity to beat expectations, I am not surprised that the company's guidance is conservative compared to analyst expectations, and I will use the average analyst forecast of $8 per share in my calculations.
Now that I have a starting point for my model, I will calculate the market expectations for Gilead's EPS growth (implied growth). Then I will calculate a Fair Value based on my own growth estimates.
Fast-forward to February. Remember that the next two parts of this article deal with growth rates after Gilead reports 2014 earnings, so the numbers will be lower than other analyses of this sort have been. I am essentially taking out the Q3 and Q4 2014 growth by assuming it has already happened. My goal is to evaluate the company after it completes its EPS step function upwards and growth slows to something sustainable. From there, we can more easily estimate growth into 2015 and beyond.
Implied growth: Using a discount rate of 10%, a growth phase period of five years, and a terminal phase period of 15 years with growth of 5% during the terminal phase, we can calculate the market's implied growth for GILD earnings per share (during the five-year growth phase). That number comes out to be 5.1%.
Fair Value: For this calculation, I use the same inputs as above, but with an EPS growth of 15% during the five-year growth phase (which is a little lower than analyst expectations for growth in 2015). Using those inputs, a Fair Value of $153 per share is reached. Even using a more conservative growth input of 10% results in a Fair Value of $124 per share.
Conclusion
Gilead shares are priced as if the company will meet expectations in 2014 and then grow EPS at about 5% per year for the next two decades after that.
Time to address the question of the article: Should investors take profits? It is certainly possible that EPS will slow to around 5% after 2014. Several drugs are about come into the marketplace and compete with Sovaldi; sales of the flagship drug could stall. Perhaps Gilead's pipeline will prove to be a flop. It is possible that Gilead wastes the cash that it has on hand.
In my opinion, the market's 5% implied growth is very low. It represents a scenario in which many things go wrong for Gilead. Sovaldi, Stribild, and Zydelig sales would all have to come well under expectations. The current pipeline would have to be nearly worthless. And Gilead would have to make poor decisions with all of the cash the company is piling up from its incredible recent success. I think that scenario is very unlikely.
I consider my Fair Value of $153 to be conservative. That represents a scenario of moderate-to-strong growth for only five years, followed by slow 5% growth for 15 years. That target price still represents 40% upside to today's stock price. While GILD has run up very fast, it has done so for good reason. Earnings have exploded even more than just about anyone expected; concerns about price control have - so far - been overblown; there are two other drugs besides Sovaldi that look to be headed for blockbuster status; and the pipeline has loads of potential.
I continue to be bullish on Gilead, and it is my largest holding.
Disclosure: The author is long GILD.
The author wrote this article themselves, and it expresses their own opinions. The author is not receiving compensation for it (other than from Seeking Alpha). The author has no business relationship with any company whose stock is mentioned in this article.