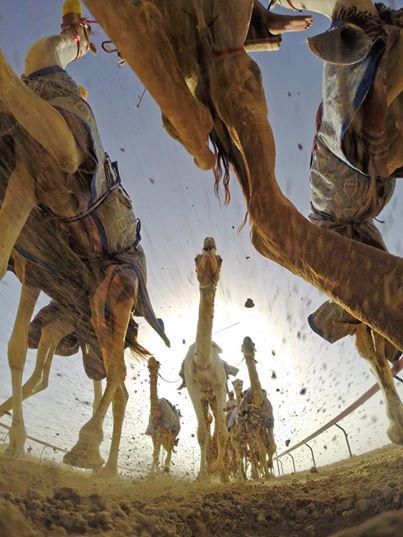 Camels at the track in the United Arab Emirates. Photo by Shoayb Hesham. Photo of the Day
Not so often do I come across a company that truly galvanizes every neuron in my being, but GoPro (NASDAQ:GPRO) has unequivocally offered me that sensational experience. GoPro Inc. is an American company that engineers, manufactures and markets high-definition cameras most often used in extreme sports and unusual situations. But GoPro isn't just your average company selling a consumer product. In the words of CEO Nicholas Woodman, "GoPro is a movement where more than ever before people around the world are capturing and sharing their life experiences. Immersive and engaging footage of their life experiences... they are taking their audience on a ride." When I initially started writing this article, the stock was trading at approximately $38 per share. It is now in the $50s. Why such a meteoric jump in share price? Let's dive into what makes this company so great, and why I believe this is a good investment looking forward.
1. GoPro's earnings are showing signs of strength amidst a sluggish economy.
While things are currently looking brighter, the economy was not exactly flawless over this past year. Amidst this economic barrier, GoPro's earnings have flourished. Over the past quarter, success of operating results is attributed immensely to the increased demand for the new Hero 3+ Black Edition and the accessories that complement the camera which allow it to capture some of the world's most scintillating and engaging shots. Let's highlight some of the key financial statistics that, to me, substantiate a buy position in this company:
Revenue in Q2 of '14 was $244.6M, up 38.1% compared to $177.1M in Q2 of '13.
Revenue in Q2 of '14 increased 3.8% compared to the $235.7M in Q1 of '14.
Non-GAAP gross margins in Q2 of '14 were up 42.2%, compared to 32.3% in Q2 of '13 and 41.1% in Q1 of '14.
Operating income in Q2 of '14 was $17.8M compared to loss of $3.2M in Q2 of '13.
Cash was $104.9M for Q2 of '14, up $77.6M from Q2 of '13 and down $6.3M from Q1 of '14. Q2 results do not include $200.8M that was received on July 1 as a result of IPO proceeds.
Also, GoPro is breaking through the barriers in global markets. International revenue as a percentage of revenue has gone from 37% in '11 to 49% in 2013 as sales rose from $86.6M to $483M.
Seeking Alpha focuses primarily on the fundamental approaches to why a company is a good long-term investment. We all know this to be true, and I will get to that. But a fundamental story is being written here within the financial statistics that can speak just as loud as any fundamental principle can. It may take another year or so before we can see a truly consistent pattern of financial metrics, but as much as we can see now, it looks great. Current analyst consensus is 3 buy, 6 hold and 0 sell with an outlook of 0.07 EPS for next quarter and a target price of $48.50. The stock is currently trading around $38-40 (old information, obviously).
2. GoPro's success stems from its ability to use consumer footage and experience for marketing and advertising purposes.
GoPro holds about 30% market share for camera sales and 4.1 million units sold in 2013, while Sony only captured 20.8% of this market. Now, with the action camera market, GoPro dominates at around 47% market share compared to Sony's 6.5%. Why is this? GoPro has reached out to over 25,000 retail locations in order to appeal to a specific group of interested parties. They have a presence in surfing shops to appeal to the surfer, snow and ski shops to appeal to snow sports enthusiasts, and a presence in major retail stores like Wal-Mart, Target, Best Buy, Amazon, etc., to appeal to the everyday individual. GoPro has basically integrated itself within the cultures of each different sports category, while also appealing to the everyday buyer. The gold here is the way the company advertises the product. As many of you have seen, it's set up in a manner where videos are being displayed on a small TV above the products, and all of the videos that are being shown are footage that customers have captured or submitted. So this eradicates any doubt about the capabilities of the product that they are about to purchase and whether or not it can actually produce the results that influence their purchase initially.
Another way GoPro advertises its product is by allowing the individuals that purchase the GoPro to share their content on the internet. On Facebook, the GoPro page, which has close to 8M likes, allows users to share their experiences with the world. They've also set up numerous other channels, such as Pinterest, Xbox One, etc., that allow people to engage socially while advertising the power of their product.
Society associates certain products with certain companies. For cell phones, we associate this with Apple, Verizon, etc. When we think of construction supplies, we imagine Home Depot, Lowes, etc. And when we think of cameras capable of keeping up with whatever experience or moment that life may present to you, we have started to think GoPro. GoPro has associated itself throughout society as the go-to camera for extreme sports, crisp footage and its ability to go where other cameras have not (at least not until recently). Not to mention its many other capabilities, the GoPro is compact and able to be mounted virtually anywhere you can imagine (see photo above). As Apple has created a branded ecosystem, and a loyal fan base through its marketing strategies, GoPro is doing the same. And not only is GoPro's FB page popular, but it's taking YouTube for the ride of its life.
Kevin Allocca, Head of Culture & Trends at YouTube, exclaims:
"A lot of brands spend a lot of time trying to understand and interact with their community on YouTube, but GoPro actually built their brand on top of that community and embraced it and made the creative community the way they express themselves."
In the first quarter of 2014 alone, YouTube recorded over 6000+ GoPro uploads DAILY, resulting in over 1 billion views and 50 million hours of time watched. That's only 3 months. Year over year, the number of GoPro videos publish on YouTube have increased by 160%, views up 200%, and time watched up over 270%. There's also been a GoPro Channel on Pinterest that has a social network of more than 60 million users.
All of these figures may seem trivial and irrelevant, but these numbers are telling the story of what is happening and what is to come. GoPro is spawning a social revolution of a completely different type of way of engaging socially. Like Instagram revolutionized the way we engaged with friends through pictures, GoPro is doing the same through both pictures and films. And slowly but surely, GoPro is taking this market by storm.
3. Versatile application makes for a superior product.
Finally, versatility is a key component in what makes GoPro so successful. Its purposes do not heel at sports, specifically, but can expand to the uses of almost anything and everything that happens on a daily basis. From the seven HERO2 GoPro cameras that captured Felix Baumgartner's 128,000 ft. plummet from space, to the one camera that captures majestic whales 200 feet under water, and everything in between, the GoPro's versatile application is what drives such high demand for the product.
GoPro is also innovating new technologies to open up market share for an array of different applications. For example, let's analyze the pet market. Americans spent approximately $56 billion last year on pets, so by GoPro attempting to tap into this market with mountable cameras that can be placed on their dog to capture its point of view, it's introducing itself to a new market that can augment its bottom line.
The bottom line here is that GoPro isn't marketing just a product; it's marketing an experience. It's marketing the ability to take a person's experience and allow that individual to share it with their family and friends like a picture never could. It's an opportunity to engage socially through unconventional, innovative means that naturally appeals to an array of different people.
Now, we can't completely put the challenges beside us like they don't exist, but I believe in the movement that GoPro has created and have faith that they can endure. Sony and other companies have followed suit with comparable technologies, but as I stood and studied the differences between the two stands at Best Buy for which company offered the superior product, I do believe that consumers will indisputably choose the original GoPro over the knock-offs. There will always be something about authenticity and originality that drives the choices of consumers. The accessories were more user-friendly, and the price differences were not that significant to pull away customers from the GoPro stand.
In conclusion, based on the positive earnings statement and loyal sentiment from GoPro's fan base, I'd propose a buy position on this company. I would like to see a few more 10-Qs before I bet the farm on it, but as it stands right now, it's looking like the beginning of something big.
Disclosure: The author has no positions in any stocks mentioned, and no plans to initiate any positions within the next 72 hours. The author wrote this article themselves, and it expresses their own opinions. The author is not receiving compensation for it (other than from Seeking Alpha). The author has no business relationship with any company whose stock is mentioned in this article.