After four years of private equity (NYSE:PE) ownership, shares of SeaWorld (NYSE:SEAS) opened for public purchase in April 2013. Despite outperforming both its industry and individual competitors on a variety of financial metrics, mismanagement, negative publicity, and a lack of regional diversity have all contributed to driving SEAS stock down over 50% over the last year. With shares currently trading at $20.79, well below their IPO price of $27, a competitor is likely to find value in purchasing the company as a whole. A buyout would reward current SEAS investors handsomely. However, even without a takeover the combination of solid fundamentals and shares selling at a large discount makes SEAS stock a great purchase.
SEAS operates 11 theme parks in five states in the U.S., including five of the top 20 parks by attendance in North America. It is not regional, but rather is represented in "destination locations." These tourist-heavy, warm-weather locations leave the company open to risk from bad weather. Over half of its overall attendance comes from visits to its Florida locations, for example. SEAS's selling point is not rides or attractions, but housing a variety of sea life with 91 habitats and 86,000 marine and terrestrial animals across its parks. This business model restrains SEAS from expanding to locations with less moderate climates. Combining with a more adrenaline-based attraction park not confined to certain regions, such as Six Flags (NYSE:SIX) or Cedar Fair Entertainment Company (NYSE:FUN), may better hedge weather-related risks.
A major factor affecting SEAS stock has been negative publicity regarding its orca whale program. The 2013 documentary "Blackfish" accused SEAS of mistreating orca whales, which also indirectly resulted in the death of a trainer. SEAS also notably lost a long-time partnership with Southwest Airlines (NYSE:LUV) because of the negative publicity, among other social consequences such as different performers refusing to play at SeaWorld resorts. A recent Aug. 13 Q2 2014 earnings announcement by SEAS management finally admitted that park attendance has suffered due "Blackfish." The stock dropped 33% after the announcement. The following day, ratings agency Standard & Poor's lowered SEAS's credit rating from BB to BB-minus, a speculative-grade rating with a negative outlook going forward. SEAS is fighting the criticisms through programs aimed at appeasing both investors and shifting public opinion.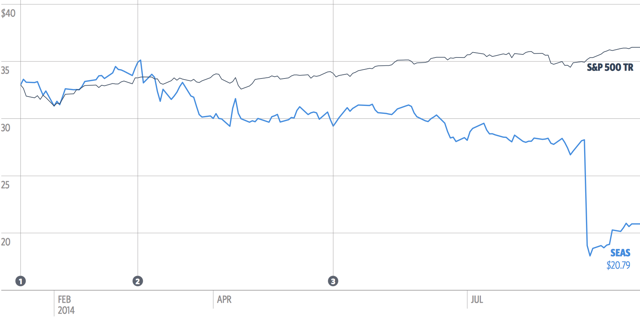 Source: TD Ameritrade.
To appease investors, SEAS announced in its Q2 2014 earnings board approval for a $250 million share buyback beginning Jan. 1, 2015. SEAS also announced a 5% increase in its annual dividend earlier in May. SEAS already has an industry-beating dividend $0.84, which is a 4.04% yield at the current stock price. Both dividend expansion and share buybacks depend heavily on the company's cash balances. There is reason to believe cash balances will improve significantly in the future from current levels, a catalyst for allowing the company to move forward with these investor-friendly plans. This is due to the fact that SEAS benefits from a fixed-cost structure. It stays open year-round, and thus the upkeep of its animals and rent is already set.
Incremental increases in ticket prices or attendance can greatly increase revenues and profits without subsequent matching increases in costs. There is great potential for increased attendance through improvements in the weather, the general economy, and SEAS efforts to combat negative publicity. Lastly, management is expected to announce this September a new series of cost-cutting initiatives that it also hopes will free up more cash for shareholders. SEAS has over $1 billion in annual operating expenses, so cost-cutting actions have the potential to make a big impact.
After over a year of denying any effect from "Blackfish," SEAS is now taking a more direct approach and combating the problem head on. Management announced on Aug. 15 that new, larger orca tanks are being planned, with the first environment being opened to the public in 2018 in its flagship SeaWorld San Diego location. Also announced were pledges to commit millions in funds for orca research and guarding ocean habitats for whales in the wild. Changing public opinion is of central importance to SEAS not only in terms of boosting attendance.
One risk for SeaWorld is that it does not have famous brands or characters such as Mickey Mouse or Harry Potter to leverage, with trained orcas being its main attraction and marketing logo. If public perception of orca treatment remains an issue going forward, SEAS may have a harder time with marketing. This could be another incentive for merging with another company. The joint brand could continue to use the proprietary branding of its original theme parks, while offering packaged deals for SeaWorld resorts, avoiding the marketing nightmare of using orca whales. SEAS's general business model of housing a variety of animals in captivity is not an issue, however. Zoos, which house land animals, have not come under similar fire. So it seems for now that the contagion is limited to controversy surrounding just SEAS's orca whale program.

Source: Credit Suisse.
The above image shows that SeaWorld charges higher admission prices than both SIX and FUN due to its destination locations in areas with heavy tourism. These regional players and SEAS competitors, both with higher P/E valuations, may see SEAS park locations as a way to boost their geographic exposures and pricing opportunities.
SEAS falling below its IPO price is a significant psychological hurdle not only for public investors, but its former PE owner, The Blackstone Group, which acquired SEAS for $2.3 billion in 2009 before taking it public in 2013. The IPO valued SEAS at $27 per share, for a company valuation of $2.5 billion. BX sold 15 million shares around late March at around $33 a share for a profit. However, BX still owns 20.2 million shares of SEAS stock. With the current SEAS share price hovering around $20, BX may be vulnerable to an overall loss in its SEAS investment if it were to sell its shares publicly. BX is also likely quite displeased with SEAS's management team post-IPO. Thus, if BX decides to open the company to purchase by a competitor such as FUN or SIX at an acquisition premium to SEAS's current stock price, BX solves its management problem while simultaneously assuring itself an overall profit and an influx of new capital to invest in more fruitful ventures.
Market sentiment has bottomed out for SEAS, with fundamentals likely to provide a bottom floor for its stock price near current levels. With a variety of apparent synergies possible through merging with one of its competitors, and its shares selling at a discount, SEAS has the potential to be a likely takeover target going forward. Thus, a buy suggestion is appropriate for SEAS stock, although a lack of upcoming upside catalysts outside a consolidation announcement is likely to limit stock price movement in the near future.
Disclosure: The author has no positions in any stocks mentioned, and no plans to initiate any positions within the next 72 hours.
The author wrote this article themselves, and it expresses their own opinions. The author is not receiving compensation for it. The author has no business relationship with any company whose stock is mentioned in this article.