Transocean (NYSE:RIG) operates the world's largest fleet of mobile offshore drilling rigs with 91 rigs, including 12 under construction. The company's focus is in the ultra-deepwater (UDW) and deepwater segments with 31 UDW rigs and 14 deepwater rigs. While an oversupply condition in the UDW market for rigs is weighing on sentiment for the shares, the company is positioned to take advantage of a turnaround in the market over the next year. The recent spin-off of assets to a tax-efficient structure could provide stronger cash flows and boost the company's value proposition. Shares trade relatively cheaply against peers and pay an attractive yield to compensate investors until a rebound takes prices higher.
Tax-efficiency means stronger cash flow for investors
Transocean completed its spin-off of some assets into a tax-advantaged partnership structure called Transocean Partners (NYSE:RIGP) with an IPO last month The company raised $385 million with the offer and dropped three drilling rigs to the partnership with long-term contracts. Transocean owns a 51% stake in the new company and has the option of dropping more assets into the partnership.
I am a big fan of Master Limited Partnerships (MLPs) and other tax-advantaged structures as a much more efficient use of assets. The move follows the company's decision to spin off eight of its U.K.-based drilling rigs into a new company, Caledonia Offshore Drilling, and is consistent with the company's focus on core performing assets. The MLP structure offers the parent company better access to debt and equity as a source of funding through lower risk on contracted rigs and cash flow stability.
The partnership structure will improve financial flexibility for the company and support management's goals for operational efficiency. Transocean is targeting $800 million in margin improvement through 2015 with $300 million in shore-based cost reductions and $500 million in operational efficiencies. Transocean increased its dividend this year to $3.00 per share on an annual basis, a yield of 7.6% on the current share price.
Industry still struggling, but Transocean best positioned to survive
The company's fleet status report has shown progressively lower estimates from the weak environment. Supply of ultra-deepwater rigs is projected to outpace demand through this year, but demand is set to pick up through 2015. The rig-weighted average day rate for 2014 is expected to increase by 3.1% through the year with 2015 rates expected just 0.7% higher. Transocean has also regularly increased its estimate for 2014 Out-of-Service Days.

Despite the weakness in rates, the company has managed to increase revenue efficiency from 88.0% in the first quarter of 2013 to 95.7% in the first quarter of this year. Revenue efficiency represents the actual contract drilling revenues divided by the maximum contract revenue a rig could earn over the period, not counting out-of-service days.
The company has $16.1 billion in backlog projects through 2017, $10.1 billion of which is for UDW rigs. While the UDW market is currently oversupplied, a Transocean presentation last month projects demand catching up with supplied rigs by mid-2015. Ultra-deepwater discoveries of 12 billion barrels of oil equivalent (BOE) have far outpaced 2 billon boe of recent onshore discoveries and the 4 billion boe of discoveries made at depths of less than 1,300 feet.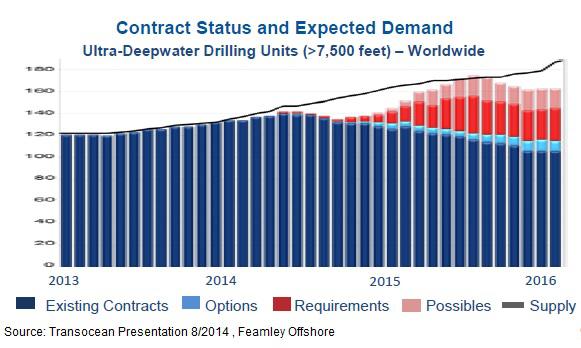 Sentiment on the shares has fallen sharply because of the focus on UDW rigs and the oversupplied environment. The longer-term potential for the market and the company's advantage in the space could see shares rebounding when the oversupplied condition clears.
Valuation lower than peers despite upside on size and tax-savings
Shares are trading for just 7.7 times trailing earnings, well below the average 10.0 times earnings for the industry and the company's own average of 12.4 times over the last five years. The shares trade for less than the industry average on book value and sales as well, confirming relative value against peers.
Transocean is expected to grow earnings by 11.9% to $4.60 per share on $8.97 billion in sales this year. Sales are expected basically flat next year to $8.82 billion, though earnings are expected 18% lower to $3.49 per share.
Earnings are expected lower by 30% next year to $3.21 per share, but a range of $1.78 to $5.17 per share among 34 analysts clearly shows the uncertainty in earnings. I think the company can beat expectations for at least $4.10 per share in 2015. As the market improves over the next 18 months, sentiment could improve significantly, and I have a target of $41.00 per share based on an industry multiple of 10.0 times earnings. An 8% upside in the shares on the industry average is likely conservative given the stock's history of trading above the industry average.
Recent new builds with Shell (NYSE:RDS.A) (NYSE:RDS.B) are earning upwards of 12% return and are contracted out for ten years, so there may not be as much to fear from contract expirations. Operating cost management should help protect margins even on weaker day rates. Transocean also cut another $56 million in operating costs over the last quarter through lower shipyard expenses.
Transocean operates the world's largest fleet of offshore rigs and commands a size advantage that should help it weather the near-term weakness in day rates. The potential for deepwater drilling is enormous and the dividend compensates investors to wait for the rebound in the share price. A new tax-efficient structure supports the value proposition with the possibility of higher cash flows ahead.
Disclosure: The author has no positions in any stocks mentioned, and no plans to initiate any positions within the next 72 hours.
The author wrote this article themselves, and it expresses their own opinions. The author is not receiving compensation for it (other than from Seeking Alpha). The author has no business relationship with any company whose stock is mentioned in this article.