Shares of Seadrill (NYSE:SDRL) declined by almost $1 after the company reported its second quarter earnings last week. The market seemed lukewarm on Seadrill's operational and financial results, but decidedly negative on some of the comments from management on the offshore floater market and its future fundamentals.
Quarterly results were actually not so bad. Economic utilization of the entire fleet rose back up to 94%. Last quarter economic utilization was uncharacteristically low for Seadrill; in the high 80s. The company also reported record EBITDA of $865 million, up substantially from $665 million in the same quarter of last year. Of course, nearly all of that has to do with new ship deliveries, and the company has increased leverage and issued equity to build and deliver these ships, but such growth is still encouraging.
This quarter Seadrill also secured a contract for the West Jupiter, one of the company's ultra deepwater drillships. The contract is for $1.1 billion and will last for five years. That implies a dayrate of approximately $600,000, which is very strong. Many experts are expecting dayrates to drop to below $500,000. That has not happened yet. Not, at least, for Seadrill's modern, ultra deepwater-focused fleet.
The market, however, was more focused on the supply challenges ahead: Dozens of new rigs will be entering the market, but at the same time, many big exploration and production companies are cutting offshore capital expenditure. Despite this short-to-medium-term softness, many still believe that the long-term fundamentals of this industry are great. This article will explore the assumptions behind Seadrill's long-term thesis, and will attempt to identify risks and uncertainties associated with that plan.
Era of Deepwater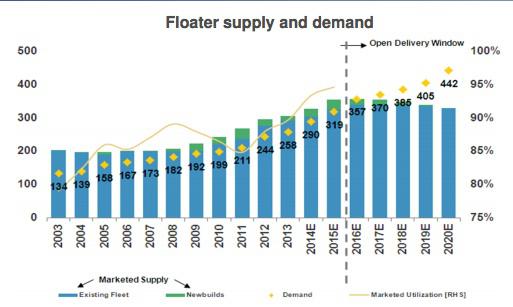 Courtesy of Seadrill Investor Relations
In "phase two" of it's growth campaign, Seadrill expects double-digit EBITDA growth through 2016, thanks largely to contracted newbuilds. The above chart shows, in a nutshell, what Seadrill is depending on to achieve and sustain that growth in years following 2016. As you can see above, by 2016, demand for floater rigs is expected to finally overtake supply. Despite a flurry of construction activity, supply will decline because many decades-old rigs will be retired.
But what is the assumption driving all that demand for offshore rigs? Many call this future surge in demand the "Era of Deepwater," where suppliers are forced to explore deeper and deeper into the ocean to find oil in order to satisfy continually-growing global oil demand. At the same time, traditional onshore sources of oil are maturing and declining. The "Era of Deepwater" depends on a few crucial assumptions.
Continued modest demand growth for oil.
The decline of production in traditional areas of supply.
That the shale revolution will be limited to North America.
Let's take a look at each one of these assumptions and the risks behind them, starting with the first. While oil demand in the US peaked in 2008 and has been declining steadily since then, many oil bulls believe that the developing world will more than pick up the slack over time. The bullish case for oil, then, is modest global demand growth marked by gentle declines in developed markets such as the US, Europe and Japan.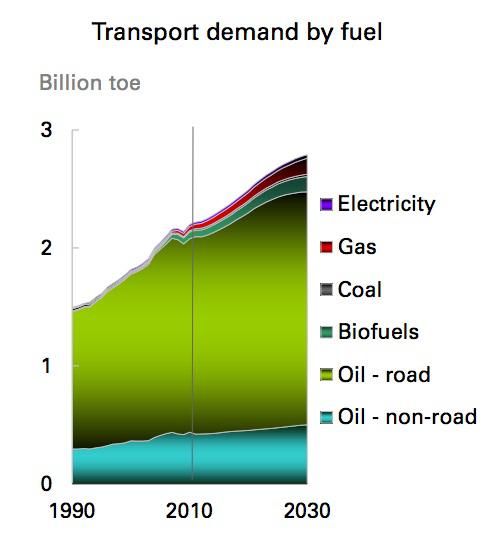 Courtesy of BP Investor Relations
This chart shows forecasted demand for oil through 2030. Demand for oil is represented in yellow and turquoise. As you can see, these experts expect a gradual increase in oil demand from about 2 billion TOEs to about 2.4 billion or 2.5 billion TOEs by 2030. That would be compounded demand growth of less than one percent per year.
But investors must understand the nature of this model and how it was arrived at. Take a look at when most of the growth in demand occurs; at least a few years in the future. The reason is because there really hasn't been much increase in global demand since 2010. In other words, the growth in demand these economists are expecting hasn't come yet.
Just looking at how cheap Seadrill's stock continues to be, it is clear that many believe such growth may simply not arrive, especially if global economic growth continues to be weak. While it is undeniable that the developing world will continue demanding more oil, investors have good reason to be skeptical of the above charts.
The second assumption, the decline of traditional producing areas, is more difficult to gauge simply because the producing companies in these areas are often non-public companies and their disclosure is quite limited. This includes countries in the Middle East and includes Russia, most of which employ national oil companies and generally prohibit western, international oil companies from investment and operations on their soil. Lack of the latest technical know-how will, according to some, necessarily result in the eventual decline of oil production in some areas. This could be especially true for peripheral suppliers such as Venezuela and Nigeria.
Thirdly, the "Era of Deepwater" also relies on the shale revolution being limited to North America. North America is not the only location with significant shale liquids reserves. In fact, it is widely believed that Australia, China and western Europe all have shale liquids reserves equal to, or perhaps greater than, those in North America.
However, strong regulatory and environmental opposition has thus far hamstrung shale efforts in both Australia and western Europe. France has banned fracking outright. Australia's very high cost of labor and environmental regulatory zeal have made shale development difficult there. In China, shaky property ownership rights, difficulty in securing reliable sources of water, and a costly system of patronage have all thus far made shale drilling a very difficult and cumbersome task in that country. For now, it seems that shale drilling will be mostly limited to North America, so that is one positive factor for Seadrill investors and for deepwater enthusiasts in general.
Other risk factors
Aside from those three assumptions on which I believe the "Era of Deepwater" rests, there are a couple other risk factors that could jeopardize Seadrill's growth prospects. For example, there has been some rumblings that the 40-plus-year ban on crude oil exports in the US might be lifted. As many North American investors know, oil output in the US has been rising sharply. Many experts, including midstream crude oil giant Plains All American (NYSE:PAA), believe that the US will produce 900,000 more barrels of condensate and light, sweet crude oil per year than it will consume by the end of 2017.
The export of US crude onto global markets will put downward pressure on the price of Brent Crude. This, of course, would further erode the profitability of deepwater drilling.
Lifting the ban on exports would also likely increase realized prices in the US, thereby increasing returns in onshore US developoment projects. It is very conceivable that, if the US crude oil export ban were lifted, deepwater would face increased investment competition from the shale.
Seadrill-specific mitigating factors
That shares of most offshore rig lessors continue to be in the doldrums is likely a combination of all the above possibilities. While most experts believe the long-term fundamentals of deepwater and ultra deepwater drilling are very good, there are definite contingencies to factor in.
All that said, of the offshore rig lessors, Seadrill could be the best-prepared, operationally speaking. Although I've mentioned this in other articles, it is worth mentioning again that we are in a very bifurcated offshore rig market. Specifically, since the Macondo Incident in 2010, operators are demanding newer, state-of-the-art rigs, and these rigs are fetching nice premiums to their older cohorts. Also, the majority of new discoveries have been at "ultra deepwater" depths of over 7,500 feet. Therefore, the lessors with the newest, most deepwater-oriented fleets will be the ones best able to handle a downturn. Of all the major lessors in the industry, Seadrill is likely the best-prepared. Have a look at the chart below:

Seadrill Investor Relations
Seadrill also has the lowest fleet availability for the next few coming years. That's to say, Seadrill has contracted out a greater proportion of its deepwater fleet than have most other lessors. For this reason, management has ensured that the company's generous $4 per year dividend will be sustained until at least 2016.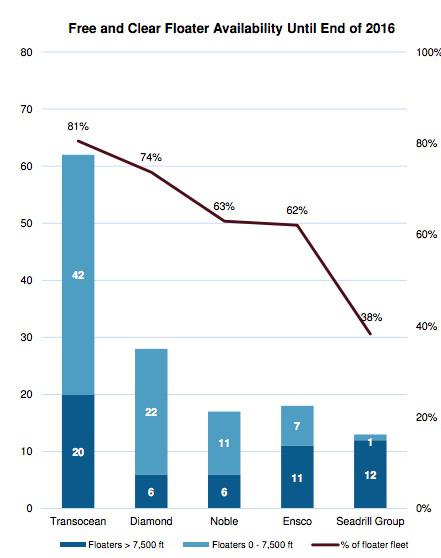 Courtesy of Seadrill Investor Relations
Conclusion
Seadrill has aggressively expanded its fleet, and has done so on the premise that demand will well outstrip supply within just a few years. To expand its fleet, Seadrill also levered itself at a higher rate than most other lessors. Such an aggressive strategy, however, is tempered by a solid backlog of contracts, which will provide good cash-flow visibility.
Across-the-board weakness in the floater market past 2016 could impact Seadrill's dividend in the years beyond. The long-term strength of the deepwater picture depends on the confluence of a few factors, all of which are out of Seadrill's control. In conclusion, Seadrill is a risk, but it is a calculated risk. It is also perhaps the best operator in this industry.
Disclosure: The author is long SDRL.
The author wrote this article themselves, and it expresses their own opinions. The author is not receiving compensation for it (other than from Seeking Alpha). The author has no business relationship with any company whose stock is mentioned in this article.