U.S. stocks continue to reside near all-time highs after the S&P 500 traversed 2,000 for the first time ever.
The benchmark U.S. index has more than tripled since the March 9, 2009 market bottom, and these days when stocks enjoy particularly strong one-day performances, dozens and sometimes over 100 exchange traded funds will hit new all-time highs.
Homebuilders ETFs, such as the iShares U.S. Home Construction ETF (NYSEArca: ITB), are not among the new all-time high group ever. Like many of the ETFs hailing from the financial services sector, ITB and its rival SPDR S&P Homebuilders ETF (NYSEArca: XHB) still reside nowhere close to their pre-financial crisis highs.
Last week, the National Association of Home Builders said August homebuilder sentiment jumped to 55 from 53 last month, fanning the flames of a rally that has seen ITB soar 5.3% this month.
There are always present data risks with homebuilder ETFs and there is the specter of rising interest rates, which could make already hard-to-get mortgages that much more unattainable for scores of home buyers. However, ETFs like ITB could offer some tactical opportunity going forward.
"Many of the large homebuilders have aggressively reduced inventory and ratcheted back on developments. As a result, they are now sitting on piles of cash, despite the heavy losses they've taken in recent years. They also have downsized their organizations to better align their cost structures for a lower-demand environment," said Morningstar analyst Robert Goldsborough in a research note out Friday.
ITB could prove to be the preferred option for playing a rally in homebuilder stocks because, quite simply, the ETF's exposure to those stocks is larger than XHB's. While XHB features robust exposure to home furnishings companies and retailers, ITB is a purer homebuilders play.
"ITB has a much higher exposure to homebuilders because of its index construction rules, with homebuilders making up about 62% of its assets. XHB, meanwhile, devotes only about 26% of its assets to homebuilding companies. ITB's index caps its total weight to non-homebuilding companies at 40%, while XHB's index tracks a much broader universe," according to Goldsborough.
While recent data points suggest investors are feeling a bit more sanguine about the interest rate outlook and homebuilders stocks and ETFs in general, that does not imply a "free lunch" type of investment with either ITB or XHB.
For example, homebuilders ETFs and their holdings must contend with declining home ownership, a trend that may not abate anytime soon. American home ownership fell to 64.7% in the second quarter, the lowest level in nearly two decades, due to inflated home prices and the burden of rising student loan debt.
iShares U.S. Home Construction ETF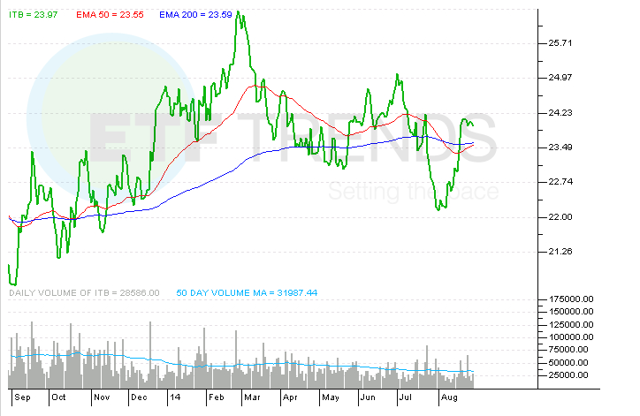 ETF Trends editorial team contributed to this post.
Disclosure: The author has no positions in any stocks mentioned, and no plans to initiate any positions within the next 72 hours.
The author wrote this article themselves, and it expresses their own opinions. The author is not receiving compensation for it. The author has no business relationship with any company whose stock is mentioned in this article.