In just a couple of months, things can change dramatically for a stock. Shares of social media giant Twitter (NYSE:TWTR) are a great example. After an IPO at $26 a share, shares rocketed to nearly $75. Then, the bottom fell out as shares plunged to under $30, as the valuation was excessive and the user base did not grow as expected. In recent months, shares have rallied back to more than $51 a share, as seen in the chart below.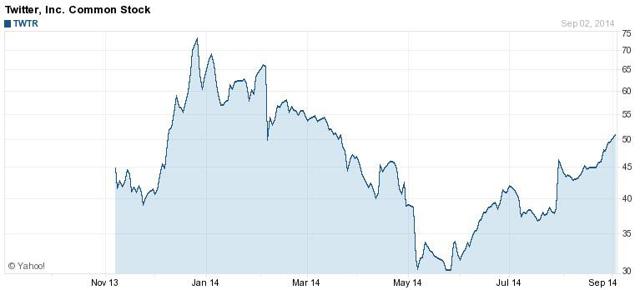 (Source: Yahoo! Finance)
It's been a wild ride for investors, and those that bought in the last couple of months have been handsomely rewarded. Shares are still nearly 1/3 off their all-time high, but they are still about double the IPO price. With the large rally though, the company's valuation has certainly stretched. Today, I'll detail why that may become a problem for investors.
It was just a couple of weeks ago when I detailed how Twitter was about to face a challenge. The stock had actually risen after an earnings report, something we had not seen before with Twitter as a public company. Analyst estimates jumped thanks to a Q2 beat and solid guidance, and the company's user base showed decent growth. Since that above linked article, estimates have not risen further, but Twitter's price surely has.
In my previous article, I detailed a table of growth estimates, which have not changed for any of the four companies mentioned, including Facebook (NASDAQ:FB), LinkedIn (NYSE:LNKD), and Zillow (NASDAQ:Z). Twitter still leads in expected revenue growth for 2014, with Zillow leading in terms of expected non-GAAP EPS growth. Facebook is still expected to have the most revenues and profits of all of these names. Twitter does not have a non-GAAP EPS growth rate in 2014 as it is expected to swing from a loss to a profit.
Because Twitter is expected to only have a small profit, the P/E based on 2014 earnings expectations is well over 500, with Zillow at about 380 and LinkedIn at 120. Facebook seems like a bargain at around 47 times. Thus, I've been detailing how these four names trade on a price to sales basis. In the table below, you can see how the P/S values for 2014 and 2015 have changed since my last article.

This is very important, because Twitter is now the most expensive and by quite a bit. In the last article, Twitter traded at a discount to Zillow for 2015, and the premium to Facebook wasn't that much. But thanks to the recent rally to more than $51 a share, Twitter now trades at a premium to Zillow and a more than 10% premium to Facebook. Things have definitely changed since late May, when Twitter traded for just 15.53 times expected 2014 sales and only 9.67 times 2015 sales.
While Twitter's valuation has gone up, there is one item that has gone down quite a bit, and that is short interest. With shares rocketing higher again, the number of those betting against the name has certainly decreased. In the chart below, you can see a history of Twitter's short interest.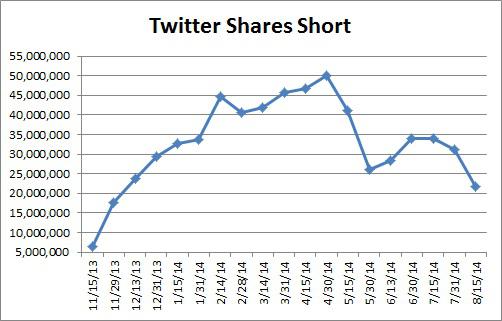 At the latest update, nearly 10 million shares were covered, almost a third of the prior update's total. The number of shares short is now at its lowest point since the end of November 2013, which was only the second short interest update after Twitter went public. We've now seen nearly 57% of shares short covered since the peak, marking a dramatic change in short interest. It will be interesting to see what happens at the next update or two as Twitter shares have gotten back over $50 a share.
It's certainly been a couple of good months for shares of Twitter, but now the company will need to justify its extremely lofty valuation again. Twitter has the most expensive price to sales number when compared to major peers, and the premium seems to be building as this rally continues. With shares now back above $50, we might see short sellers start to return if this valuation stretches even more. Twitter is approaching its mean and median price targets, so I wouldn't be surprised if we get some analyst reports rather soon. With the most expected revenue growth in this space, Twitter shares can still rally if the growth story continues. However, investors must realize that continued upside becomes less and less as this valuation stretches further to levels most investors think is ridiculous.
Disclosure: The author has no positions in any stocks mentioned, and no plans to initiate any positions within the next 72 hours.
The author wrote this article themselves, and it expresses their own opinions. The author is not receiving compensation for it (other than from Seeking Alpha). The author has no business relationship with any company whose stock is mentioned in this article.
Additional disclosure: Investors are always reminded that before making any investment, you should do your own proper due diligence on any name directly or indirectly mentioned in this article. Investors should also consider seeking advice from a broker or financial adviser before making any investment decisions. Any material in this article should be considered general information, and not relied on as a formal investment recommendation.