As earnings approach, investors who own shares in Restoration Hardware (NYSE:RH) are probably kicking around what to do with the retailer's shares. Currently, the company is trading 12% off its 52-week high, which implies that it could make for an interesting prospect, but in the long run, what kind of value does the business provide for your buck?
Analysts have high expectations for the quarter
For the quarter, analysts expect Restoration Hardware to report revenue of $454.38 million. Should this forecast turn out to be accurate, it will represent a 19% improvement over the $382.10 million management reported the same quarter a year earlier. In the event that the company does post sales growth in this range, historical data suggests that the most likely contributor will be higher comparable store sales, not a meaningful increase in store count.
Earnings Preview

| | | |
| --- | --- | --- |
|   | Last Year's | Forecasted |
| Revenue (millions) | $382.10 | $454.38 |
| Earnings per Share (adj.) | $0.49 | $0.64 |
From an earnings perspective, expectations are even higher. For the quarter, analysts anticipate that Restoration Hardware will report adjusted (non-GAAP) earnings per share of $0.64. If this turns out to be accurate, it will represent an almost 31% jump in profits compared to the $0.49 management reported during the second quarter of its 2013 fiscal year. While some of this improvement will likely be due to the retailer's higher sales growth, investors should also expect improved margins as a result of a year-over-year increase in comparable store sales.
But is Restoration Hardware an attractive play?
Over the past five years, Restoration Hardware has exploded to the upside. Between 2009 and 2013, the retailer's revenue soared 148% from $625.69 million to $1.55 billion. Despite the fact that store count dropped 26% from 95 locations to 70 locations during this five-year timeframe, the business benefited from a 125% increase in its comparable store sales.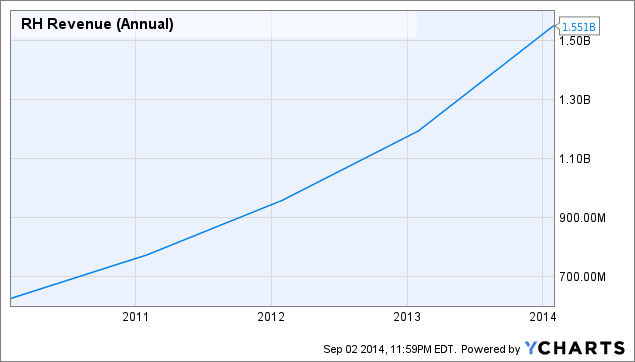 RH Revenue (Annual) data by YCharts
During this same five-year period, Restoration Hardware's net income also improved, rising from a net loss of $28.65 million in 2009 to a gain of $18.20 million by the end of its 2013 fiscal year. This was due, in part, to the business's sales increase, but investors also need to attribute some of its growth to a reduction in costs. Over this period, the retailer's cost of goods sold fell from 65.9% of sales to 64.1%, while its selling, general and administrative expenses dropped from 38.2% of sales to 32.4%.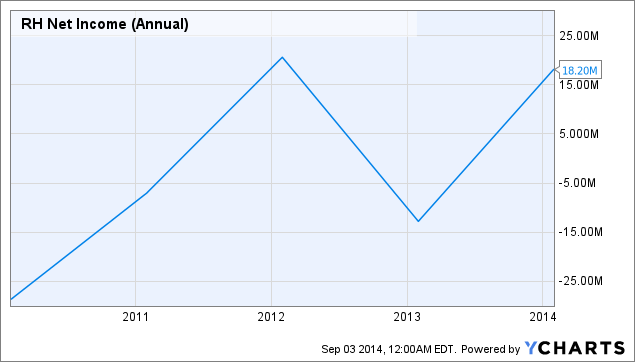 RH Net Income (Annual) data by YCharts
Given this strong growth performance on both the top and bottom lines, investors would be right to be interested in shares of Restoration Hardware, but there is one thing to consider; its growth comes at a pretty steep price. Currently, shares of the business are trading for 35.9 times forward earnings (non-GAAP) and can be acquired for 48.5 times last year's earnings (also non-GAAP). Last year's GAAP earnings imply an even higher 184 multiple on the company's stock.
Takeaway
Based on the data provided, Restoration Hardware has had a pretty nice run, and analysts expect for this growth to continue on both the top and bottom lines. These factors, combined with the fact that business has been quite strong for years now, suggests that the retailer could make for an interesting long-term play, but the fact that shares are trading so high imply that the company may not be worth the risk. Seeing as how non-GAAP figures aren't a real measure of profits, the 184 times earnings shares are trading for implies that the business would have to see tremendous upside on its bottom line to sit at fair value, let alone sit in the bargain bin.
Disclosure: The author has no positions in any stocks mentioned, and no plans to initiate any positions within the next 72 hours.
The author wrote this article themselves, and it expresses their own opinions. The author is not receiving compensation for it (other than from Seeking Alpha). The author has no business relationship with any company whose stock is mentioned in this article.