Delta Air Lines' (NYSE:DAL) share price has been aided by falling oil prices recently, but the company's underlining fundamentals could also lead to more gains. As oil prices have declined over the past three months, Delta's stock has shot higher. The reasoning is that oil is used as fuel, and with lower fuel comes lower input costs. Lower fuel costs have been great for the airliner, but growing cash flow and improving top-line growth should continue to propel the stock higher.
During Delta's second quarter conference call in July, Chief Executive Officer Richard Anderson said the company's efficiency was off the charts. "In the quarter we delivered exceptional operating reliability for our customers with a 99.9% completion factor including 27 days with zero main line cancellations and a 1 point (annual) improvement in our on time rate to 83.4%," Anderson stated.
Increased efficiency saw a spillover in free cash flow as Anderson explained, "Delta runs the best overall airline in the industry by a significant margin, with the lowest capital cost per aircraft among our competitors."
During the quarter, fuel cost hedging cut Delta's average price per gallon to $2.93, much lower than the industry average of $3.08 per gallon. The company has also stayed disciplined, keeping CapEx to $2.3 billion this year, which should allow Delta to reach its goal of generating over $3 billion in free cash flow.
Management made it clear that the robust free cash flow would be put back into investors' pockets. "We will use that free cash flow to further improve our balance sheet and return more cash to shareholders," said Anderson. "We have already returned $550 million to shareholders through dividends and buybacks this year including a $100 million so far in the month of July and we're on a path to return over $1 billion this year to our owners," Anderson continued.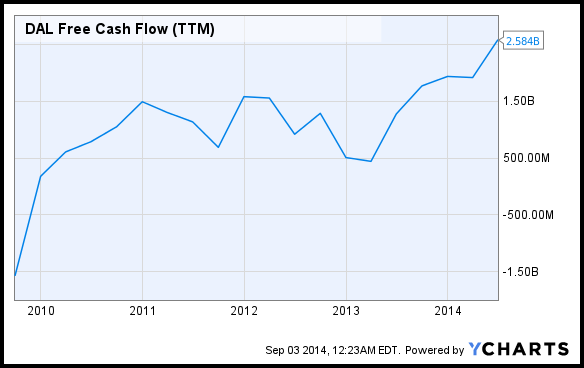 Meanwhile, revenue per employee improved as Delta maintained strong customer demand in the U.S. and abroad.
In a recent survey, 85% of corporate travel managers expect to maintain or increase their future spending on Delta, management said during the July call. The positive perception of the company led to solid domestic revenue growth this year as well.
"The domestic entity was our best performer as unit revenues increased 7% with particular strength in the Atlanta and New York hubs," explained Delta President Ed Bastian. "Our largest house Atlanta continues to outperform with double-digit gains on 2% higher capacity, (while) New York's performance was supported by a strong spring break, and our upgraded products and service on the New York trans-con helped produce double-digit rise of gain in these markets on 12% higher capacity," Bastian further said.
The trans-Atlantic unit saw revenues in the quarter increase 7%, on a 2% reduction in capacity. Within the trans-Atlantic unit, Delta's joint venture with Virgin helped drive its Heathrow unit revenues up 5% on 18% higher capacity. In addition, Virgin's June quarter profitability contributed $7 million in non-operating benefit from its equity stake.
Latin unit revenues were flat, which was a solid performance considering the entity absorbed a 25% increase in capacity and experienced some demand weakness around the World Cup. Delta has been investing heavily in its Latin network to leverage its equity investments in GOL and Aeromexico, management said. "The carriers both produced solid contributions to our revenues this quarter, (with) GOL providing one-fourth of the traffic on our U.S. to Brazil flights and Aeromexico delivering nearly one-fourth of the traffic on our flight into key Mexican business cities. This traffic contributes $36 million in incremental revenues this quarter year-over-year," said Bastian.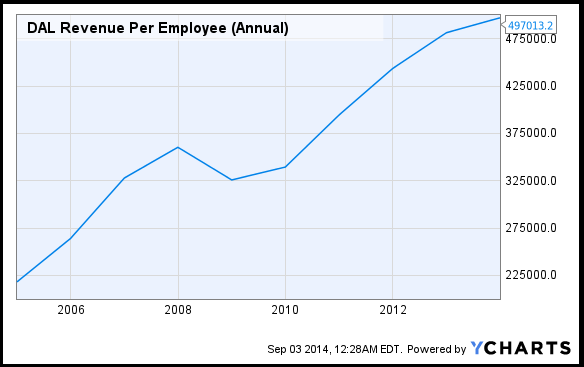 Although sales growth has remained solid, and free cash flow generation has improved, the company's strong share price appreciation has led to stretched valuation multiples. As Delta's share price has jolted higher from $7.50 at the beginning of 2013 to its current price of $40.95, price to sales have exponentially grown as well.
The price to sales ratio is at 10 year highs, leading investors to take a step back and reevaluate the situation a bit, but stronger fundamental growth may lead Delta to maintain its upward momentum. Strong cash flow generation and improved revenues have allowed Delta to take care of shareholders, and a continuation of this cycle could be enough to push the company's stock price to new highs.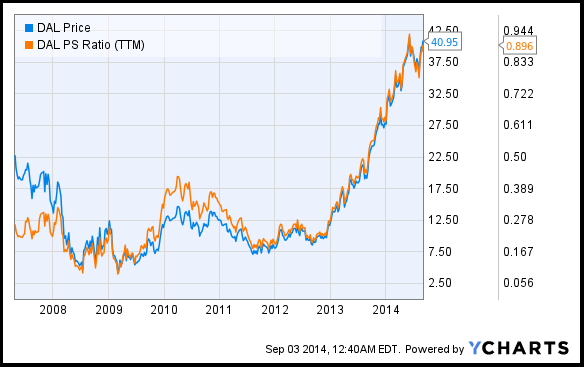 fi
Disclosure: The author has no positions in any stocks mentioned, and no plans to initiate any positions within the next 72 hours.
The author wrote this article themselves, and it expresses their own opinions. The author is not receiving compensation for it (other than from Seeking Alpha). The author has no business relationship with any company whose stock is mentioned in this article.