As expected, the severe weather in the Northeast and weak post-Christmas business took a bite out of retail sales last month after a strong November showing.
The Commerce Department reported this morning that Advance Estimates of U.S. Retail and Food Services sales for December rose an adjusted 0.6% from the prior month to $380.9 Billion, below the 0.8% gain analysts were expecting, while sales increased 8.3% (unadjusted) compared with the year-ago period. This is the 14th straight year-over-year gain after 15 consecutive months of declines, which was the longest such streak on record.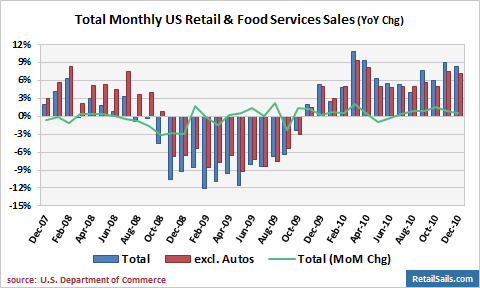 (Click charts to expand)
Total sales excluding Autos were up 7.2% in December from last year, while total sales less Autos and Gas Stations showed a 6.7% year-on-year increase. For the month, Building Materials & Garden Equipment & Supplies Dealers (+12.0% YoY / +2.0% MoM), Gas Stations (+12.2% YoY / +1.6% MoM), Nonstore retailers (+15.7% YoY / +2.6% MoM), and Auto Dealers (+14.5% YoY / +1.1% MoM) were among the strongest gainers, while Department Stores (+0.7% YoY / -1.9% MoM) and Electronics & Appliance Stores (+1.4% YoY / -0.6% MoM) were the laggards.
For the total Holiday (Nov-Dec) season, retail sales (excluding autos, gas stations & restaurants) rose 5.7% to $462 Billion according to the National Retail Federation, the best gain since 2004 and significantly higher than the NRF's 3.3% projection.
"In spite of weakness in employment and rising gas prices, consumers showed they still have spending power which helped retailers when it counted most," said NRF President and CEO Matthew Shay. "Retailers did a tremendous job planning for the season by managing inventory and hitting the right price points that helped them tap into pent up demand."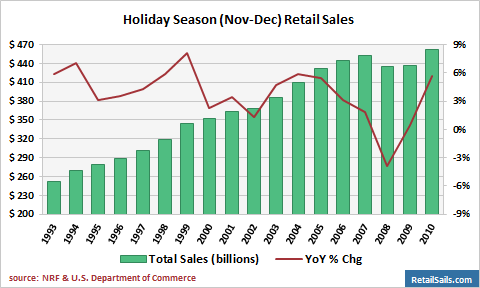 For all of 2010, total sales increased 6.6% and total sales excluding Autos & Gas rose 4.7%. While retail gains were impressive for most of the year, nominal sales have still yet to return to peak levels, as total annual sales were still down 0.3% from 2008 and 1.0% lower than 2007. E-Commerce retailers fared the best during the year, posting a 13.5% increase over 2009, as online sales continue to out-pace brick-and-mortar sales.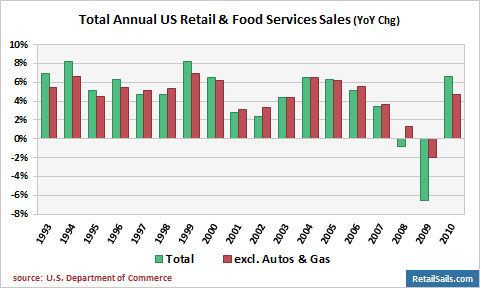 2010 was certainly a big improvement after 2 of the worst spending years on record, but the combination of a weak housing market and high unemployment means consumers will likely still be cautious with their spending for the near future.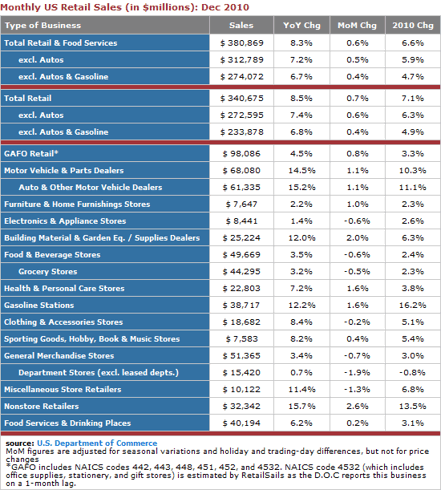 Click to enlarge
Disclosure: I have no positions in any stocks mentioned, and no plans to initiate any positions within the next 72 hours.