With all of the disappointing fast-casual restaurant concepts that have promised and failed to match the growth of Chipotle Mexican Grill (NYSE:CMG), its understanding that investors are doubtful of Zoe's Kitchen (NYSE:ZOES). Ironically though, it's the only concept flashing substantial growth combined with a small unit base to suggest the ability to reach the status of Chipotle.
Both Noodles & Company (NASDAQ:NDLS) and Potbelly (NASDAQ:PBPB) were high on hype and low on results when the fast-casual restaurant concepts had IPOs prior to Zoe's. After 50% losses from the peaks, it is understandable that the investment community is equally concerned about Zoe's faltering in a similar manner. The concepts of Noodles and Potbelly though are significantly smaller than Chipotle and can't even match the growth of the now mammoth restaurant concept. With Zoe's that isn't close to the case, yet it didn't stop the stock from plunging over 8% at one point following. strong Q214 results released last week.
Q214 Results
The company provided the following highlights for Q214:
Total revenue increased 54.1% to $41.9 million.
Comparable restaurant sales increased 7.5%.
Opened seven Company-owned restaurants.
Restaurant contribution increased 59.4% to $8.8 million.
Adjusted EBITDA increased 44.1% to $4.7 million.
The good news is that comp sales growth and contribution margin remain on solid footing while Zoe's continues a fast new unit expansion plan. The company opened seven units during Q2 and is still on schedule to open up to 30 units for the year, which represents 29% growth in the restaurant base.
Average Unit Economics
Zoe's ended Q213 with 87 restaurants open and 79 company owned and ended Q214 with 122 restaurants open and 116 company owned. In the span of a year, the company opened 35 new units and purchased two existing franchise locations to grow the owned store base by 37 units. Despite this substantial growth in units owned, the company achieved a faster growth in the restaurant contribution than total revenue. A lot of times retail operations that are growing too fast take big hits to margins as operations struggle to keep up with growth.
One of the sudden big themes of those that don't like the valuation or even concept of Zoe's is that the new units are underperforming compared to the restaurants in the comp store base. Ironically, that is how the nature of the business works. It takes up to a year for a new restaurant to ramp up and why it isn't included in the comp base at Zoe's until opened for 18 months. In that manner, the company only compares numbers a year later after the unit had 6 months to ramp up. Other restaurants and retail operations use only 12 months in the comp base.
Another interesting comparison is to see that Zoe's Kitchen already has higher unit volumes than Noodles and Potbelly that have roughly triple the restaurants. Even more important, the company compares very favorably to Panera Bread (NASDAQ:PNRA) and Chipotle at their early growth phases. Counting inflation, the numbers listed below for Panera and Chipotle are probably close with Zoe's sitting at revenue of $1.47 million per unit in 2013.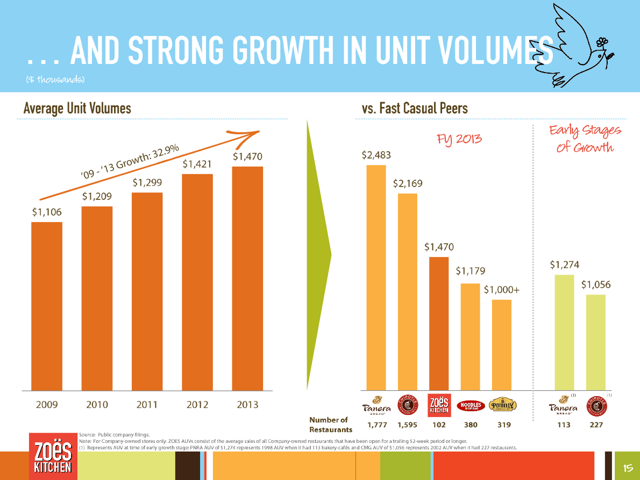 Source: ZOES June presentation
The unit volumes are still a far cry from the $2.17 million now generated by a Chipotle unit. If one viewed that concept negatively back in 2002 when the average unit volume was only $1.1 million, they would've missed the roughly 100% gain over the last decade.
Keeping An Eye On Margins
My major concern with Zoe's is that the new store growth rate is too fast. On key measure for whether the store base is growing too fast besides the comp sales that remain strong is the contribution margin. In essence, the amount of profit produced at the restaurant level before administrative costs and pre-opening expenses for new units. This number is trending down for Zoe's over the last couple of years, but the guidance for up to 20.5% for 2014 remains a solid number.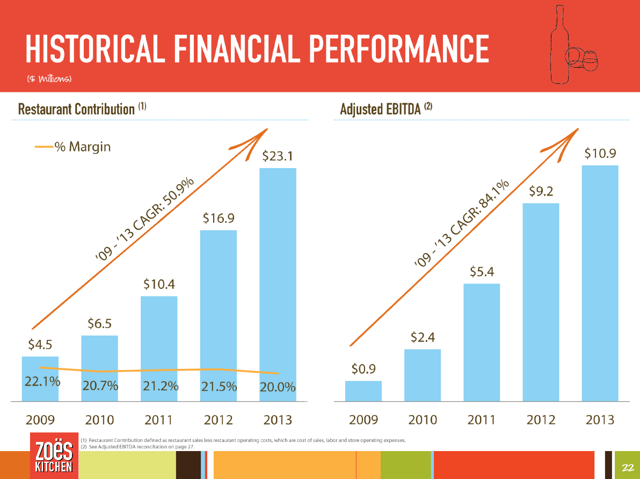 Source: Zoes June presentation
The good news is that the Q2 absolute contribution margin grew 59.4% for a faster clip than the restaurant sales at 54.1%, again showing that despite insanely fast growth Zoe's is pushing more money to the margins.
For Q2, Chipotle produced margins of 27.3% so Zoe's has a long ways to go before matching that exceptional level. The larger concept is only growing the store base at a little over 10% providing for the ability to produce stronger margins from more mature stores.
Valuation Multiple
With the concept still relatively young and the store base growing rapidly, one can't really invest in Zoe's based on earnings or cash flow at this point. One of the best valuation metrics is a straight comparison on multiple of revenue. Though Zoe's has a lot of characteristics of Chipotle and is growing faster, it is valued at close to half the revenue multiple. In fact, it doesn't trade that far off the numbers assigned to struggling and slow growing Noodles back when the year started.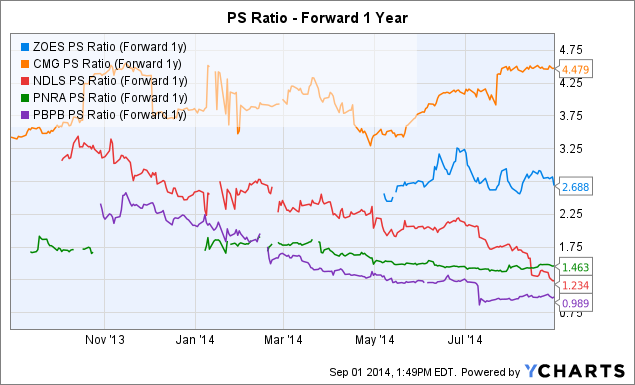 ZOES PS Ratio (Forward 1y) data by YCharts
Conclusion
Zoe's Kitchen may never match the corporate culture and long-term growth generated by Chipotle Mexican Grill, but the focus on a new market niche of Mediterranean in the fast-casual segment provides a better vehicle to match the success of that latter. The strong growth, maintained margins, and lower valuation suggests the concept is relatively cheap. Remember that Chipotle is now worth $21 billion and Panera sits at $4 billion, so a wide gulf exists between a great concept and good one. Most investors would be plenty happy if Zoe's only grew into the good one and reached that $4 billion valuation with plenty of upside if it can scale similar to Chipotle.
Disclosure: The author is long ZOES.
The author wrote this article themselves, and it expresses their own opinions. The author is not receiving compensation for it (other than from Seeking Alpha). The author has no business relationship with any company whose stock is mentioned in this article.
Additional disclosure: The information contained herein is for informational purposes only. Nothing in this article should be taken as a solicitation to purchase or sell securities. Before buying or selling any stock you should do your own research and reach your own conclusion or consult a financial advisor. Investing includes risks, including loss of principal.