The Federal Reserve reported today that the US industrial production index was up 0.8% in December from November, which was double the consensus forecast (per briefing.com) and the strongest increases since July.
This is excellent news for Genuine Parts (NYSE:GPC), as the company generates about a third of its revenues from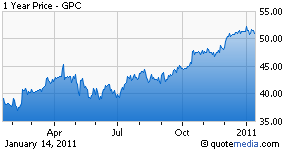 a division where results correlate tightly with this statistic. It is also far more volatile a division than its largest division, Napa auto parts (which is also likely having a great quarter based on recently reported competitor results) and therefore tends to be a swing factor for earnings results.
Genuine Parts had been expecting its industrial revenue growth to slow to 18%-22% from 3Q's 30%. I had previously thought this conservative when I wrote that consensus estimates looked too low. Based on today's report, I am even more confident that the company should achieve EPS of $0.75 or more in 4Q versus the consensus forecast of $0.69. Further, 2011 is beginning to look like the company could hit EPS of $3.60, or 10% above the consensus forecast.
Given its strong earnings outlook and the high likelihood of a dividend increase next month, I think now is a good time to be long GPC.
Disclosure: I am long GPC.