Burger King Acquires Tim Hortons
By now, you're probably well-aware of the $11.4 billion deal announced last week of Burger King (BKW) acquiring Tim Hortons (THI). In this article, though, I won't discuss the numerous tax inversion controversies, go into details of the cost savings that aren't even measurable with any accuracy yet, or talk much about the global expansion opportunities due to Burger King's said expertise in global development to boost Tim Hortons' own global growth.
Instead, the real question here for current and potential shareholders is whether Tim Hortons' coffee and breakfast lineup do anything significant for Burger King overall in the long-term - especially any impact at all to McDonald's (NYSE:MCD) and their long-standing top ranking in fast food's $50 billion-a-year breakfast segment.
Recent Financial News
Burger King's new label as the world's third-largest quick-serve company reads a lot better than it actually is in reality if we look at the top and bottom numbers for Burger King's, Tim Hortons', and McDonald's, respectively.
McDonald's continues to make headlines for all the wrong reasons and it is particularly true on their monthly sales reports and quarterly earnings. The chain has seen negative or flat growth in its U.S. locations for 9 straight months, including another 3.2% drop in the month of July. From 2003 to 2013, McDonald's only had 10 negative months of same-store sales in total.
In their second quarter earnings, McDonald's saw revenues climb just 1% to $7.18 billion, while net income slid 1% to $1.39 billion.
Second quarter earnings for Burger King and Tim Hortons fared much better overall. Even though revenues for Burger King fell 6.1% to $261.2 million, net income jumped 19.4% to $75.1 million. Tim Hortons saw revenues increase 9.3% to $874.3 million, while net income remained flat at $123.8 million. Unlike McDonald's, both Burger King and Tim Hortons saw their same-store sales rise in their specific U.S. segments 0.4% and 5.9%, respectively.
Even with all of McDonald's struggles in recent months, though, its earnings are still in another league entirely when compared to either Burger King or Tim Hortons. More importantly, the newly-combined entity shouldn't be expected to be much more of a threat when it comes to breakfast than when they were separate companies.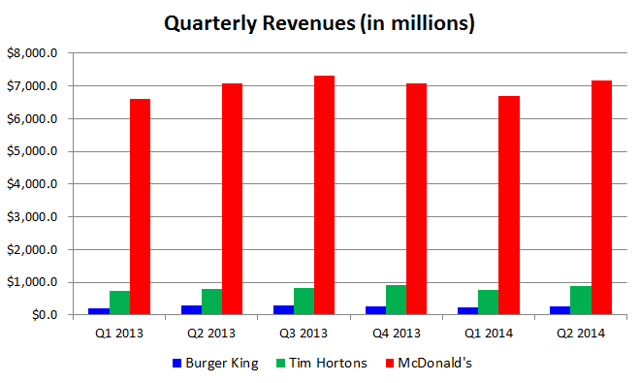 (Source: Company quarterly filings)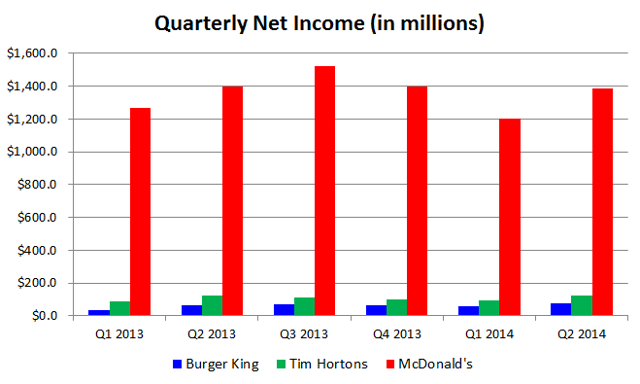 (Source: Company quarterly filings)
Why McDonald's Shouldn't Worry About the World's Third Largest Fast Food Company
Size matters a lot in the restaurant business. Unlike other sectors like technology where smaller companies can dethrone bigger companies due to a new invention, idea, or product, food is food. Despite new menu items that are introduced all year long, it really is the same fast food shifted around for the most part and repackaged to be something cutting edge when it really isn't. This is especially true in fast food space.
In 2013, McDonald's spent more than $988 million on advertising. Because the restaurant industry spent $6.45 billion all year in total, McDonald's accounted for over 15% of all advertising dollars. This allows McDonald's to dominate TV time and market their menu across far more mediums to far more people.
Additionally, to put the size difference in perspective, Burger King has over 13,000 locations globally. McDonald's has over 14,000 locations in the U.S. alone. The table below, which shows the top 10 quick-serve restaurants across all food segments, is another way of looking how far behind Burger King is to McDonald's in terms of total U.S. sales and average sales per unit among other metrics shown.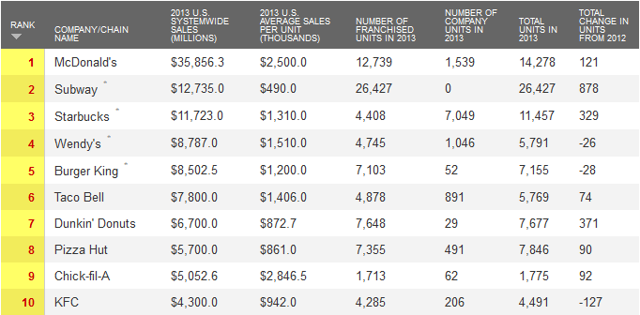 (Source: The QSR 50 August 2014 by QSR Magazine)
McDonald's is outperforming rivals where it counts. Their average U.S. sales per unit beats out not just Burger King, but Wendy's (NYSE:WEN), Yum! Brands' (NYSE:YUM) Taco Bell, and even Starbucks (NASDAQ:SBUX). Furthermore, despite McDonald's producing its slowest drive-thru times this past year in the history of the QSR Drive-Thru Study at 189.49 seconds, Burger King, despite improving their own times, still came in at 198.48 seconds. With far more cash to make improvements, it is inevitable that McDonald's will make improvements in this area in the near -future. They already announced last year plans to add a third window to many of their drive-thru lines.
Possibly the biggest reason McDonald's shouldn't worry about Burger King and Tim Hortons, though, is that McDonald's has seen this before and still have kept coming out on top in fast food's breakfast segment.
Wendy's has attempted breakfast in 1985, mid-2007, and early last year in 2013. One could say that they attempted breakfast in the mid-1990s too when they actually owned Tim Hortons. One of the reasons Wendy's originally bought Tim Hortons in 1995 was to seek growth outside of the burger market.
Increased competition among Wendy's and Tim Hortons was a listed reason why the partnership didn't work. Could Burger King's ownership of Tim Hortons be history repeating itself? Wendy's and Tim Horton's failed partnership may be an example of why synergies are easier said than done.
In recent quarters, McDonald's has faced competition from Yum! Brands' Taco Bell when they introduced a breakfast lineup for the first time in their restaurant's history. Despite all the hype, though, early surveys done in April showed that just 3% of those that tried Taco Bell's new breakfast would be repeat customers.
In their first quarter conference call earlier this year, McDonald's management acknowledged the increased competition from Taco Bell. However, management was confident that while customers will test out their competitor's breakfast options, they often come back to McDonald's. Nevertheless, management said that when new entrants do threaten their breakfast stronghold, it forces them to be even more aggressive in promoting and executing their breakfast.
Additionally, Starbucks and Dunkin Donuts (NASDAQ:DNKN) have drifted into breakfast by adding breakfast sandwiches to their popular coffee lineups. Below is a table showing that both companies are well-ahead of Tim Hortons with the Snack segment of the QSR 50 recently released.

(Source: The QSR 50 August 2014 by QSR Magazine)
Lastly, it is unlikely that Burger King has plans on implementing much of if any of Tim Hortons' breakfast choices in their own restaurants. This is because simplicity and consistency were keys cited by Burger King's upper management in their most recent quarter for the improved earnings so far in 2014. They credit launching fewer and more impacting products as the reason they are now growing as a company again - especially given the 3 straight quarters of positive same-store sales in the U.S. & Canada region.
Burger King has recently ditched the failed Satisfries, which were introduced less than a year ago. Earlier this year, they technically bowed out of the 'breakfast wars' by selling its Whopper all day. In short, Burger King has been trying to make kitchens faster and less complex. Moving in a bunch of Tim Hortons' menu into Burger King would contradict everything that has been working so far this year.
McDonald's Isn't Losing On Breakfast Any Time Soon
Despite continual PR nightmares including the meat supplier scandal in China in July and now numerous restaurant closings in Russia due to sanitary reasons, which may really be a scapegoat for the political tensions between the U.S. and Russia, McDonald's is full speed ahead in keeping its breakfast title.
Coffee penetration into U.S. homes will be a reality starting in 2015 as McDonald's and Kraft (KRFT) finalized plans to start selling McCafe brand coffee at the supermarket.
While McDonald's keep getting criticized on its failed Mighty Wings of 2013, their success on fresh fruits seems to fly under the radar. Seedless clementines, junior bananas, blueberries, grapes, and yogurts are among newly developed and/or upcoming menu items.
In 2013, customers cut back visits and lunch and dinner hours, but increased visits during breakfast for the fourth straight year. In fact, over 12.5 billion breakfast visits were made to U.S. foodservice outlets - a 3% gain. Therefore, it is unlikely that McDonald's will ignore current and future threats on its breakfast market share.
Conclusion
McDonald's makes more in its breakfast hours in sales annually than Burger King currently does overall. While acquiring Tim Hortons inevitably increases Burger King's market cap, don't expect the combination to instantly become a legitimate thread to McDonald's during breakfast hours.
What people don't seem to understand is that lunch and dinner is what is hurting McDonald's, not breakfast. People are not getting lunch at McDonald's in favor of fast casual options, while they are skipping Big Macs at dinner in favor of eating in or visiting other restaurant locations for a more complete meal.
McDonald's shouldn't worry about Burger King and Tim Hortons because they are more focused on the threat of fast casual, implementing strategies to take market share away from coffee leader Starbucks, and addressing internal problems that have been of their own doing, and not the result of outside competition.
The Egg McMuffin is going nowhere.
Disclosure: The author has no positions in any stocks mentioned, and no plans to initiate any positions within the next 72 hours.
The author wrote this article themselves, and it expresses their own opinions. The author is not receiving compensation for it (other than from Seeking Alpha). The author has no business relationship with any company whose stock is mentioned in this article.