The extent of damage caused by the 6.0 magnitude earthquake that hit the Napa Valley region of California may take months to come into focus as many wineries may try to downplay their losses to abate the possibility of distributors prematurely cutting them off due to their inability to meet demand.
Damages include not only bottled wine that was toppled off of store shelves or in wineries cellars but also aging wine stored in barrels as they rolled off racks and were cracked open or popped a seal. There is also the loss of infrastructure that range from cracked water pipes and irrigation systems to collapsed or damaged warehouses.
Bad Time For Otherwise Strong Industry
The earthquake could not have come at a worse time for what was anticipated to be a good season for the California wine industry. The earthquake hit right before the crucial harvest season, which occurs each year between late August to November. Grapes for different wines are harvested at different times of the year, with many popular white wine grapes, such as Pinot Gris, Sauvignon Blanc and Chardonnay being picked, starting at the beginning of the season. Once harvested, the wine is crushed and the juice stored in barrels for aging. To meet production wineries can also purchase grapes from other regions, but that may affect product quality and consistency.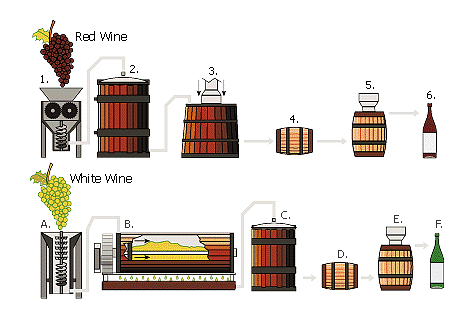 (Source)
Stocks to Watch for Post-Napa Valley-Earthquake Impacts
There are only a handful of publicly-traded companies with exposure to the wine industry in North America as many private investors have chosen to invest in wineries for vocational reasons as opposed to seeking investment returns. That being said, there are some publicly-traded companies with exposure to the North American wine industry, which should be reviewed for possible impacts if they are held in your portfolio.
1.) The first to watch is Constellation Brands (NYSE:STZ). Wine makes up approximately 45% of company sales (FYE 2014) and has significant operations in California, which include 16 owned or leased wineries, comprising 13,300 acres out of its portfolio of 36 wineries, as well as its Lodi Distribution Center in Lodi, CA-located not far from Napa Valley California. With many vineyards stating that the earthquake had little effect on the grapes on the vine, investors appear to have shrugged off any potential downside and its stock continues to trade above its 20-day moving average.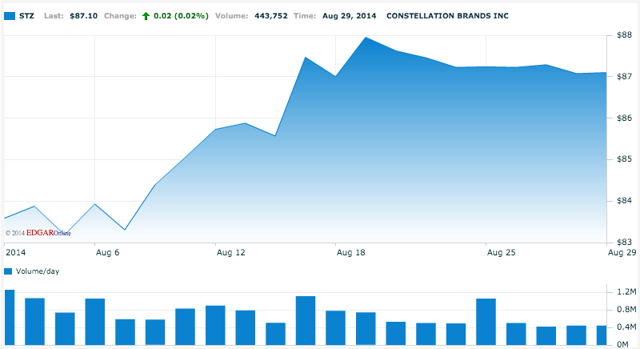 (Nasdaq.com)
2.) Brown-Forman (NYSE:BF.A), the maker of Jack Daniels (NYSE:BF.B), also owns the popular Sonoma Cutrer winery in California, as well as Korbel Champagnes. Wines sales at Brown-Forman constituted less than 5% of total sales in FYE 2014, and although the earthquake may cause some price increases in grape or bulk wine used as inputs to its process, the impact to its bottom line should be negligible.
Just like Constellation Brands, its stock price appears to be generally unaffected by news of the earthquake as well.
(Nasdaq.com)
The lesser known, Australian-based Treasury Wine Estates (OTCPK:TSRYY) has its regional head office in Napa Valley, California and owns 25 vineyards and 7 wineries in the US. Combined the America segment (which includes Canada) make up approximately 42% of the company's sales. The impact, if any, the earthquake may have on Treasury Wine Estates' sales is uncertain at this point, and its stock price also appears to be unaffected.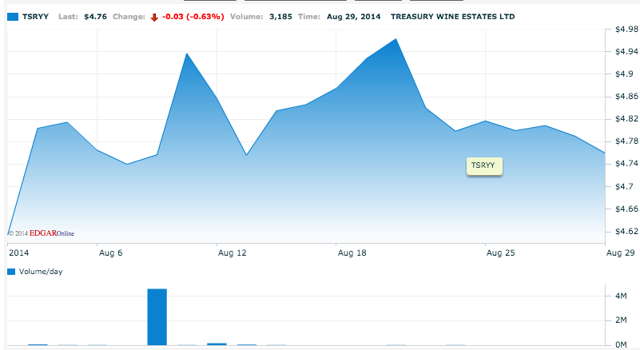 (Nasdaq.com)
Another company investors should keep an eye on is Diageo (NYSE:DEO). Although the company is best known for its spirits business, wine brands represent about 4% of its net sales.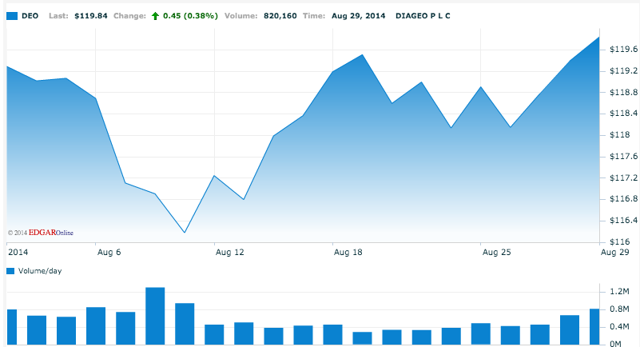 (Nasdaq.com)
Investors Should Watch For Price Declines In the Coming Year For Constellation Brands
The effects on the stock price to the above companies may not become evident until next year; however due to the long production cycle required in wine making, investors should watch these companies carefully for any sign of increasing production costs or lower sales which may be the effects of the Napa Valley earthquake.
With the largest exposure and percentage of business, relying on the California wine industry, Constellation Brands in particular will be a stock to watch in the coming year. The company has a solid recent history of results, beating estimates for earnings 4/4 quarter, and currently boasts a very reasonable PE of 9.18. Short interest continues to hover below 2%, and both Stifel and RBC Capital Markets hold Buy or Outperform ratings on the stock.
At present, investors in STZ should continue to hold-and continue monitoring results in the present quarter.
We invite readers wishing to join the discussion on Constellation Brands and the Napa wine industry to click the +FOLLOW button above the title of this article-and those looking for the latest updates to click +Get real time alerts.
Disclosure: The author has no positions in any stocks mentioned, and no plans to initiate any positions within the next 72 hours.
The author wrote this article themselves, and it expresses their own opinions. The author is not receiving compensation for it (other than from Seeking Alpha). The author has no business relationship with any company whose stock is mentioned in this article.