Global infrastructure growth is expected to grow by $9 trillion annually by 2025, up from $4.2 trillion today.
Emerging markets countries such as China will eclipse spending of developed countries by 2030.
By 2050 E7 countries will have a collective GDP of $138.2 trillion versus $69.3 trillion for the G7.
AWP growth continues to be robust.
Backlog has increased 20.2% since December 2013 and 2.2% year over year.
Overall sales grew 10.4% in Q2 versus prior year period.
Management continues to cut costs and realign company departments efficiencies throughout the company, currently 70% of the company operates on the same platform, goal is to increase this.
In 2013 gross margins increased to 21% from 10% in 2009.
Company is focusing on its core products while staying away or shedding assets in areas that are crowded.
Management believes the trend in Europe will continue.
-Tower and Crawler crane demand remain promising as the backlog continues to grow (higher margin and less competitive and is very bullish in my view).
Rough Terrain cranes were also strong in the quarter.
Management says that they are out of the woods in terms of under-utilization.
Government funding for the "Highway" Bill should get additional funding.
Repurchased $31 million worth of stock during the quarter.
Negative:
While the EPS forecast remains unchanged for the year, the company lowered revenue guidance slightly to $7.5 billion from $7.7 billion.
Increased competition/lack of product differentiation in certain "Non-core" segments.
Though we mentioned that the Crane segment should rebound, it has fallen short of expectations for the second straight quarter and the company has pushed it to be a second half story and even out to 2015 (September should be a good month for cranes).
Drama with Russia could hamper future growth out of Europe.
High currency regions such as the UK have put a curb on competitive sales with rivals able to produce at lower costs.
Management's goal of $5 in EPS has been pushed back one year to 2016.
$30-$40 million from the Rotterdam Gateway Project still remains at risk and the company could see an additional $50 million in revenue pushed back to next year.
With competitors such as Manitowoc and Oshkosh falling short of expectations, this could possibly signal that macro demand is weaker then analyst projections.
Further, many large publicly traded infrastructure construction companies have suffered significant losses of late which could foretell a drop off in private sector CAPEX spending.
Margins at AWP slipped slightly due to product mix and start-up costs.
Management has guided operating margins slightly lower by .25% (7.25%-8.25%).
In order to maintain EPS guidance, management expects the tax rate to drop to between 30-33% from 33-35% at the end of the first quarter.
Without the divestiture of truck business, FCF would have been negative for the quarter.
Note to the reader:
Despite posting solid first half results, Terex (NYSE:TEX) fell short of some analysts' expectations and an uncertain outlook has sent shares down 16% YTD with most of the losses occurring over the last month alone. The Crane division continues to be a drag as it struggles to live up to expectations and drown out any positive news from other core segments such as AWP and MHPS. However, given the severe weather we experienced in North America and expectations for a continued rebound in construction related activity, my estimates call for the company to earn 94 cents in Q3 and $2.21-$2.45 for all of 2014 (10 cents above analysts' estimates for the quarter but well below the company's guidance of between $2.50 and $2.80 for the year).
Based on continued infrastructure spending in the United States along with a rebound in Asian, LATAM, Middle Eastern and Western European global markets, it is possible that Terex will exceed the high-end of its $7.5 billion (10.1% Year over Year increase) revenue guidance. While external contributions will continue to come from cheaper material and labor costs, my expectations are for Terex to benefit from a weaker euro resulting in a more favorable cost competitive environment versus competitors. Management's ability to reduce overhead costs in order to improve profitability has yet to be seen as evident with its MHPS segment which reported great top line growth but SG&A expenses negated any significant profit.
I am initiating a strong buy rating on Terex with a $50 end of year share price target that could still be conservative based on future growth opportunities.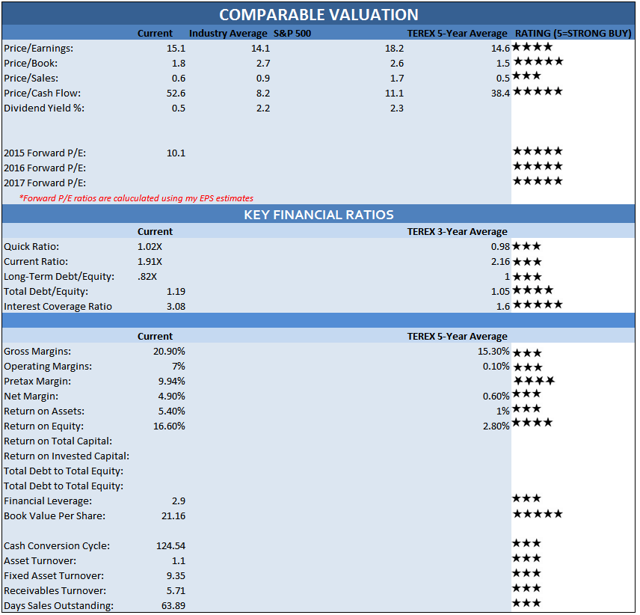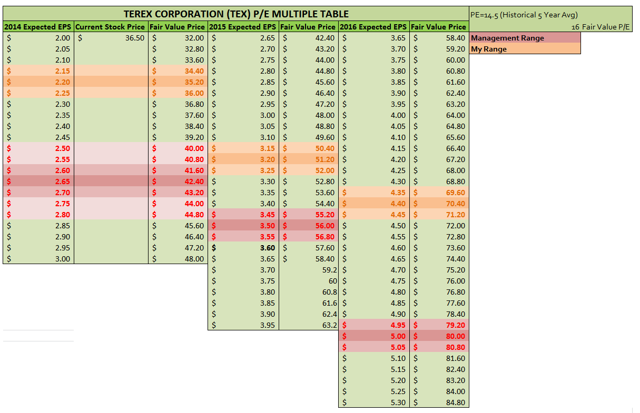 Company Overview:
Headquartered in Westport Connecticut, Terex sells heavy machinery equipment to the construction, infrastructure, quarrying, mining, manufacturing, shipping, transportation, energy, and utility industries worldwide, operating five diverse segments through its Terex, Genie, Powerscreen and Demag brands.
Through its Genie brand, Terex provides material lifts, Portable Aerial Work Platforms (AWPs), Boom Lifts, Scissor Lifts, Telehandlers, Trailer-Mounted Light Towers. At the end of the first quarter, 62% of AWP sales originated from the United States with 21% coming from Western Europe, 7% each for Asia/Oceania and LATAM and 4% from the rest of the world. This remains in line with historical trends and my expectations are for North America to remain 2/3rds of overall sales going forward with 15%-20% annual growth through 2018 as rental companies upgrade existing product mixes and expand their fleets to meet growing demand (Rental companies such as United Rentals (NYSE:URI) and Sunbelt make up roughly 35% of overall segment sales). Double-digit growth has resulted in a consistent backlog for AWP and in my view is a positive sign for the overall health of future sales.
Terex is the worldwide leader in light crane systems and commands a market leading and superior product position across the rest of the Material Handling and Port Solutions (MHPS) business. Through the Material Handling segment Terex offers customers multiple solutions to handle intra-logistics concepts for manufacturers of all sizes. Products include Process Cranes, Universal Cranes, Modular Cranes, Hoists and Accessories, and Drives. Through the company's Port Solutions segment it offers products that give customers the capacity to load and unload, transport, storage and handling of containers, bulk material, general cargo and project cargo in maritime and river ports. Material Handing manufacturing facilities are located in six countries around the world with three located in emerging market countries of Brazil, China and India. Primarily MHPS relies on global demand for industrial production as well as transcontinental trade. As I have detailed in the company and global outlook sections, MHPS should continue to remain strong delivering sales growth between 15%-25% annually through 2018 driven by infrastructure upgrades and capacity expansion in major key ports.
Terex's construction segment primarily sells compact equipment for the development of non-residential construction and infrastructure projects such as bridges, roads, and public work undertakings. Products include Mini & Midi Excavators, Crawler Excavators, Loader Backhoes, Compact Track Loaders, Skid Steer Loaders, Articulated & Rigid Frame Dump Trucks, Material Handlers, Concrete Mixer Trucks, and Concrete Roller Pavers. Distribution for these products is through a network of dealers. Recently Terex completed the sale of its off-highway truck business to Volvo AB for $160 million in cash. This allows management to continue to focus on slimming down its product offering and keep to a core mix that will deliver on long-term growth and further cost cutting efficiency goals. While first quarter sales came in at $198 million, down slightly from the previous quarter and 7% lower than the same period a year ago, management remains upbeat. Additionally, despite stronger gross margins around 10%, net margins suffered primarily from higher SG&A expenses which ultimately contributed to a loss of $5 million for the quarter. Management expectations are for construction to break even for 2014. Overall for 2013, 43% of sales came from Western Europe, 35% from the United States, 9% from Asia/Oceania, 1% LATAM, and 12% ROW. Despite the improving outlook for the construction segment, sales have continued to trend down since 2011 (driven by a decrease in Western European sales) and while we should see a rebound, I have pushed back a return to profitability to midway through 2015 thanks in part to the construction segment's over-reliance towards Western Europe as growth is likely to slow in the near term.
*Sale of its off-high business to Volvo for $160 million should reduce net income by 6% (Sale represented 11X 2013 earnings according to analyst at Morningstar). The sale also includes a manufacturing facility in Scotland, United Kingdom. As part of the deal Volvo will retain the Terex name on future trucks for up to 5 years. The proceeds will be used to pay down debt.
Through its Powerscreen division Terex sells Material Processing equipment to various customers all over the world. In terms of overall sales, it remains company's smallest segment by sales but profitable in terms of overall gross (23.9%) and net margin basis (12.9%). Demand for material processing is driven by commercial construction, road building, infrastructure, and recycling demand for minerals. Products include Powerscreen Crushers, Mobile Processing Equipment, Minerals Processing Systems, Terex Environmental Equipment, and Washing Systems. Manufacturing facilities are located in Ireland, India, China, Australia, Malaysia, and the United States with Ireland and India producing 50% of worldwide equipment.
The Crane segment continues to remain a disappointment for the company but any potential upside could be significantly material to earnings. Demand is driven by energy, infrastructure projects, non-residential construction and global trade that impacts port and railroad shipment volumes. Products include Road Mobile Cranes, Truck Mounted Cranes, Rough Terrain Cranes, Tower Cranes, Specialized Cranes (Pick & Carry, Cab Down, Military and Pedestal Cranes), and Utility Truck Products. With $503 million in second quarter sales, this segment is the second largest contributor to overall sales and my analysis suggests that it will be 25% of 2014 estimated sales. Despite sales being up 27% Q/Q, demand remains relatively weak with Q1 sales falling 16% from the same period a year ago and 18% from the 4th quarter. Operating and net margins continue to remain weak but have shown a slight improvement over 1st quarter with gross margins of 18% and net margins of 5.9% (Crane operating margins were flat versus last quarter with net margins of 0% and have continued to erode over the past year with higher operating and SG&A expenses). During the past 3 years we have seen a major shift in geographical orders and this is in line with infrastructure spending picking up in North America versus slower growth in Western Europe. From 2011 through 2013 North American sales moved from 19% to 44% and the trend is likely to continue due to strong natural gas drilling spurring demand for Rough Terrain Cranes. Management highlighted that Crawler and Tower crane demand appears to be stabilizing and that we should see a lift in sales over the next 12 months driven by strong demand in the Middle East. Similar to the MHPS segment, cranes are manufactured across six countries. The majority of the smaller margin cranes such as Rough Terrain and Utilities are produced in the United States (Production has moved to one facility from two at the end of the first quarter). Road, Crawler, Towers are manufactured primarily in Germany, Italy and France with small road crane manufacturing in the United States and China. While Europe may continue to struggle to net sales, the weaker Euro may prove to be beneficial as Terex cranes could possibly gain from being more competitively priced against inferior manufacturers.
Company Backlog/Future demand:
Though the backlog at the end of the second quarter stood at $2.19 billion and was down slightly from the 1st quarter, it remains near record highs and investors should remain optimistic. Going forward execution will be key, especially in the Crane and MHPS segments. In terms of individual segment breakdown, we can clearly see that MHPS continues to remain the lion share (40% of the overall backlog at the end of Q2) and remains in line with my expectations that MHPS will be the most significant contributor to future earnings, outpacing both Crane and AWP demand. While management expects high to low double digit sales growth in its MHPS segment this year, my analysis suggests that we could see substantial growth in the mid to high double digit teens over the coming years driven by US and Asian port infrastructure growth with the backlog growing to over $1 billion in 2016.
Though management continues to push crane demand further out, the steady backlog is at least a sign that demand has not significantly deteriorated ($661 million in Q2 versus $673 million at the end of Q1). With that said, if sales do not pick up in the third quarter, management will likely not hit their earnings forecast for the year (An additional quarter of lackluster crane sales will continue to weigh on the stock).
As I mentioned earlier, management has highlighted a shift in the way customers order in the AWP segment and the shift has been towards "On Time" purchases rather than for future anticipation. This makes it harder for management to guess which products will be desired and may prove challenging for investors to gauge future demand, as a potential for an unexpected slowdown in sales could occur without warning. However, sales should continue to remain robust and my estimates call for 16.3% annual growth through 2017 driven by Terex's strong market position.
Material Processing should remain steady with the segment backlog remaining in the $60-$70 million range with sales growing 5% in 2014 and 11% on average over the next 3 years. This segment remains minimal in terms of overall sales but does contribute to net income so it should not be discounted.
Despite the construction segment's backlog hovering around a two year high of $188 million, it is likely that we'll see negative sales growth for this year. With a majority of construction segment sales coming from Western Europe, continued tensions with Russia will undoubtedly hinder growth and may have a material effect on the backlog. Construction spending will likely remain steady across the ROW but won't be substantial to offset weakness across Europe. My expectations call for 0% growth in sales this year and 7% annualized sales through 2017, but could be significantly lower due to increased competition and higher operating expenses.
In order to keep up with my projected sales growth over the next three years, the backlog will have to grow at least at the same pace if not higher. Therefore, I see comparable increases of 16% annualized backlog growth through 2017 with roughly 40% continuing to come from the MHPS segment.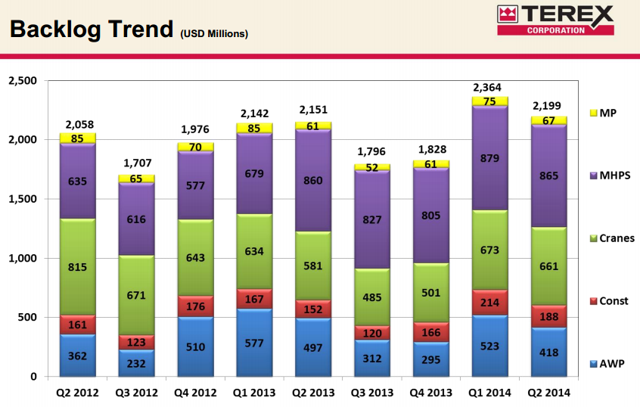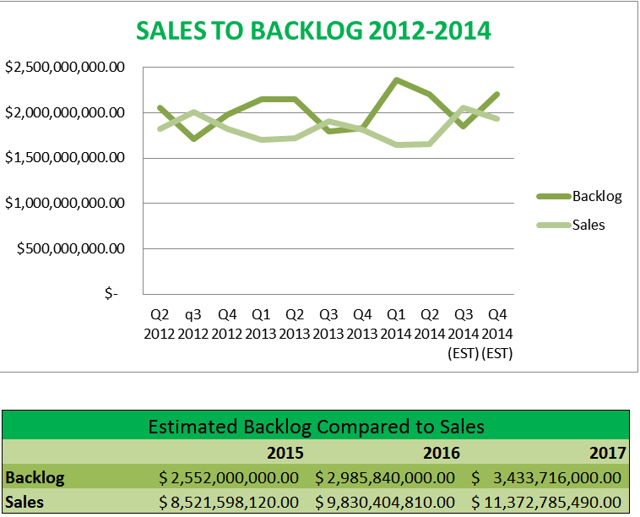 Income Statement:
Looking over the company's second quarter income statement, sales came in 25% higher Q/Q and 7.8% higher from the same period a year ago (unaudited). However, EPS fell short of analyst estimates primarily due to what management called an unanticipated shift in product mix in its AWP division. Overall gross profit remained stable and management continues to find operating and cost cutting synergies. Expectations across Wall Street are for this to continue and I'm anticipating gross profit margins increasing to 22% by Q1 of next year as Terex integrates manufacturing facilities and capital utilization returns to more appropriate levels (For example, moving a manufacturing facility to Texas is projected to cut costs and increase productivity substantially). Nevertheless for the second straight quarter I remain disappointed with management's ability to improve on company-wide sales. While revenue is near a two year high, and has increased 10.4% from Q2 of 2013, it's remained relatively flat over the past two years (measured quarterly). Terex's diverse product offering has been able to offset one bad segment with an improving one (For example, AWP continues to outperform while cranes lag) but it never seems that the company is hitting on all cylinders. Management cannot solely rely on cost cutting or share buybacks to boost EPS. Ultimately investors need and want to see top line growth that exceeds industry averages for this niche market player. In order to achieve this top line growth, we would need to see a turnaround in some key markets as well as continued growth out of North America and Western Europe. In addition, if the Euro continues to weaken against the dollar and or the Yen strengthens versus the dollar I believe that Terex could see favorable currency translations through hedging activity.
My earnings estimate air on the more conservative side of things. While management expects operating margins to be in the range of 7.25% and 8.25% for the year, I have used 6.55% using historical figures for Q3 and Q4 but more or less appropriate operating margin rate as I believe that continued product mix concerns in its crane and AWP segments could potential carry over until inventory is sold off.

SECOND QUARTER SEGMENT DEMAND DRIVERS:
Second quarter sales were driven by strong demand in the AWP and MHPS segments. Cranes, construction and MP all were relatively flat with crane sales dropping slightly Q/Q but up 27% from Q1 of last year. Looking over the sales chart we can see that the AWP, cranes and MHPS were all significant contributors to overall revenue while on the other hand AWP, cranes, and MP contributed the greatest to net income. My expectations are for a turnaround in MHPS expenses going forward with net income doubling on further cost cutting in SG&A.
As a side note, management lowered the top end of its sales guidance to $7.5 billion for the year from $7.7 billion. Given that historically 3rd quarters have been the second best performing period for the year, it's not out of the question that Terex will hit its target. However, given both political and economic instability I wouldn't be surprised to see future sales pressed out to the 4th quarter or even the first half of 2015 (orders and construction projects will be delayed rather than canceled completely).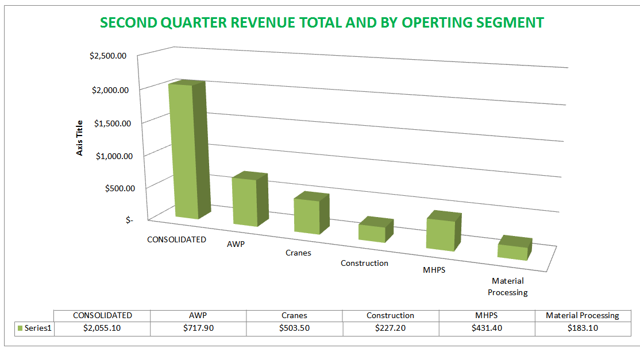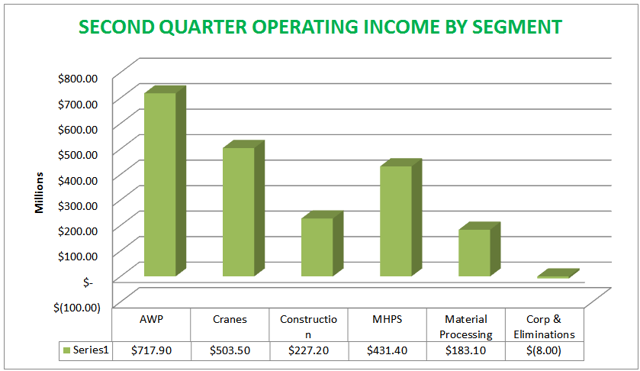 Management Overstretch?
Investors should note that management still expects to earn between $2.50 -$2.80 a share, excluding earnings from discontinued operations which accounted for $54.4 million during the first half. Withholding DO income, the company would need to earn $1.46 a share for the second half to reach the low end of its guidance (using diluted EPS figures). While I expect 3rd quarter financials to come in strong, Terex would need to have a blowout half. Using the same top line figure of $7.4 billion for the year, Terex is forecasting a 13.12% increase in operating income growth over my estimates, which means that if sales figures come in the middle of their range, management is expecting EPS to be driven by its ability to substantially cut costs and find synergies.
Additionally the sale of its truck business to Volvo will put additional pressure on the rest of the company's construction segment to cover revenue shortfalls. According to Volvo AB, the manufacturer who bought the truck unit, Terex's truck segment had $172 million in sales for the first 3 quarters of 2013 with operating income of $33 million during the same time period. If we can assess that the unit reported revenue of $230 million for the year and $45 million in operating income, we would have to discount these cash flows while adding in the proceeds from the sale. The lowering of the top end of guidance is in line with the reduction from the discontinued operations. While management could have simply turned more cautious, I believe that the reduction in top line estimates are due to discontinued operations.
Investors should also note that Chief Executive Officer Ronald Defeo takes a very conservative view when it comes to giving financial guidance. He tells investors how it is no matter how ugly results may be. It is probable that one reason the stock price has been such a laggard this year is because Ron has been unwilling to drum up a more upbeat outlook for certain segments such as cranes. Luckily for investors and management, the backlog has given us a clearer picture into the insight of future sales.
FORWARD LOOKING FINANCIAL PROJECTIONS (2015 AND BEYOND):
My Financial Projections:
Based on my pro-forma calculations and detailed analysis provided, Terex should see substantial growth across all business segments in which we should see top line growth in excess of 15% annually through 2017. I am anticipating gross margins to slightly decrease to 20.10% before rebounding to 20.50% and 21.5% by 2017. While operating margins should increase 1% annually from 8.1% in 2015. Given its current debt load and management's commitment for no significant M&A activity, I do not expect any significant issuances of additional debt that would be substantially material on earnings. With nearly $300 million in principal coming due in 2017, I expect the company to refinance the debt at more favorable interest rates. Moving on, I have also factored in a tax rate of 35% which in my view is quite high as I see a major shift in customer demand coming from emerging market low tax countries over the next five years. Based on a recent convertible note issuance, as well as consistent stock grants awarded to management over the years, I am forecasting both the basic and diluted share count to increase by roughly 15 million to 125 and 131 million by 2017 respectively. Based on my forecast Terex should earn $3.12 in 2015, $4.13 in 2016, and $5.34 in 2017. Using a P/E multiple of 16 Terex should be fairly valued at $50 (35%), but should see substantial upside to $66 (78%) by 2016 and $85 (129%) in 2017. In comparison management still expects EPS of $5.00 in 2016. My analysis is slightly more conservative and should be viewed by investors that anything above my estimates would be substantially more favorable. But I should also highlight to potential investors that even if the company comes close to my projected EPS of $4.13 (difference of 18% from its POV), the company will remain solidly profitable and at current levels represents an attractive investment opportunity.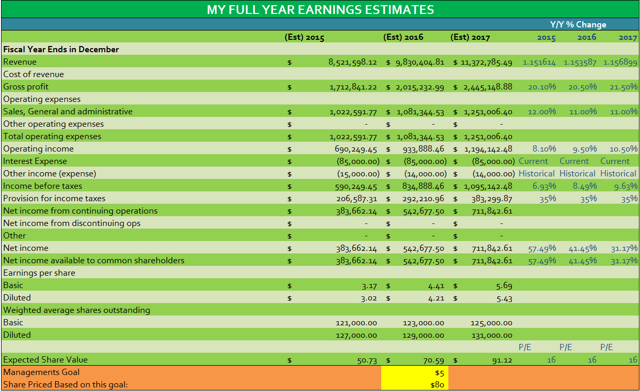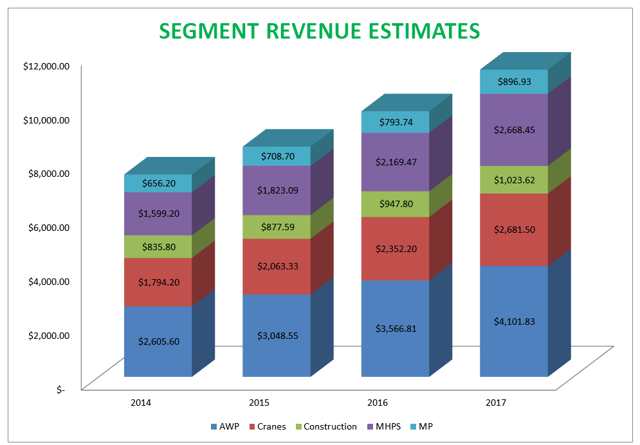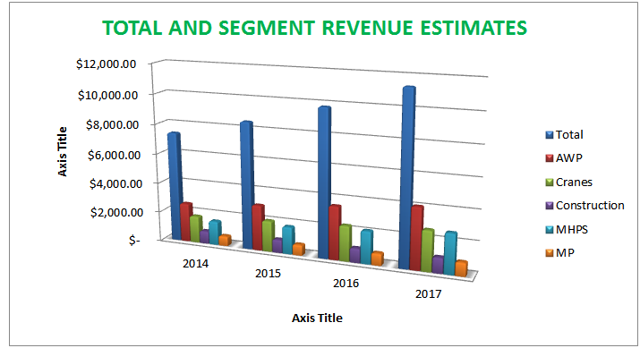 My Projections For Terex Management's Goal of $5 in EPS by 2016:
Turning to Terex management's forward looking income statement for 2014, I have projected financials using updated company guidance provided during its 2nd Quarter conference call. As I mentioned earlier, I have taken a very conservative approach using the mid-range for sales and lower margins and higher tax and share count levels. Looking at the comparison we can see that management could conceivably reach their projected guidance if they can execute flawlessly on reducing product and SG&A costs. If management can achieve operating margins of 7.75% versus my 6.55% estimate, it will increase operating income by $88.4 million (enough to earn 58 cents more in EPS to reach $2.79). Again, I have assumed the middle range of guidance for sales at $7.4 billion. However, using my earnings forecast and a PE multiple of 16, Terex is fairly valued at $35.36 a share based on 2014 expected basic earnings per share of $2.21. Using that same multiple and management's $2.50 and $2.80, Terex would be fairly valued between $40 and $44.80 (8%-18% increase compared to current trading levels).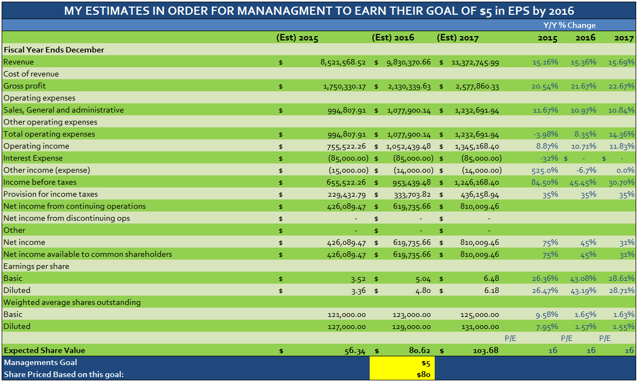 What to do with Excess Cash?
Terex should either return cash to shareholders via dividends (Not my desire), or reduce long-term debt in order to boost the long term solvency of the firm. A share repurchase program would not be material enough in my view and would only boost both basic and diluted EPS by 4 cents if the company were to use the proceeds from the truck division divestiture to repurchase 3.02 million shares at an average price of $36.
($160 million in proceeds, after tax amount $108.8 (Tax rate of 32%), share price of $108.8/$36=3.022).
BALANCE SHEET:
Turning to the balance sheet a few key accounts immediately grabbed my attention. Retained earnings have shown a steady increase over the previous two years as the company recovers from the global recession. Another positive sign is that long-term debt continues to decline and I believe that this will make the company more attractive to a buyer (a portion of long-term debt has been moved to current debt as it will come due in the next 12 months). Withholding any additional debt issuance, Terex would add a paltry $7.6 million in EBIT from its current debt reduction. With that said, Terex still has a sizable $1.73 billion in debt on its books with $300 million and $850 million in principal coming due in 2020 and 2021, respectively. The primary concern will be if the company has the appropriate liquidity at the time to settle the repayment or has the ability to issue additional debt to service those obligations. Currently, the company has 1.91 X cash to settle upcoming principal payments so investors should not be concerned about near term solvency issues. Yet the company announced on July 17th of a 4% convertible senior subordinated note due 2015 to settle the debt coming due, and depending on the premium to the conversion price, the company will issue additional shares. For example, at a price of $40 a share the company would have to issue 4.7 million additional shares while at $55 it would have to issue nearly 5.58 million. The future dilution would have an approximate 2 cent impact on diluted earnings and a 3 cent charge to basic EPS using 2014 earnings estimates if we were to add the latter amount.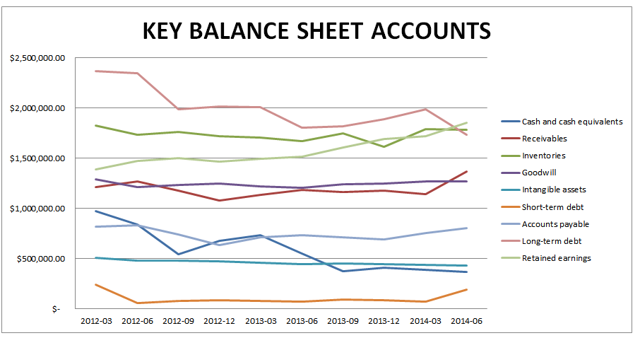 Anything that involves raising debt and issuing a dividend to shareholders would be too short sighted and a negative for long-term shareholders.
There are a few additional points of caution. Cash and equivalents continue to decrease on a quarterly basis. Despite solid earnings we will need to inspect the statement of cash flow to get a better understanding of where money is coming and going. Secondly inventories remain elevated and management has alluded that this was due primarily to a mix-up in product demand in the AWP segment. Yet I am also concerned that the company may be building up inventory of cranes that customers want less of. Accounts receivables increased 19.89% Q/Q. But further inspection may be warranted to see if there were any special terms given in order to increase sales for the quarter (This will also increase doubtful accounts). Accounts payable may be another point of interest as it too has increased steadily but remains manageable.
When analyzing a company one of the least favorite items of mine is goodwill and intangible assets. With $1.267 billion in goodwill and $430.5 million in intangibles, it makes up almost 25.31% of the company's assets. While certain intangible assets do carry value, especially for names like Coke, Microsoft, General Electric, it's hard to argue that so much of a company's asset should be carried in this area.
STATEMENT OF CASH FLOW:
Turning to the statement of cash flow, investors should note that while positive over the last 2 years (minus last quarter's $19 million reduction) they haven't been consistent and management's objective of $200-$250 million in free cash flow is hard to see happening. With that said, further debt issuance or a pullback in CAPEX and investment activity could have us hitting those numbers. My analysis suggests that we will likely see $160 million in Free Cash Flow (Operating Activity minus Capital Expenditures).
OPERATING ACTIVITY:
The principal contributors to operating cash flow for the quarter were changes in net income, inventory, accounts receivables and accounts payables (excluding depreciation and amortization). Second quarter operating cash flow was primarily affected by changes in accounts receivable while the first quarter was primarily affected by changes in inventory. Together these two changes affected operating cash flow by -$440 million. While I do not expect any significant changes in these levels during the second half of the year, forecasting future changes can be rather unpredictable as Terex may need to boost inventory or increase receivables to attract additional sales. Historically, if we look back at 2012, operating cash flow for the third and fourth quarters combined was $270 million. Adjusting for similar changes and given our adjusted net income, Terex could feasibly bring in $236 million in operating cash flow according to my estimates.
INVESTMENT ACTIVITY:
The sale of its off-highway truck division last quarter boosted investment cash flow by $146 million after adjusting for changes made in property, plant and equipment. For the second half I am not anticipating any significant changes (acquisitions or sales) or factory build outs. My expectations are for -$19 million and -$22 million for the third and fourth quarters respectively and are in line with quarterly changes over the past 2 years. While Terex moved one of its crane manufacturing facilities to a new location, I do not expect any material charges from this move.
FINANCING ACTIVITY:
Terex should continue to use excess cash to pay down debt as well as repurchase treasury stock. My analysis suggests that we could see a further reduction of $60 million in debt and $41.5 million in stock during the second half. Another possible scenario is that Terex issues additional debt or restructures current debt in order to take advantage of more favorable interest rates. As I mentioned in the balance sheet section regarding long-term debt, I'm in favor of paying down commitments as I believe the cost of debt outweigh the benefits to stockholders in the form of additional interest payments and could also make the company more attractive to an acquirer.
MANAGEMENT CASH FLOW EXPECTATIONS UNREALISTIC?
While management maintains their outlook of $200-$250 million in Free Cash Flow for 2014, my forecast calls for $160 million for the year (a shortfall of between $40-$90 million). Looking over the chart, investors can see that operating cash flow looks to be robust with $103 million and $108 million in Q3 and Q4, respectively, while CAPEX should average $40 million for the second half. If however management does hit the high end of their earnings guidance it's projected that they would see $224 million in Free Cash Flow (middle of their expected range). Nevertheless, as mentioned earlier, my analysis suggests that management may be too optimistic and is not factoring in a shortfall in earnings that I see happening for the year. Overall, I expect Terex to report Total FCF of -$8 million for the year due to strong financial cash flow activity (a positive view in my opinion as cash flow from operating activity will continue to remain strong).
NOTE: Management's definition of FCF = Operating Cash Flow minus Capital Expenditures. While Total FCF of -$8 million results by OCF+ICF+FCF=FCF.
COMPANY SEGMENT OUTLOOK (ADDITIONAL NOTES FROM THE FUTURE DEMAND SECTION):
As a diversified player in the "compact construction" segment, Terex stands to remain and gain across all geographical markets and equipment segments. While we have seen a boost from developed countries in North America and Western Europe, I believe that long-term growth will have to come from developing nations such as Brazil, China, Turkey, and India. With 73% of sales of overall Q2 sales coming from North America and Western Europe, Terex has been able to rely on strong stable countries as its primary revenue drivers. However, while these markets should continue to remain strong for Terex, continued political stability among the Arab Gulf countries, growth in South East Asia and Latin American countries will be needed if Terex wants to earn its target goal of $5.00 in EPS by 2016.
Putting together Terex's five segments and you have a company that operates in a very compelling space. The company's AWP shares a significant amount of the Arial segment with Oshkosh Trucks (OSH) and are both by far the dominant leaders in the marketplace and I expect this to continue. In fact there has been so much growth in this space both companies don't have to sacrifice margins in order to gain market share. Construction projects, specifically commercial, should continue to show robust growth in North America and Western Europe and that AWP should continue to outperform. Despite the "dire" need for infrastructure spending, crane spending has been more cautious. Terex is not alone, as MTW, one of their closest competitors, recently reported earnings that missed analyst forecasts and gave a downbeat view for the rest of the year.
This past weekend Barron's noted that MHPS should do well as the company's automated stacking equipment could be used in new port project around the world growing from 10 today to more than 50 by the end of the decade. I have detailed a more thorough note in the global outlook section and have pointed out that many US and Asian ports are overdue for major upgrades. With the MHPS backlog the greatest percentage of the total backlog, MHPS could easily outpace growth in the AWP over the coming years.
On the company's most recent conference call, management highlighted that construction related equipment should continue to improve; however, due to certain project funding issues in North America and political instability in Eastern Europe effecting business activity, I would not be surprised to see this segment show a decrease for the second half of the year before rebounding in 2015. Products that have been showing the greatest signs of sales improvement include concrete mixers and role pavers, mini excavators, and loader backhoes, and they could see lower margins depending on the deterioration of the utilization/sales ratio.
Terex's management has continued to emphasize cost cutting and other measures to boost operating margins as the company consolidates nearly 70 different departments into 8; as of Q1 the company has approximately 70% of its business streamlined to where it should be. While further streamlining will help boost SG&A margins, the company should continue to shed non-core product lines.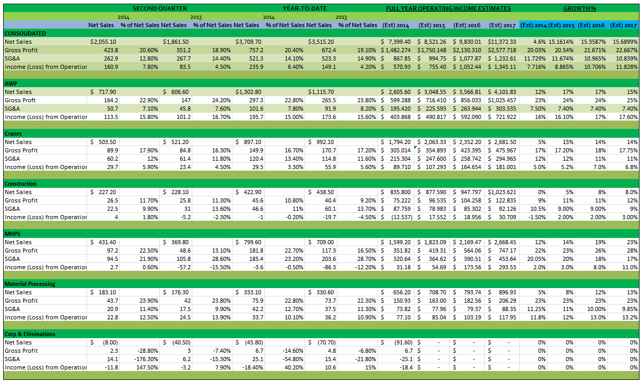 REGIONAL OUTLOOK:
Outlook:
According to many analysts and industry leaders the global outlook for infrastructure spending will continue to remain robust totaling over $57 billion from now until 2030 (McKinsey & Company), driven by emerging market rapid expansion/urbanization and developed markets such as the United States that will need to upgrade aging buildings, roads, highways and bridges.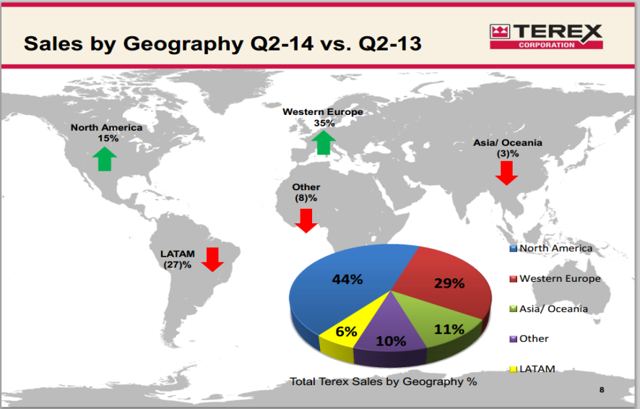 TURKEY:
While investors are becoming quietly optimistic about Brazil, Turkey remains the one country I remain excitedly bullish on in terms of infrastructure spending. Turkey has some of the most ambitious projects for its size and includes 10,000 kilometers of new high-speed rail lines, 5,000 km of conventional rail lines, and 15,000 km of new divided highways which are earmarked for completion over the next 10 years. Furthermore, the Turkish government has made it a priority to have at least one of its ports be in the top ten largest globally by 2023 according to PWC. While Terex Cranes and construction could be potential winners, the MHPS segment will most certainly grab market share from any port expansion. The country's long-term goal is to have one of the top ten largest economies by 2023 up from 17th overall today ($820 billion in 2013 GDP at an annual growth rate of 4.3%).
LATIN AMERICA:
It's projected that Latin American infrastructure spending will total $98 billion in 2014 with an increase to $114 billion in 2018 with the majority of the total coming from Brazil and Mexico. With that said the region remains challenging. Terex last quarter overhauled its sales and management team as regional sales fell 27% Quarter over Quarter. It is evident that a more "boots on the ground" approach will be needed if things are to turn around. Despite the fact that Brazil has shown signs of improvement, off of a potential presidential election shakeup, growth remains tepid at best.
Despite the Brazilian economy ranking the 7th largest measured by GDP in 2013, it ranks 114th of 148 countries in terms of its overall infrastructure quality. While the World Cup concluded without a major issue, it is estimated that only half of the planned projects were completed. Unfortunately, this wasn't an unusual occurrence as the country has historically been unable to properly invest and manage infrastructure projects. However, with social unrest on the rise, the government has begun to implement initiatives to create jobs and increase the quality of life. Earlier this year, the federal government unveiled a nearly $50 billion package that includes money for highway, railway, port, telecommunication and electric projects. Investor excitement should be focused on port infrastructure. Though the country has 34 publicly and privately run seaports, it ranks a dismal 131st of 148 countries. With nearly 90% of all Brazilian goods moving through ports (most of it being perishable produce), it is not only vital that ports remain at optimal operating levels in order to handle export and import fluctuations but future economic growth as well. Overall it is estimated that Brazil will spend over $900 billion in infrastructure projects over the next five to seven years. Yet with economists forecasting 2014 GDP to grow 1.24% and 1.73% in 2015, it looks like it could be a long time before we see any impactful turnaround from Brazil.
Mexico is another area of excitement as the country begins a major overhaul of its state run energy sector. At the beginning of the year, pro-business President Enrique Nieto unveiled a $590 billion national infrastructure plan that will involve over 750 projects in the transportation, energy, communication, and water sectors that will take place over the next five years (With more than half of these funds slated to spend on the energy sector, Terex should see a potential lift in crane related sales).
As Barron's noted earlier this month, Terex should see gains in its Port Solutions segment as the Panama Canal gets a major upgrade over the next couple of years (Pending financial delays do not persist). If successful this could be a blueprint for other countries in the LATAM region.
Though Latin America is slated for tremendous growth, there is one mounting issue for Terex. Firstly, unlike the United States and Western Europe, Latin American machinery customers have shown to favor ordering more competitively priced products from Japanese and Chinese equipment manufacturers despite their inferiority according to management (a quantity versus quality scenario). This is driven by weaker domestic currencies against the Euro or US dollar. Since 2011 the US Dollar and the Euro have gained 43% and 33%, respectively, against the Brazilian Real making it more expensive for Brazilians to purchase Western made goods. During that same timeframe the Yen has strengthened only 13% and the Chinese Reminibi 32%. This trend is likely to continue as interest rates in the United States are likely to start increasing over the next couple of years.
EUROPE:
As European economies continue to struggle, government sponsored infrastructure projects remain underfunded. In particular Portugal, Ireland, Italy, Greece, and Spain (PIIGS) have all experienced the most significant reductions in project spending as austerity measures have taken hold. Despite Terex experiencing a 35% increase in second quarter regional sales compared to the same period in 2013, recent economic data could signal a dramatic slowdown if not reversal going forward. Ultimately project and infrastructure growth will rely on Public/Private Partnerships (PPPs) and many governments may be forced to concede more than they are willing to in order to achieve mediocre growth (examples include increased tax break incentives and government backed infrastructure bonds). However, with empty coffers and rising pension and health-care related costs, many do not have an option to simple say no. In total, Reuters projects that spending will rise over the next four years to 4.3%, from a slight increase of 1.5% experienced last year, to $741 billion.
In what is being described as the most radical overhaul in European infrastructure policy since its inception, the EU commission late last year detailed a new transportation road map that will connect nine major corridors across the continent that will create a more unified and efficient network system. Over the next six years (by 2020) financing for this transport infrastructure undertaking is expected to triple to $26 billion. The goal is to connect 94 main European ports and 38 airports seamlessly to a new rail network. An additional 15,000 km of new and upgraded high speed rail lines and 35 major projects to help prevent cross border road and highway congestion are also expected to take hold.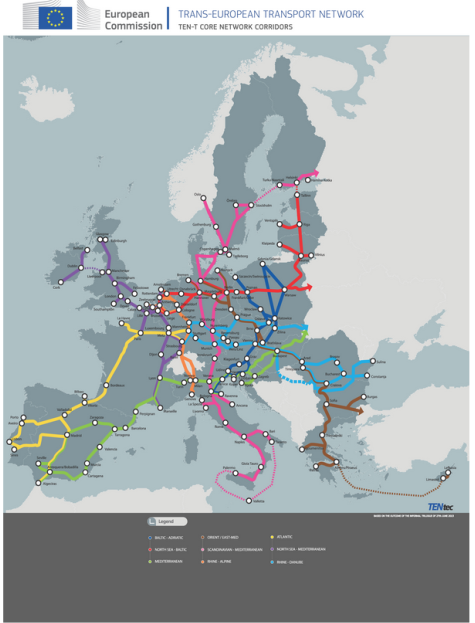 Recently, European GDP figures for the most current quarter were announced and to the surprise of many were worse than anticipated. Though growth in the EU28 remains stable at .2%, this was down from .3% reported in the first quarter. Germany and Italy both suffered small contractions of -.2% from a first quarter increase of .7% and -.1%, respectively. France remained flat quarter over quarter while both the United Kingdom and Spain led the block with .8% and .6% gains. Unfortunately, investors continue to remain risk averse as German yields hit new post-crisis lows. If current trends persist, private funds may remain on the sidelines.
Germany remains Europe's strong man and made up roughly 15% of total European infrastructure spending for the years 2011 through 2015. However, while 41.5 billion euros worth of projects were announced this was down from a projected budget of 57 billion Euros (27% decrease).
Presently, however, my fears may have been confirmed as political gridlock between the EU and Russia appear to have taken a turn for the worse. Recent expansion into Eastern Europe by Terex may suffer as a newly authorized dealer in Poland is sure to see a decrease in business activity.
North America: "Conflicting Reports?"
In March the ENR Confidence Index showed a dramatic rise in confidence among the 414 executives of construction and design firms that participated in the survey. This was 3 points higher than the 4th quarter's survey of 69. Most participants in the poll anticipate a dramatic rebound in construction related activity towards the end of the year and going into 2015. Further index figures such as the CFMA's Confidence Index showed little change from Q1 (Dropping from 130 to 129) but remains above 2013 levels (Positive sign). The downshift and cautious optimism in my view was the result of the lack of clarity from Washington regarding additional funds for the Highway Trust Fund in addition to a continued lack of public spending on construction related projects that continue to persist. According the St. Louis Federal Reserve, public construction spending is down roughly 16.6% from its March 2009 high reading of $325,481 million (we saw a roughly 6.8% spike from February 2010 through September as the US tried to "dig" its way out of a severe recession, but funding has since decreased dramatically). Additionally public infrastructure spending is about half of what Europe spends as a percentage of GDP. A long-term government solution will certainly boost confidence and activity almost immediately as firms and financial lenders start putting the nearly $2 trillion sitting on the sidelines to work. Certain government funding solutions that have been suggested are an additional state or federal gas-tax that has not been changed in the last 30 years and is tied to inflation and a tax-free repatriation for firms that bring back money from overseas and are invested in infrastructure bonds. As noted earlier the federal government should fully support infrastructure projects that have the ability to create jobs, increase efficiency, and contribute to a cleaner environment. But in order to do this Washington will need to be more open and support private spending because ultimately it's all about confidence and without the support of the federal government business confidence is likely to eventually wane.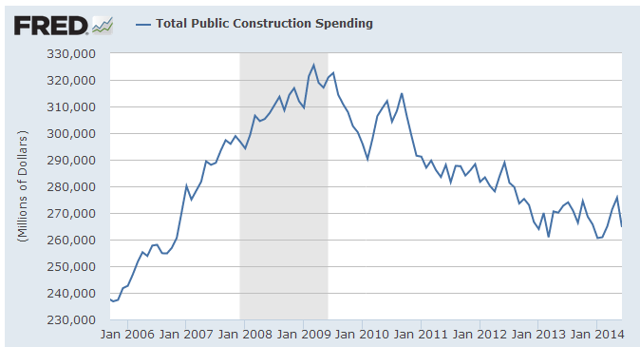 With that said North American construction activity should continue to remain strong across many major metropolitan areas as construction projects get underway. Private construction spending, though well off its March 2006 high, has rebounded nicely since bottoming in January 2011 and is up 48.2% since then but has stalled over the past 6 months likely to due to severe weather experienced over the first quarter.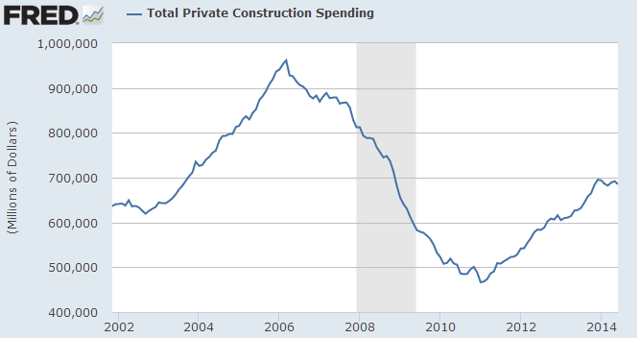 Within the private sector, both power and office construction spending stand out. Along with commercial activity these are the likely sectors that will give a boost to Terex's top line going forward. As noted earlier, AWP equipment are used for commercial and office related construction activity (non-residential construction). With a boost from government spending out of Washington, growing confidence could easily jolt these markets towards pre-recession spending levels. Continued spending on power related infrastructure activity should bode well for Terex boom, utility, and rough terrain cranes.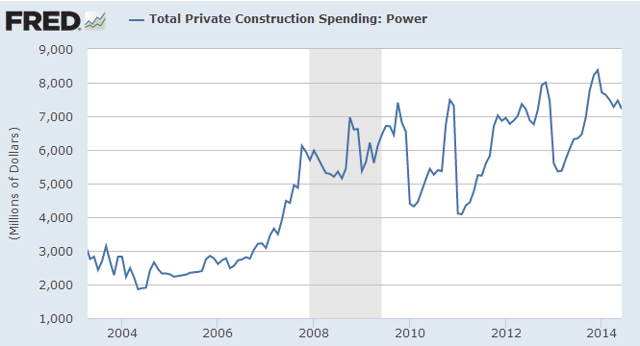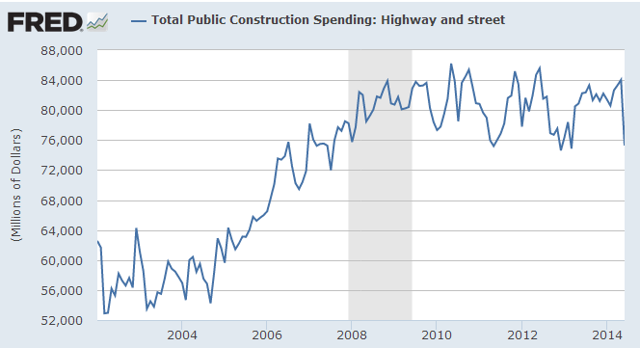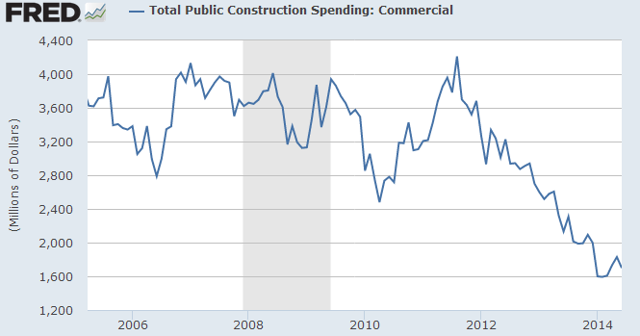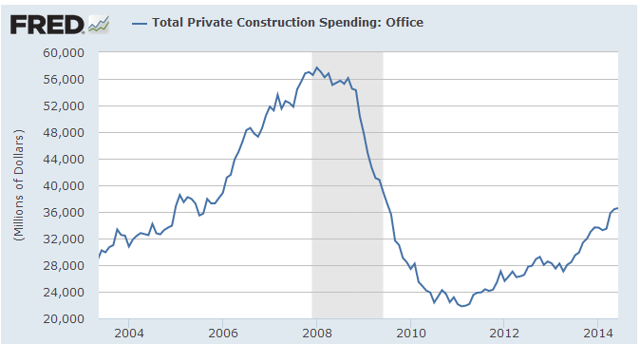 American Society of Civil Engineers Report Card
According to the most recent ASCE report, it is estimated that $3.6 trillion will be needed for investment by 2020 just to replace deteriorating infrastructure. US ports should see a major injection of funds as 95% of all goods produced or consumed by the US move through ports. While $46 billion has been pledged by port authorities and private companies through 2016, it may not be enough to upgrade its current 2013 rating of C. Post-Panamax ports are likely to see a boom in activity, and according to ASCE trade volume is expected to more than double between 2012 and 2021 and double again after 2030. This increase in activity will require more efficient handling equipment.
My analysis suggests that near-term upgrading activity will surround West Coast ports while longer dated projects should come from the gulf and East coast ports. The reason is because only 5 ports could accommodate moderately large vessels at the end of 2010 because of their naturally shallower berths versus that of West Coast ports which has deeper compartments.
The report concludes by saying that 75% of capital investment needed by US ports will be for port expansion while 25% is likely to be spent on rehabilitation of existing substructures from 2012-2020. Strong domestic growth is the primary reason why I see MHPS achieving accretive double digit annual growth going forward.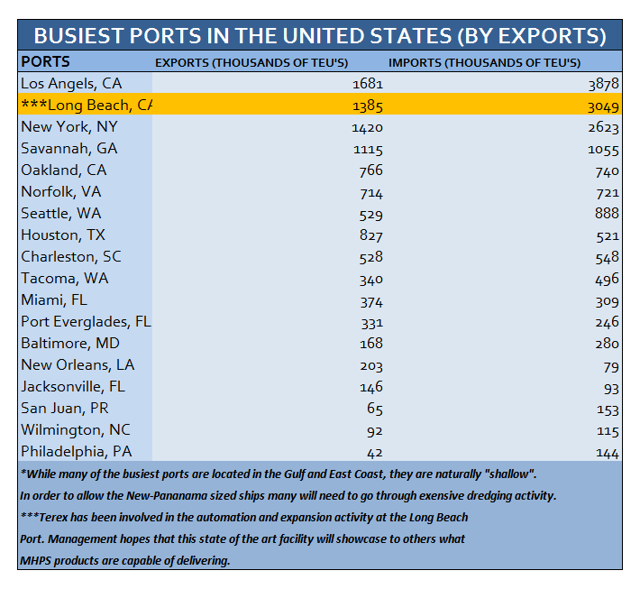 Another area of major concern is the age of bridges across the United States. With 1 in 9 bridges rated as structurally deficient, and the overall average age at 42 years, US bridges are in dire need of an upgrade. Terex should see continued improvement. Another area of major concern is the age of bridges across the United States. With 1 in 9 bridges rated as structurally deficient, and the overall average age at 42 years, US bridges are in dire need of an upgrade. Terex should see continued improvement.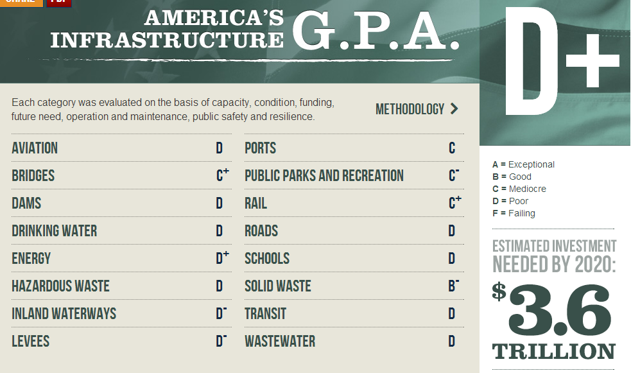 (Chart from the American Society of Civil Engineers)
ASIA/OCEANIA:
According to a recent Pricewaterhouse Coopers report the Asia-Pacific market will be driven by China's continued growth, and will represent 60% of global infrastructure spending by 2025. Over that same time frame Western Europe's share will shrink to less than 10% from just over 20% today.
Rapid urbanization will fuel the need for more efficient cities with better access to facilities such as schools, hospitals and other public facilities. China alone is projected to spend twice as much on highway construction as the United States by 2020. Further, my analysis suggests that South East Asian countries will require significant upgrades to their ports in order to deal with increasing economic activity, and will be essential in order for them to maintain their economic competitiveness. This is evident with the recent purchase of non-automated port solution products for one of Vietnam's largest ports. A clear correlation has been shown that for every 1% increase in infrastructure spending on transportation and communications on a sustained basis increases the GDP per capita growth rate by .6%. (PWC Report).
China by far spends the most of any major company on infrastructure as a percentage of GDP. As a result what you have is a continued massive expansion of buildings, highways, bridges, railways, amongst other things. For example, the length of expressways are expected to increase by 157% and container terminal capacity by 132% from 2010 to 2020.
India also remains a bright spot for future infrastructure spending. It is estimated that more than 70% of people still lack access to basic services such as clean water and reliable energy. While government regulation on foreign investment continues to hinder growth, infrastructure spending is projected to grow to $130 billion by 2025 from $27 billion in 2013. However, more needs to be done as the population is expected to grow dramatically within that time frame. Privatization of under-utilized public systems and further pro-business initiatives should be a major priority for the government.
AUSTRALIA:
Australia is another important market for construction related spending, especially for processing raw material such as coal, natural gas, and iron ore. Much of Australia's future spending on commodity projects will depend on the world's appetite for growth. Australia is fortunate, as the worst seems to be behind despite recent economic figures suggesting otherwise (signs of a slowing housing market should not however affect global consumption but may in fact facilitate an increase in government spending). Exports remain slightly off their all-time highs reached earlier this year. The country's close proximity and vast natural resource reserves should bode well for the country as Asian countries outpace the developed world in terms of GDP growth. However, risks do remain and management gave a cautious outlook for the country as big ticket items such as crane sales slowed dramatically. Long-term cranes, materials processing and in particular MHPS should have their growth prospects remain intact.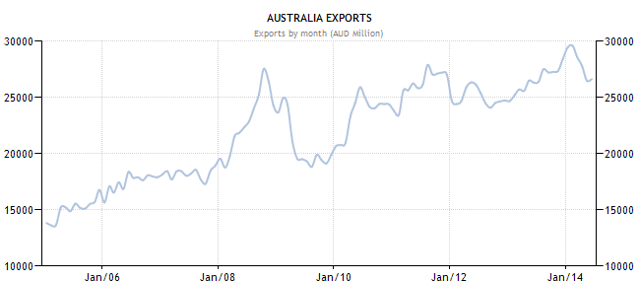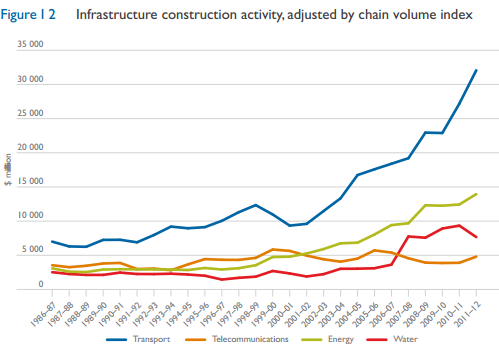 *Australian government Department of Infrastructure and Regional Development.
Strong activity related to transportation as ports have seen a major boom in spending from the private sector despite government spending remaining little changed over the past few years.
THE MIDDLE EAST:
Terex management recently highlighted that certain countries in the Middle East were showing signs of improvement (particularly gulf countries such as Kuwait, UAE, Qatar and Bahrain). Previously TEX only saw growth from large countries such as Saudi Arabia and with activity picking up in regional neighbors signs are pointing to a more budding outlook (The value of projects in Saudi Arabia grew 29% from 2009 through 2013, while project spending dropped 51% in neighboring UAE). Growth however is likely to continue depending on regional stability. With Iraq pushed to the brink of collapse, and tensions in Israel flaring out yet again, we could see future projects put on hold. Growth would likely benefit the crane segment as much it will come from skyscraper and commercial activity as well as the power and utility sectors. Predicting exact figures would be speculative at best, but if we don't see a negative decrease in sales in second half compared to last year, I would consider that a positive sign. Management also noted that the company should see a lift in the crane segment as sales rebound from a slow second quarter period due to a religious holiday.
Competitive Landscape:

There is no scarcity of heavy equipment manufacturers around the world. Growing competition from Chinese and Korean firms are putting stress on long-term incumbents Caterpillar and Komatsu. As a niche player, Terex has the distinct advantage of quickly shifting its product work capabilities but at the same time does not have the large scale abilities to fend off competitors and suppliers in the long run.
Does Terex have a competitive edge or economic moat?
According to management, 80% of first quarter sales originated in markets where Terex is a top 3 player (AWP, MHPS, and Cranes). Cranes, however, are the only segment in my view that could potentially come under significant competitive pressure from the likes of Liebherr, Manitowoc and Tadano. MHPS and AWP segments are clearly market leaders for the company in which they enjoy significant product superiority (evident by increasing operating margins). The company's greatest weakness is evident in its compact construction segment where the company earns only single digit operating margins and lacks a complementary product line. While certain products such cement mixers will continue to improve, they are coming off very low productivity levels and are in a crowded and highly cyclical market.
Currently, Terex produces its equipment across five different continents. As mentioned above, I would like to see continued consolidation at underutilized facilities and further expansion into emerging markets such as Brazil, which currently only has one manufacturing facility that produces Demag gear. Further expansion of industrial factories in India and China would also be beneficial for long-term growth. In conclusion Terex remains a strong niche market leader, yet operates in a highly cyclical sector, growth and sustainability rely on the global economy remaining robust.
ANALYST COVERAGE:
Of the 23 analysts covering the company, 3 rate it a strong buy, 9 outperform, and 11 holds, giving it a mean rating of 2.35 and puts it in the buy/hold category. This is slightly up from 2.43 reported last quarter. Sentiment is improving for the entire construction machinery sector and analysts have highlighted Terex for future growth.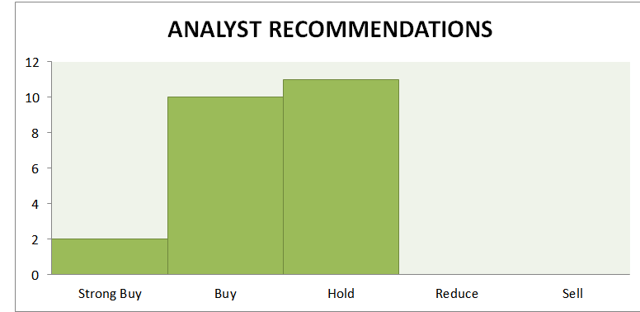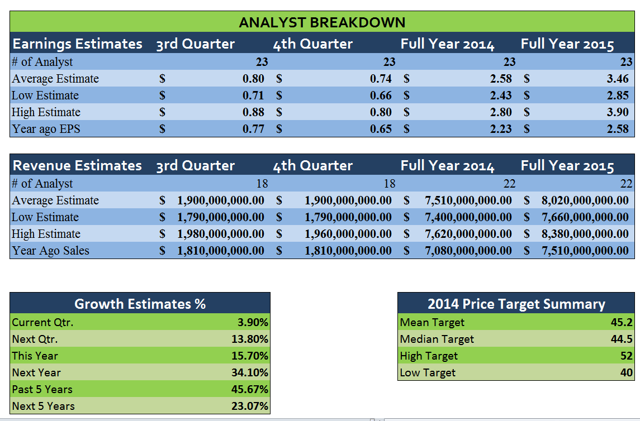 M&A Activity:
Terex certainly looks like an attractive takeover candidate for large capitalization equipment manufacturers such as Caterpillar or Komatsu and a potential bidder may want to take the opportunity with the recent pullback in shares to offer a fair premium to shareholders. Most notable however Kubota, another Japanese equipment manufacturer, has built a sizable war chest and has made it no secret that they are interested in purchasing a company outside of their home market of Japan. I have detailed below what a potential deal could look like.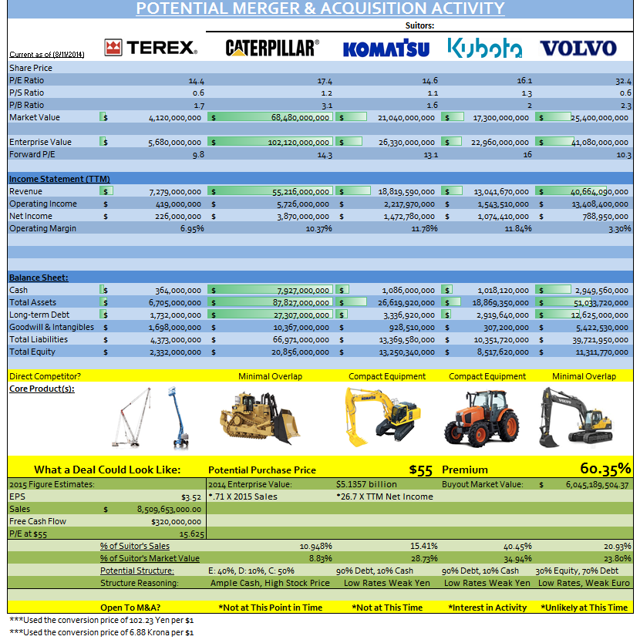 Recently Deere (NYSE:DE) has commanded my attention as a possible suitor. Farming equipment sales are likely to fall dramatically as commodity prices from cotton to corn have dropped in price which will likely have a knock on effect as CAPEX declines. Deere does operate marginally in the construction equipment space but could benefit from Terex's product portfolio. With a market capitalization of over $30 billion and over $4.5 billion in cash and equivalents, a deal is very possible.
I should note that while I believe that Terex is an attractive takeover candidate, investors should not purchase shares solely on merger and acquisition speculation. The fundamental case for Terex remains the primary selling point.
Questions for Management?
-Are further divestitures possible? A sale of its construction business, which contributes roughly 10%-11% in operating margins, may be beneficial as management would be able to focus its energy and resources on core product offerings.
-Would management be receptive to combining Manitowoc's crane division with its own operation? With Relational Investors pushing Manitowoc to split the company into two, the crane division may be valued at $1.4 billion. A merger may be mutually beneficial for both companies.
-What have the effects of the RM-Terex JV been since Russia/West trade sanctions? Have we seen a dip in Terex related products? Is the JV in danger of falling apart?
-What is the long-term strategy for the company in Latin America where sales continue to be a huge disappointment?
-With majority of global infrastructure growth coming from Asia over the coming decades, what is Terex's strategy for the region?
-What is the company's tactic to deal with growing Chinese competition?
FINAL REMARKS/CONCLUSION:
Though political and now economic instability across Europe and business confidence waning in North America, there remains a slight risk of a slowdown in cyclical related stocks, especially for capital equipment industry. Existing infrastructure in North America is in need of a dire upgrade and it's estimated that $9 trillion will be spent annually by 2025, up from $4 trillion today, on everything from roads to power plants globally (Though many argue that more needs to be done).
Terex is likely to benefit from much of this global growth as the company dominates the AWP segment and its cranes remain some of the highest quality in the world. Though management has pushed back its $5 in EPS to 2016, anything close to that would be a clear win for the company and investors. A reacceleration of growth in Australia and continued strong growth from select Asian countries, primarily China, should also boost emerging market sales and should drive sales over the next decade. North American commercial construction should continue to remain strong with continued private investment well into 2017. Further as the company continues to streamline its various departments inherited through past acquisitions, margins should continue to improve. Though near-term pressure has been placed on the stock as the result of its lack of robust sales in its crane segment, the company is a clear winner and should see its shares appreciate to $50 over the next 12 months (35% premium based on my 2015 EPS estimate of roughly $3.20 and P/E of 16).
Disclosure: The author is long TEX.
The author wrote this article themselves, and it expresses their own opinions. The author is not receiving compensation for it. The author has no business relationship with any company whose stock is mentioned in this article.