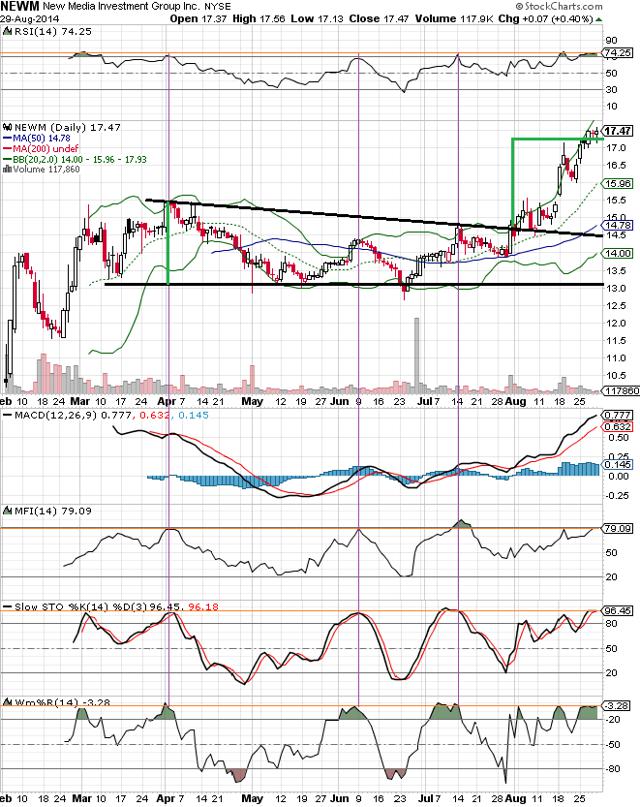 As shown by the graph above, over the past month, New Media Investment Group (NYSE:NEWM) has risen about 20% after being nearly flat since March. As also shown in the graph, it is likely that the stock's rise is over for the near term. But will the stock continue to rise in the long run? How much can we expect it to rise in the long term? What is the value of the company?

The company has a market cap of $524.10 million (enterprise value of $690.41 million). It owns 451 community publications (some of which are mentioned above), 367 websites, 6 Yellowpage directories, and Propel digital marketing for medium and small businesses. Page 27 to 44 of the company's 10-K lists its dailies, weeklies, shoppers (generally advertising-only publications), websites, and directories as of December 2013. 100% of their daily newspapers have been published for over 50 years and that seems unlikely to change in the near future. Operations are in 363 markets across 27 states. From the map, it seems the company focuses on highly populated areas like the Northeast as well as California and Oregon. But they also have a big presence in the Midwest, an area which could see growth in the future.
New Media (NEWM) was spun off from Newcastle Investment (NCT) on February 5, 2014. The company was formed by merging Local Media Group Holdings LLC with Gatehouse Media LLC. Local Media Group, formerly Dow Jones Local Media Group, was sold by News Corp (NASDAQ:NWS) to Newcastle on September 4, 2013 for $87 million. At the time, Local Media Group operated 33 community publications: eight daily and 15 weekly newspapers in seven states, including the Times Herald-Record in Middletown, New York (covering the northwest suburbs of New York City); Cape Cod Times in Hyannis, Massachusetts; and The Pocono Record in Stroudsburg, Pennsylvania. It currently owns newspapers, websites and publications in California, Maine, Massachusetts, New Hampshire, New York, Oregon, and Pennsylvania.
GateHouse Media, formerly Liberty Group Publishing, was bought by Fortress Investment Group (NYSE:FIG) for $527 million in June of 2005. Faced with declining revenue and profits, and the maturity of its $1.2 billion in loans due in 2014, the company filed for Chapter 11 bankruptcy on September 27, 2013. In its bankruptcy filing, it listed assets of $433.7 million and debts of $1.3 billion. The company reemerged from bankruptcy in November 2013.
So, if New Media is Local Media Group and GateHouse Media, can I say that part of the company was worth $527 million in June of 2005 and the other part was worth $87 million on September 4, 2013. If I add the two numbers, I get $714 million, greater than current market cap of $524.10 million and slightly greater than current enterprise value of $690.41 million. Thus, I can conclude that either the value of the sum of parts fell or the company is undervalued. Notice that when using $433.7 million as the asset value for GateHouse Media, that gives $520.7 million, about the same as New Media's current market cap of $524.10 million.
New Media was planned to primarily focus "on investing in a high quality, diversified portfolio of local media assets and on growing its online advertising and digital marketing businesses."
In its 10-K, it listed core assets as
• 85 daily newspapers with total paid circulation of approximately 736,000
• 240 weekly newspapers (published up to three times per week) with total paid circulation of approximately 300,000 and total free circulation of approximately 680,000
• 96 shoppers with total circulation of approximately 1.9 million
• 350 locally focused websites and 333 mobile sites with approximately 100 million page views per month
• six yellow page directories, with a distribution of approximately 432,000, that cover a population of approximately 1.1 million people
• Propel digital marketing services
The company launched Propel in 2012 to help small and medium businesses build an online presence and help businesses to be located by consumers online. The company notes that SMB Spending Forecast expects these businesses to spend $24 billion on digital marketing by 2015. Propel generated $4.5 million in revenue in 2Q 2014 vs. $1.5 million in 2Q 2013. Although that pales to the total revenue of $158.4 million in 2Q 2014, Propel revenue is growing nearly 6 times faster.

The company warns that its advertising revenue tends to follow a seasonal pattern, with higher advertising revenue in months containing significant events or holidays. Thus, the 1Q, followed by the 3Q, are historically its weakest quarters of the year in terms of revenue. The 2Q and 4Q are historically its strongest quarters. Advertising counted 60% of total revenue, so we should expect that the stock price rise to slow and maybe even decline as we enter the 3Q. While the company reported total revenues of $158.4 million, an increase of 32.5% to prior year, analysts estimate 3Q revenue to be $158.7 million.
To find an intrinsic value for the stock, I assumed a constant annual dividend growth rate (G) with g = 0 and g = 0.01
E(R) = required rate of return (expected return)
RFR = risk free rate = interest rate on a three-month U.S. Treasury bill = 3.9%
βstock = beta of the stock = 0.25
Rmarket = return of the market = return of the NYSE = 7.4%
(Rmarket - RFR) = the market risk premium, or the return above the risk-free rate to accommodate additional unsystematic risk
E(R) = RFR + βstock * (Rmarket - RFR)
E(R) = 0.039 + 0.25 * (0.074 - 0.039)
E(R) = 0.04775
Price = Dividend / (E(R) - growth rate) = 1.08 / (0.04775 - 0) = $22.62
= 1.08 / (0.04775 - 0.04) = $28.61
Thus, in one year, the stock should have a value $22.62 and $28.61. And based on the earlier information, the stock has minimal downside, although it might not move much for the next few months.
Disclosure: The author is long NEWM, NCT.
The author wrote this article themselves, and it expresses their own opinions. The author is not receiving compensation for it (other than from Seeking Alpha). The author has no business relationship with any company whose stock is mentioned in this article.