Big data analysis and mapping software developer Splunk (NASDAQ:SPLK) reported its second-quarter earnings last week with record-high results that beat EPS and revenue expectations. Splunk presented an impressive revenue increase of 18% quarter over quarter and 52% year over year and beat both the company's guidance for the quarter, which was in the range of $92-94 million, and the analysts' consensus, which estimated revenue at $94 million. A deeper look into the revenue figures shows that revenue for the quarter that ended in July 2014 followed the seasonal pattern shown in chart 1 below. Constant increase in revenue and the seasonal revenue trend bring Splunk to a quarterly revenue growth rate of 11% over the last two years.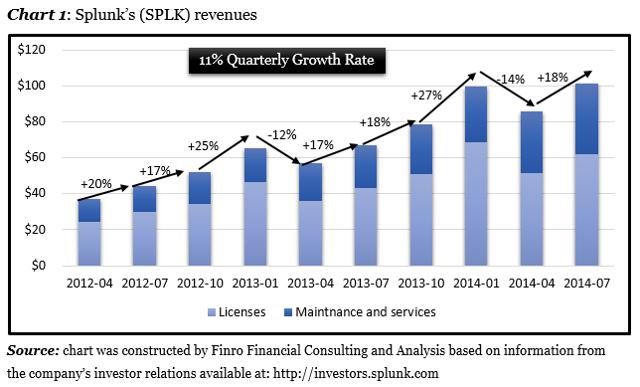 Splunk is still in growth mode, and even though it has increased its revenue at a quarterly rate of 11%, it has also increased the cost of revenue and operating expenses at a 16% quarterly growth rate. The steady increase in cost drives the rise in net loss, which hit $61 million in the quarter that ended in July 2014. In the last two years, the percentage of revenue Splunk dedicated to operating expenses and cost of revenue climbed and reached 159% of the company's revenue in the recent quarter. As shown in chart 2 below, Splunk steadily increased its operating expenses and cost of revenue. Percentage of total expenses out of revenues soared from 110% in the quarter ended in July 2012 to 159% in the quarter ended in July 2014; this is a 50 percentage point gap that highlights the amount of resources the company puts into product development, sales, marketing, and management compensation.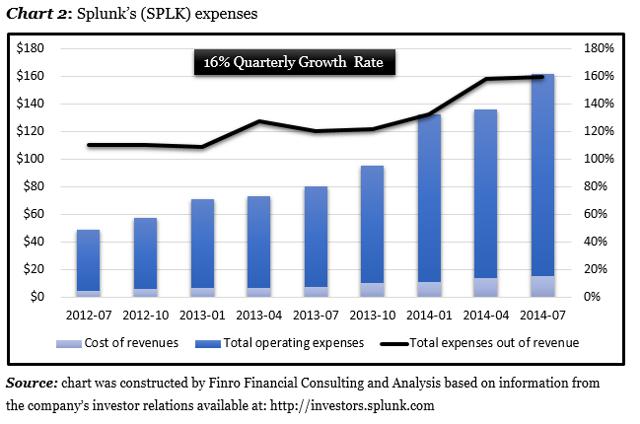 Comparing Splunk's GAAP to the Non-GAAP results highlights a very sharp increase in share-based compensation across the company, which has a $59M impact on the PnL. Splunk's share-based compensation increases in quarterly growth rate of 41%. Even though this is not a cash expense and does not affect the operational cash flow, the increasing double digit amount is alarming. Stock-based compensation out of revenue increased from just 9% in the quarter ended in July 2012 to 59% in the quarter ended in July 2014. Stock-based compensation (together with employer payroll tax on employee stock plans and amortized intangible assets) flip the coin from a GAAP net loss and per share loss of $0.51 to a Non-GAAP net profit and per share profit of $0.01.
Business Overview
In Q2, Splunk continued to increase its customer base and added another 500 customers to a total of 7900 worldwide. As part of its partnership strategy, Splunk announced a new strategic alliance with Syncrost to deliver machine data insights from mainframe systems. An earlier announced partnership with Internet2 to offer a 3-year license of Splunk Enterprise to higher education institutes with dedicated pricing attracted 25 universities since it was published two-quarters ago. Splunk's management is yet to provide any results or updates on the previously announced partnerships with Tableau (NYSE:DATA) and Symantec (NASDAQ:SYMC).
Splunk introduced the Splunk app for streaming that is based on the Cloudmeter technology and offers real-time streaming wire data that gives customers access to all data from different sources at one time and enables customers to gain high-quality information from that data. This is the first product that Splunk launched that is based on the Cloudmeter acquisition, and it is currently a free app. The streaming app is targeted to bring better results for existing Splunk customers and attract new customers that would like to use that functionality on top of other Splunk solutions. The success of Splunk's strategic partnerships and app releases could be reviewed in a few quarters once the company gathers enough data to release to the market. These efforts supported the growth trend of Splunk and were targeted to bring additional revenues in the long run.
Stock Analysis
Splunk's stock reacted strongly to the earnings results and completed a 19% increase the day after the release. As shown in the chart below, Splunk's stock suffered many ups and downs since the beginning of the year after an extended increase in stock price. The recent jump in stock price reflects the guidance in higher revenues that the company's management provided in the earnings release, taking into account a 14.7 P/S ratio.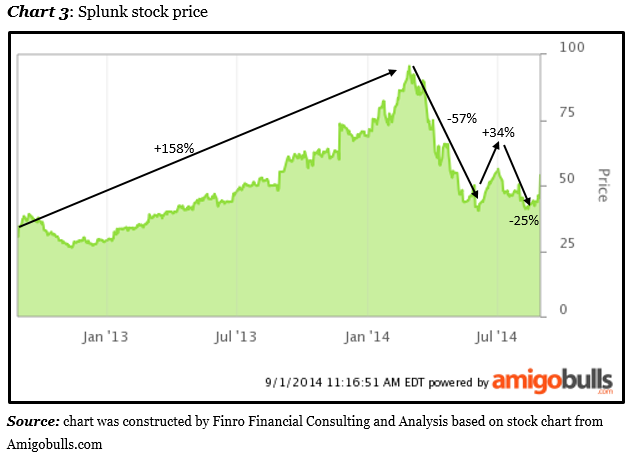 Conclusions
Splunk announced higher-than-expected revenues and EPS (Non-GAAP) that had an immediate impact on stock price, increasing it to 19% on the day after the earnings release. Splunk is still in a growth mode, increasing revenues each quarter, while simultaneously increasing expenses that drive the negative bottom line (GAAP). Splunk continues with its strategic partnerships plan to build a strong portfolio and revenue streams in the long run. The company released new versions for its existing products and new apps to enhance these products to maintain its core revenue stream from Splunk Enterprise. In light of the recent sharp increase in stock price and recent price targets provided at the end of August with a range of $52 to $56, the current level of Splunk stock might not be an attractive entry point. Furthermore, the frequent and severe fluctuations in stock price make it a risky alternative for the ordinary investor; however, the ups and downs could be used for the short-term profit of sophisticated investors.
Disclosure: The author has no positions in any stocks mentioned, and no plans to initiate any positions within the next 72 hours.
The author wrote this article themselves, and it expresses their own opinions. The author is not receiving compensation for it (other than from Seeking Alpha). The author has no business relationship with any company whose stock is mentioned in this article.
Additional disclosure: Information provided in this article is for informational purposes only and should not be regarded as investment advice or a recommendation regarding any particular security or course of action. This information is the writer's personal opinion about the companies mentioned in the article. Investors should conduct their own due diligence and consult with a registered financial adviser before making any investment decision. Lior Ronen and Finro Financial Consulting and Analysis are not registered financial advisers and shall not have any liability for any damages of any kind whatsoever relating to this material. By accepting this material, you acknowledge, understand and accept the foregoing.