Consumer confidence dipped in early January as rising gas prices overshadowed an improved job outlook and passage of temporary federal tax breaks. The preliminary reading of the Reuters/University of Michigan Consumer Sentiment Index dropped to 72.7 in January, down from 74.5 in December and 74.4 in January 2010.
Click to enlarge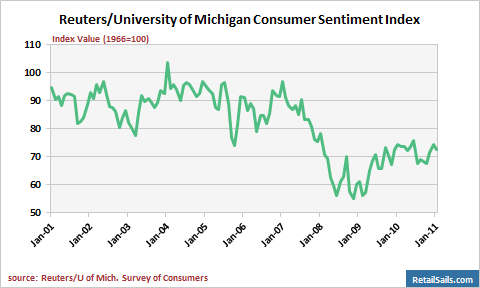 Consumers' current view of the economy was negatively affected by gas prices hitting the $3 mark, as the survey's barometer of current economic conditions was 79.8 in early January, down sharply from 85.3 in December and below the 81.1 reading last January.
However, consumers are more optimistic about the future economic outlook. The 12-month economic outlook index jumped to 87, which was the highest since September 2009, and the survey's gauge of consumer expectations rose to 68.2 from 67.5 in December.
In addition, just 21% of consumers surveyed expected the unemployment rate to increase in the year ahead, the lowest figure recorded in 10 years.
"The stronger performance of the economy was expected to be reflected in the near term by more favorable expected changes in employment," Richard Curtin, director of surveys of consumers from Thomson Reuters and University of Michigan, said in a statement.
Click to enlarge charts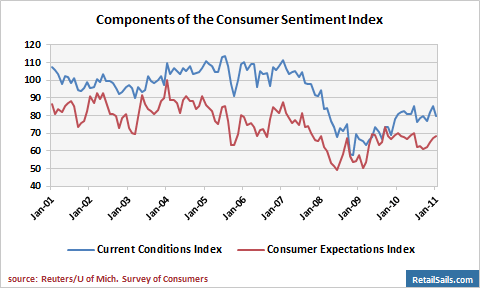 Disclosure: I have no positions in any stocks mentioned, and no plans to initiate any positions within the next 72 hours.