Introduction
In July, Campbell (NYSE:CPB) made a transparent presentation discussing some of the headwinds facing the company and the packaged foods industry. The presentation focused on innovation and growth drivers, and addressed areas of fundamental weakness faced by the company. Campbell's overall performance remains weak, with limited organic growth and declining margins in the face of increasing competition and changing consumer perceptions that traditional canned and packaged foods are less nutritious than fresh products. This article discusses the issues facing Campbell, efforts to drive growth and innovation, valuation and the likelihood of a takeover.
With the stock having significantly underperformed (+4% versus the S&P +22% over the last one year as of 2nd September), the recent growth initiatives, a 2.8% dividend yield, and the likely resumption of share repurchases in FY2015, Campbell represents a sound risk-reward with a significant upside 'kicker' in the event of a strategic buyout.
Even if Campbell does not participate in the potential consolidation of the packaged foods industry, the company's transformation agenda makes it an attractive proposition. I am reminded of how Hershey was able to deliver significant shareholder value by executing a successful turnaround, despite receiving a lot of criticism for not participating in the confectionery industry consolidation led by Kraft / Cadbury's and Mars / Wrigley.
The following chart provides a snapshot of the company's business (Appendix A has additional information about the brand portfolio).
FY2013 Net Sales and Operating Earnings Contribution by Segment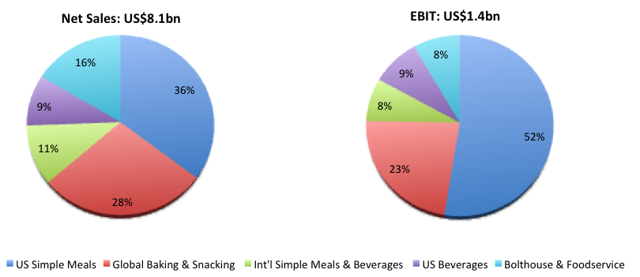 Source: Company filing
Note: Fiscal Year (FY) ends July.
As shown below, Campbell has generated limited organic growth sales over the last few years, and recent promotional activity has failed to drive volume growth.
Organic Sales Growth - Limited Growth Despite Increasing Promotions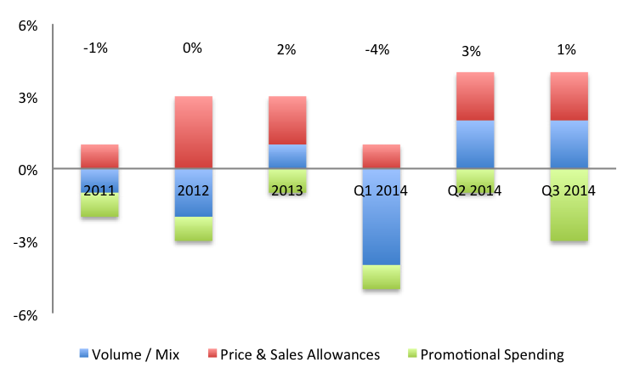 Source: Company filings
Profile - Declining Gross and Operating Profit Margins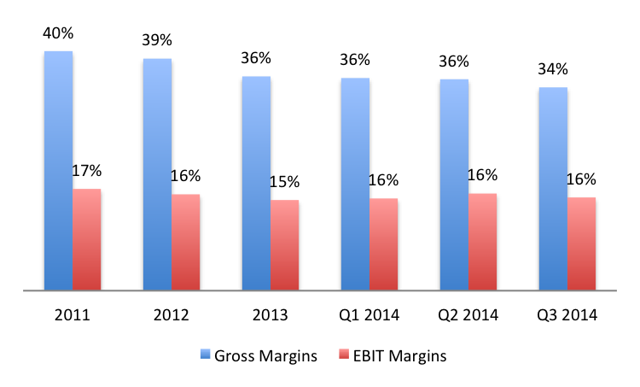 Source: Company filings
Note: Refer to Appendix B for additional financial information.
Most of the issues with Campbell are related to declining sales in US Beverages and Australia. The company generates about half of its international sales from Australia. Furthermore, the company is facing a challenging environment in US Soups. Campbell derives an estimated 25%-30% of its net sales and an even greater portion of profits from US Soups, which has experienced limited growth. For the year-to-date period, US Soup sales declined 1%, with condensed and RTS soups declining 2% and 4%, respectively, and broths increasing 11%.
Organic Sales Growth by Category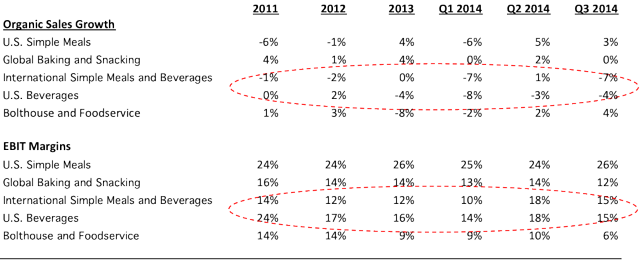 Source: Company filings
Reshaping the Portfolio for Growth - Acquisitions & Divestment
Campbell has been reshaping its portfolio to achieve its long-term growth targets, and set an aspiration of $10bn in sales within five years, representing a CAGR of 4% (5%-7% EPS growth target). The management has made inroads into attractive growth categories through recent acquisitions of Bolthouse Farms (August 2012), providing it access to the fast-growth fresh packaged food and juice categories; Plum Organics (June 2012), providing it access to premium organic products for children (Plum Organics is the No. 2 brand of organic baby food in the US); and Kelsen (August 2013), a Danish biscuits brand providing growth in the large baked snacks category in Greater China. Going forward, management has indicated its preference to get back to organic growth, yet acquisitions similar to that of Bolthouse Farms, Plum Organics, and Kelsen cannot be ruled out. The company has an estimated $3bn of acquisition capacity that can be funded with debt. The company divested its European Simple Meals business in October 2013. It is unlikely that management will consider additional divestitures in the near term.
US Beverages - a Challenged Business, Being Repositioned for Growth
Campbell had, for the last five years, a contract with Coca-Cola for immediate consumption distribution of V8 that ended last year. Campbell is now distributing V8 products to a new network of distributors for national distribution. According to the management, some of the recent sales decline in US Beverages was driven by the planned transition from the Coca-Cola "distribution system" for single-serve V8 beverages.
The shelf stable juice category continues to struggle from competition from specialty beverages and packaged fresh juices. However, V8 is a powerful brand with a strong equity and competitive market position - the No. 2 brand in the $7.6bn shelf stable juice category in the US. During the Investor Day presentation, the management highlighted that Campbell is starting a bold consumer-driven vision to lead the "veggie craze" with V8, with a focus on three areas - make V8 the "go-to" beverage for health-focused adults; build V8 Splash into a powerhouse brand for kids; and increase availability for broader consumption through new channels and packaging. The company has refreshed its core V8 range, enhanced the product quality and taken actions to engage with health-conscious adults. While this has seen some signs of encouraging results showing modest growth, US beverages will less likely be a significant growth driver in FY2015. However, the brand could return to reasonable growth in FY2016 and beyond. Following the acquisition of Bolthouse, Campbell will have the benefit of going to market with both V8 and Bolthouse Farms, which is $1bn of healthy beverage business at retail channels.
Source: Campbell Investor Day Presentation
US Simple Meals - Enhance the Consumer Experience and Focus on Innovation
The US Soups business has been challenged recently, and not been growing despite increased promotional activity. The company is focusing on driving growth in soup by promoting innovation and launching 70 new products. Within Simple Meals, the premium products category accounts for $26bn in annual sales, growing at nearly 9%. As highlighted during the recent Investor Day presentation, Campbell is focusing on (1) premium segments, driven by the consumer trends for indulgent foods and health and wellness / organic options; (2) taste adventure, driven by an appetite for ethnic and regional cuisines; and (3) easy and flavorful cooking, as 75% of all meals in America are eaten at home, but consumers have less time to cook meals. Some of the initiatives highlighted by management include:
The company will introduce a range of Campbell-branded certified organic soups in January 2015. Sales of organic food reached $6.7bn in 2013, growing double-digits over the last few years. The organic segment within the soup category currently accounts for only $190m in sales each year, and has significant potential for growth. Indulgent soups are about delivering delicious eating experiences, and brands such as Slow Kettle Style Soup and Campbell's Go! Soup have delivered $70m in retail sales in the past year.
Condensed soup generates $1.35bn in annual retail sales, and the company will continue to build its popularity with contemporary flavors and impactful advertising. Furthermore, the company has a Healthy Request range, which meets the guidelines of the American Heart Association.
The Swanson broth brand is associated with easy and flavorful cooking, and holds the No.1 position in the broth category. Swanson generates $432m in retail sales, with retail sales up 8% during the past year.
The Simple Meals business led by the Italian sauces brand, Prego, and the Mexican sauces brand, Pace, continue to perform well. Prego generates $427m in annual retail sales, and is the No.2 brand in the $2.2bn category. Prego has been gaining market share, with retail sales up 9% during the past year. Pace generates $249m in retail sales, and is the No. 2 brand in the $2bn Mexican sauces category.
Source: Campbell Investor Day Presentation
Australia - New Management and Focus on Supply Chain Efficiencies
The company faces a difficult retail environment in Australia, which represents just over half of its international net sales. The company has optimized its organizational structure, and has a new management team in place. Campbell is also nearing completion of a supply chain automation project in Australia that is expected to yield significant savings. However, the road ahead in Australia will remain challenging. It is also unlikely that the company will consider divestiture of local brands in Australia. Brands in Australia resonate well with consumers in Southeast Asia, including Indonesia (e.g. Arnott's has been doing well in Indonesia).
Businesses with High Potential
Bolthouse continues to perform strongly, and delivered 6% top line growth during the most recent quarter. As highlighted by the management, Bolthouse is launching 47 new products ranging from stone fruit and root vegetable juices to delicious Greek yogurt salad dressings. Campbell generally sells soups and beverages in the center of the store, where meal staples are displayed. Bolthouse sells its juices in produce aisles, alongside fresh vegetables, which gives Campbell an opportunity to move to other areas within the stores. In the children's category, Plum Organics is a well-positioned brand, and is an excellent fit with Campbell's high-growth $1bn portfolio targeting children.
Within Global Baking and Snacking, Pepperidge Farm is a $2bn business at retail, with half in snacks and the other half in fresh and frozen bakery. Pepperidge Farm has other iconic brands like Goldfish and Milano, and has a track record of delivering consistent growth (3% CAGR from FY2009-13). With Americans snacking more frequently across all dayparts (according to the company, macro snacking is a $102bn market in the US growing at 3%), and with an increasing focus on innovation, this business is well-positioned for growth. These traditional "center store" categories have growth potential in faster-growing retail channels such as drugstores, club, convenience and ecommerce. Internationally, biscuit sales in Asia-Pacific grew, driven by double-digit growth in Indonesia.
Source: Campbell Investor Day Presentation
Cost structure - High Cost Base, Above-Average Relative to Peers
The company has an above-average cost structure. The average selling, general & administrative expenses, excluding R&D and advertising expenses, for the group is 13% versus 15% for Campbell. If Campbell could reduce its SG&A by 200bps, this would imply additional operating profits of $165m (13% addition to FY2014 EBIT), based on FY2014 net sales.
SG&A Cost Structure of Peer Group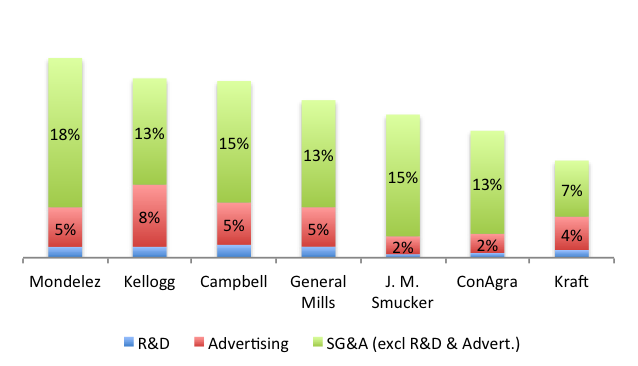 Campbell - An Iconic American Brand
Campbell is an iconic American brand, and the management is working hard to make the brand relevant to the changing consumer environment. Innovations in premium and organic soups are examples of new initiatives that have been undertaken by management. In the past, the company has had mixed success in the area of innovation - the low sodium focus from a few years ago fell short of expectations. However, as a July 2011 article points out, consumers are less concerned about salt in their diet than they are about fat and sugar. This time around, the company seems to be responding to what the consumer really wants.
Currently, a growing percentage of the population associate the Campbell brand with processed products, and its brand equity is weaker with select, growing demographics. The company has stated that it will invest in proven effective campaigns to reach more consumers, with dedicated efforts towards Hispanics and enhanced digital media initiatives. The company has launched several new products designed to appeal to these groups, but in order to be successful, it will have to carefully consider a combination of existing brand extensions (existing brands are associated with processed foods) and new "premium" brands. The company recognizes this, and has made relevant acquisitions which helped Campbell diversify beyond the "center store" aisles in traditional grocery channels.
Valuation - Broadly in Line with Peers
Campbell currently trades at a multiple of 11x Enterprise Value / FY2014 EBITDA (EV / EBITDA) and a P / FY2014 EPS of 17.6x, which is broadly in line with its peer group. Given recent underperformance, most analysts expect limited operating profits and EPS growth in FY2015. Expectations are extremely low, and if some of these initiatives start yielding results, the shares could see upside. Furthermore, the company has a 2.8% dividend yield, and the company has stated its intention to resume share repurchases in FY2015. Refer to Appendix C for additional information on valuation multiples.
Campbell - a Potential M&A Target
The company remains a highly attractive takeover candidate. The most significant unknown to a takeover remains the family view on the sale of the business. The company's controlling family has not given any indication of a willingness to sell their shares. Furthermore, the family appears to have supported the company's mandate of investing in higher growth categories and markets, given their significant board representation (4 out of 16 board members). That said, the underperformance of the share price and the significant room for improvement to enhance growth and productivity would make Campbell an attractive takeover candidate. The following five factors make it an attractive takeover target.
1. Recent acquisitions and investments in growth
A potential acquirer has the opportunity to benefit from the potential upside from recent growth initiatives and acquisitions. As highlighted above, the company is addressing issues in its core categories and is embarking on a number of initiatives to engage with the consumer.
2. Enhance scale in its core US market
The US market for packaged food has been promotional, and consolidation is needed to enhance scale in order to rationalize the industry.
3. Potential to "fix" Australia
A potential acquirer with significant exposure to Australia could add scale to that business with potential to enhance leverage with retailers and reduce costs (e.g. Heinz).
4. Above-average cost structure provides an opportunity
The company has above-average levels of SG&A at 15%, which is the highest amongst the US focused food packaged food manufacturers.
5. Potential in emerging markets
Campbell remains largely concentrated in developed markets, and has faced challenges attempting to expand key categories, such as soups, internationally in recent years. While the company has relatively limited exposure to emerging markets, Campbell could benefit from a company with significant route-to-market in emerging markets, not just for soups but also other product categories such as snacks, beverages and baby products.
A takeover offer in the range of 14x-16x EV / EBITDA would imply a takeover price of $60-$71 per share, a premium of 34%-57% to the closing share price of $44.64 as of 2nd September. Recent transactions in the food industry have been broadly in this range, with Heinz at 14x EV / EBITDA, Ragu estimated at 14x EV / EBITDA and Hillshire at 18x EV / EBITDA.
Potential Takeover Valuation

Note: The shaded area represents the most likely takeout valuation range.
Conclusion
Campbell has an attractive portfolio of iconic brands that are adapting to the needs to the consumers, with an increasing focus on organic products; health & wellness; indulgence; taste; ethnic and regional cuisines; and easy, flavorful cooking. The company is focusing on understanding the requirements of the millennial consumer and Hispanics, and exploring newer distribution channels. The company is addressing issues in US Beverages and Soups, and building a portfolio of new growth categories of fresh packaged and organic products. The shares have meaningfully underperformed, and currently provide a dividend yield of 2.8%. The company also expects to start its share repurchase program in FY2015. With expectations so low (in Q3, the company indicated that FY2014 results will come in towards the low end of the EPS guidance range of 2%-4%), Campbell has the opportunity to deliver over the next year. Furthermore, subject to the family's willingness to consider a sale, Campbell is likely to attract significant interest from other packaged food players. With room for improvements to cut costs and accelerate growth, Campbell represents an attractive takeover candidate. Campbell reports its full-year and Q4 earnings on 8th September, where it will also provide guidance for FY2015. Any weakness in the share price represents an opportunity to pick up this high-quality food stock.
Source: Company filings and presentation, news articles, Yahoo Finance.
Appendix A - Brand Portfolio

Appendix B - Selected Financial Data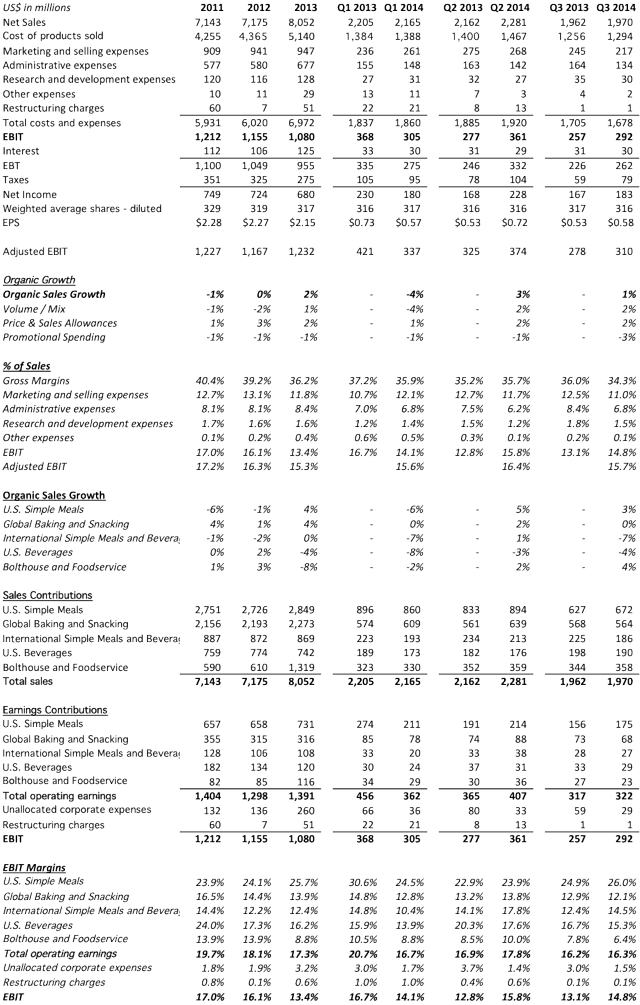 Appendix 3 - Valuation Analysis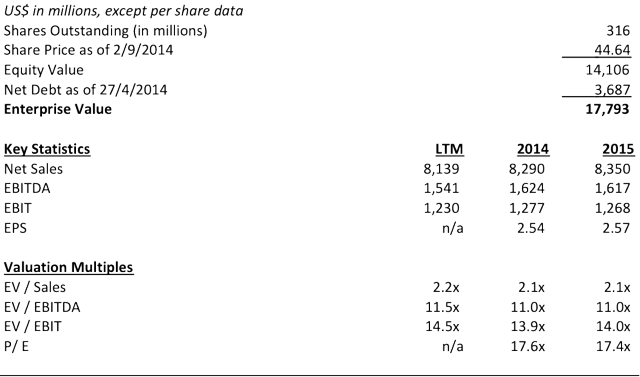 Disclosure: The author has no positions in any stocks mentioned, and no plans to initiate any positions within the next 72 hours.
The author wrote this article themselves, and it expresses their own opinions. The author is not receiving compensation for it (other than from Seeking Alpha). The author has no business relationship with any company whose stock is mentioned in this article.