Ship Finance International Limited (NYSE:SFL)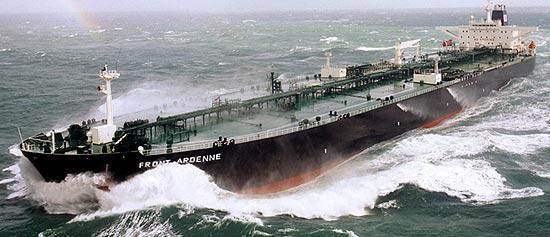 Source: Ship Front Ardenne SFL website.
Company presentation:
Ship Finance International is one of the largest and most versatile fleet in the world. The company actually owns an impressive 72 vessels:
19 crude oil tankers (VLCC and Suezmax). Agreement to sell three older VLCCs.
2 chemical tankers.
14 dry bulk carriers. Two new dry bulks delivered during the second-quarter.
24 container vessels (Including four new buildings).
2 car carriers.
6 offshore supply vessels.
2 jackup rigs.
2 ultra-deepwater semi-submersible drilling rigs.
1 ultra-deepwater drillship.
Company important links regarding the second-quarter 2014:
1 - Second-quarter results.
2 - Conference call on August 28, 2014.
3 - Second-quarter presentation.
Dividend:
The Board of Directors has declared a quarterly cash dividend of $0.41 per share, and Ship Finance has now declared dividends for 42 consecutive quarters. The dividend will be paid on or about September 30, 2014 to shareholders on record as of September 12, 2014. The ex-dividend date will be September 10, 2014.
This is a dividend of 8.4% on an annualized basis. Ship Finance has now declared dividends for 42 consecutive quarters.
Ole Hjertaker, CEO said in the last conference call:
The backbone of our business remains to be our significant portfolio of long-term charters. Most of our vessels are chartered out on a long-term basis and we still have nearly 10 years weighted average charter coverage.
Complete and most recent fleet analysis:
Link: Fleet analysis of SFL website.
1 - Crude oil tankers (VLCC and Suezmax.)
#
Vessel: Oil Tankers
Nature contract

Year

Built

Flag
a) Oil tanker: Suezmax
1
Front Splendour
Frontline (T/C)
1995
MI
2
Front Glory
1995
3
Front Ardenne
1997
4
Front Brabant
1998
5
Mindanao
1998
6
Glorycrown
Short term
2009
MI
7
Everbright
2010
b) Oil tanker: VLCC or Very Large Crude Carrier
1
Front Vanguard (For sale)
Frontline (T/C)
1998
MI
2
Front Century (For sale)
1998
3
Front Circassia (For sale)
1999
4
Front Scilla
2000
5
Front Ariake
2001
BS
6
Front Falcon
2002
7
Front Page
2002
LIB
8
Front Serenade
2002
9
Front Stratus
2002
10
Front Hakata
2002
LoM
11
Front Force
2004
Cyprus
12
Front Energy
2004
T/C : Time charter
SFL got an agreement to sell 3 older VLCC.
Note 1: The company's VLCC and Suezmax tankers are chartered to Frontline Ltd. (NYSE:FRO), and Frontline Shipping II Ltd., on long-term contract with fixed rate from 4 to 13 years. It is important to indicate also that Frontline is in a challenging financial position at the moment. FRO may have to sell a significant part of its fleet in order to meet its financial obligations (April 2015, for $190 million) or eventually file for bankruptcy (still a remote possibility with the backing of John Fredricksen, in my opinion). This situation poses a certain risk to the quality of the contracts with fix rate, which were signed with SFL.
Note 2: In November 2013, SFL sold 2, 15-year-old VLCCs Front Champion and Golden Victory and terminated the charters to Frontline. Three more VLCC ships will be sold soon, Front Vanguard, Front Century and Front Circassia.
2 - Dry Bulks.
#
Vessel: Dry Bulks

Nature contract

(Chartered to)

Year

Built

Flag
1
Western Australia
Western bulk
2012
HK
2
Western Houston
2012
3
Western Copenhagen
2013
4
SFL Spey
Short term (T/C)
2011
5
SFL Medway
2012
6
SFL Kent
2012
7
SFL Trent
2012
8
SFL Hudson
Glovis (T/C)
2009
9
SFL Yukon
2010
10
SFL Sara
2011
11
SFL Kate
2011
12
SFL Humber
2012
13
Sinochart Beijing
Sinochart
2012
14
Min Sheng 1
2012
3 - Container.
#
Vessel: Container

Nature contract

(Chartered to)

Year

Built

Flag
1
Green Ace
Heung-A (B/B)
2005
Malta
2
Heung-A Green
2005
3
SFL Europa
Short term (T/C)
2003
MI
4
SFL Avon
2010
5
SFL Tiger
2006
6
SFL Hunter
2006
7
SFL Hawk
2007
8
SFL Falcon
2007
9
SFL Eagle
2007
10
MSC Vaishnavi R.
MSC (B/B)
2002
LIB
11
MSC Julia R.
2002
12
MSC Arushi R.
2002
13
Santa Rebecca
2002
14
Santa Roberta
2002
15
Santa Ricarda
2002
16
Santa Rafaela
2002
17
MSC Vidhi
2001
18
MSC Margarita
2002
19
DSME Hull 4283
(T/C) Hamburg Süd
2014
MI
20
DSME Hull 4284
2014
21
DSME Hull 4285
2015
22
DSME Hull 4286
2015
4 - Offshore drilling and supply.
#
Vessel: Offshore drilling and supply
Contract nature

Year

Built

Flag
1
Semi-submersible: West Taurus
Seadrill (B/B)
2008
Panama
2
Drill ship: West Polaris
3
Semi-sub: West Hercules
4
Jackup: West Linus
NADL (B/B)
2014
Norway
5
Jackup: Soehanah
Apexindo (B/B)
2007
Panama
6
PSV Sea Pike
Deep sea supply (B/B)
2007
Cyprus
7
PSV Sea Halibut
2007
8
AHTS Sea Leopard
1998
9
AHTS Sea Bear
1999
10
AHTS Sea Cheetah
2007
11
AHTS Sea Jaguar
2007
B/B: Book to bill.
5 - Chemical and Car Carriers.
#
Vessel: Container

Contract Nature

(Chartered to)

Year

Built

Flag
a) Chemical
1
Maria Victoria V
Sinochem (B/B)
2008
Panama
2
SC Guangzhou
b) Car Carrier
1
Glovis Conductor
Glovis (T/C)
2006
Panama
2
Glovis Composer
2005
HK
Order Backlog indication at the conference call:
We have $4.7 billion of fixed rate order backlog and the estimated EBITDA equivalent backlog is approximately $4.1 billion or around $44 per share. These numbers include only the reduced base rates from the Frontline vessels and do not include the cash flows from two Suezmax vessels operated in the spot market nor do they include revenues from our other vessels after the end of their current charter periods.
Important: So far, the company has taken delivery of 12 vessels and rigs in 2014, all employed under long-term charters.
Second-quarter results snapshot:
| | | | |
| --- | --- | --- | --- |
| | Q2 2014 | Q1 2014 | Q4 2013 |
| Charter Revenues in $ million | 157 | 147.9 | 151.9 |
| Aggregate EBITDA in $ million | 128.9 | 129.7 | 114.3 |
| Net Income in $ million | 22.36 | 40.73 | 18.3 |
| EPS in $ | 0.24 | 0.44 | 0.20 |
| Total Debt $ Billion (Gross Bearing interest) | 3.2 | 3.2 | 2.8 |
| Dividend per share $ | 0.41 | 0.41 | 0.40 |
| Cash on Hand $ million | 49.48 | 36.98 | 59 |
| Shares outstanding in million | 93.359 | 93.285 | - |
YTD chart: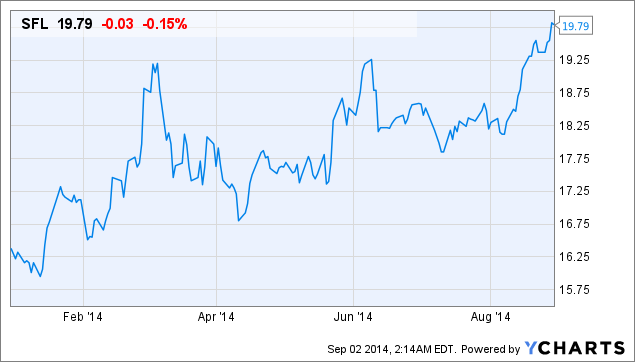 Commentary:
Ship Finance International is an offshoot of Frontline Ltd. And another child of the prolific billionaire John Fredricksen. I choose to study SFL for three main reasons:
1 - Its exposure to offshore drilling (Four rigs) and Seadrill limited (NYSE:SDRL).
2 - Its healthy balance sheet with long-term visibility, and a high-dividend of around 8.40% per annum.
3 - SFL's direct relationship with the billionaire John Fredricksen.
The shipping industry is mainly about day-rates and presents the same financial paradigm as the offshore drilling industry that I have covered more extensively. It is a tough industry to follow, and many companies have been struggling to survive the market, and its wild fluctuations. The day-rates have been rising recently and stay now at a healthy level, albeit a vessel oversupply potential situation is rapidly clouding the horizon.
Recently, Frontline Ltd., has gotten some negative interests about its ability to pay off its debt, coming due April 2015 for an amount of $190 million (convertible bond). Some believe that FRO will have to declare bankruptcy next year; however, I do not think it will happen, although it is a sad possible eventuality. Here are three major reasons against this possibility:
1 - John Fredricksen's involvement and its huge cash position at around $4 billion. John Fredricksen came already to the company rescue a while back, with the creation of Frontline 2012 Ltd. and will probably do it once again. JF has been very protective of his shareholders, in general, and he is likely to act again to save FRO from bankruptcy.
2 - Frontline Ltd. Can sell few vessels to meet obligations through Fredricksen's vast entity's network.
3 - There is still a remote possibility that a good part of the debt will be covered by cash from operations. FRO break-even day-rate price for VLCC is $24k and $18k for Suezmax (which is high compared to the Industry $15.5k/$12k). This means that average day-rate for VLCC should be $34K and $40K for Suezmax to allow the company to meet its obligations by April 2015 using the cash only. While these rates are possible, they are sensibly too high and will not be sustainable for a long period of time. Nonetheless, the cash generated will reduce the debt significantly, and will allow a refinancing through a combination of cash and sale of certain vessels, in my opinion.
This discussion about FRO is important to value the potentiality of an investment in SFL for the long-term; because of its strong business relationship, the company has with Frontline, which can be seen in the fleet status above. I believe SFL will be profiting somewhat from Frontline financial weakness, as well as Frontline 2012; however, this situation poses a certain risk to the quality of the contracts with fixed-rate that SFL signed with FRO, which will have to be changed depending on FRO's future business outcome.
I still remain very bullish for the long-term despite an actual stock price that has climbed too fast too high now. Based on this actual valuation and a RSI above 70, which is clearly in an overbought territory; I have downgraded SFL from BUY to HOLD.
Disclosure: The author has no positions in any stocks mentioned, and no plans to initiate any positions within the next 72 hours.
The author wrote this article themselves, and it expresses their own opinions. The author is not receiving compensation for it (other than from Seeking Alpha). The author has no business relationship with any company whose stock is mentioned in this article.