Shares in Republic Services (NYSE:RSG) have outperformed the S&P500 by a wide margin year to date. Since January 1st, the price per share has gone up by 18.46%. The current price of $39.33 is very close to the 52 week high of $39.66. Does this mean now would be the time to take profits or is further growth to be expected?

(Source: Yahoo Finance)
In 3 out of the 4 most recent quarters, RSG has beaten analyst EPS expectations. For the current fiscal year, average EPS expectations stand at $1.97. This means RSG is now trading at a forward price to earnings ratio of 20.0. This is quite close to its competitor Waste Management (NYSE:WM), which is trading at 19.8 times expected earnings and well below Waste Connection's (NYSE:WCN) forward p/e of 24.7. The 5 year average p/e ratio for Republic Services stands at 20.3.
Looking at the price to earnings growth ratio, we can see Republic Services is slightly overvalued compared to its peers, with a PEG ratio of 2.88 compared to WCN's 1.93 and WM's 2.63.
Over the past 3 years, RSG has had diluted earnings growth of 7.06% on average. Analysts expect this growth rate to continue, as the average growth estimate for the next 5 year stands at 6.92% annually.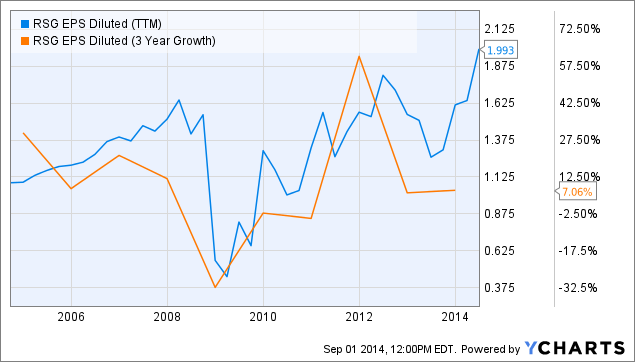 RSG EPS Diluted (NYSE:TTM) data by YCharts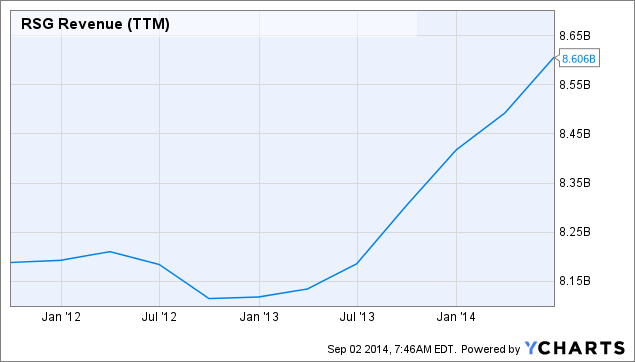 RSG Revenue (TTM) data by YCharts
Revenue for Republic Services in the past 12 months was $8.61 billion, giving the company a trailing price to sales ratio of 1.6, which is well above RSG's 5 year average p/s ratio of 1.4. WCN is trading at a p/s ratio of 3.0, while WM is currently trading at 1.6 times trailing earnings. RSG's revenue for the current fiscal year, which ends in December, is expected to reach $8.76 billion, which would be an increase of 4.0% to last year's $8.42 billion. A further 3.8% increase to $9.09 billion is expected for next year.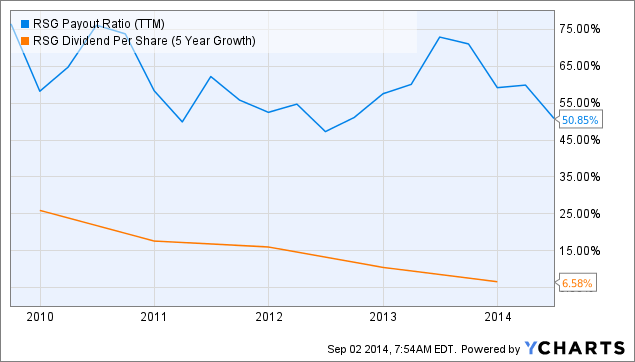 RSG Payout Ratio (TTM) data by YCharts
RSG's current dividend yield stands at 2.85%, which is slightly below Waste Management's yield of 3.19% but well above WCN's 0.94%. The 5 year dividend growth rate stands at 6.58%, which is decent. At 50.85%, the payout ratio isn't extremely high. Considering the growth forecasts, I would expect to see the dividend growth rate to remain stable in the mid to high single digit range.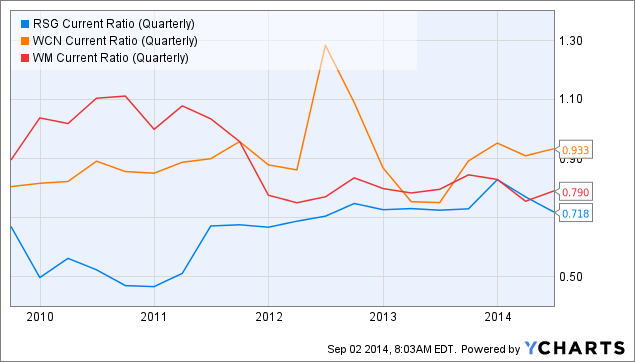 RSG Current Ratio (Quarterly) data by YCharts
RSG's current ratio stands at only 0.72, which is lower than both of its peers. A current ratio of less than 1.0 means current liabilities are larger than current assets, implying poor short term financial health. Republic Services has a long term debt of $7.04 billion, which has cost the company $354 million in interest over the past 12 months. This is 4.1% of the company's TTM revenue.
Conclusion:
Republic Services is a healthy, growing company. The current ratio is quite low, but has been going up in recent years. I like to see a current ratio of over 1.0 but as long as its improving, I'm not too worried about the company's short term financial health.
The dividend yield of 2.85% makes this stock interesting for investors looking for income, especially considering the fact the dividend has grown at just under 7% annually over the past 5 years. I expect this growth rate to continue in the next half decade, considering the payout ratio of only 50.9% and the EPS growth expectations of 6.9%.
Looking at the valuations we can see RSG is trading slightly above its 5 year average p/e ratio. Looking at the p/s, p/e and PEG ratios, Republic Services is very close to Waste Management. WCN is quite a bit more expensive. I think RSG isn't overvalued at this point, but it's not extremely cheap either. I like to have a margin of safety, so I won't be buying at this time. However, should the stock pull back to the $30-$35 range, I will be buying.
Disclosure: The author has no positions in any stocks mentioned, and no plans to initiate any positions within the next 72 hours.
The author wrote this article themselves, and it expresses their own opinions. The author is not receiving compensation for it (other than from Seeking Alpha). The author has no business relationship with any company whose stock is mentioned in this article.