BlackBerry (NASDAQ:BBRY) made the launch day for its Passport device official. On its blog, the company said the business-oriented device will launch in just three cities on September 24, 2014. How significant is this release for BlackBerry? The stock market reacted somewhat positively: shares rose 2.65 percent on the day, and closed at $10.45.
Only time will tell if Passport is a clear winner. BlackBerry's initial launch for devices based on BlackBerry 10 failed shortly after the Z10 release. The strong interest for keyboard-based devices waned after the Q10 release. Q5 was a keyboard device that targeted the "budget" market, but it was neither powerful enough nor inexpensive. BlackBerry finally released a highly powerful, five-inch Z30 device that could have been successful. Light sales were due to many factors, the main ones being lack of promotions from carriers and more competition from Android and Apple. It was not until BlackBerry returned to its core competency that sales would improve.
The Z3 sets the stage for a revival for the BlackBerry 10 device series. The specifications are decent, and the price is more than reasonable. Most importantly, BlackBerry targeted its strong markets first by launching in places like Indonesia: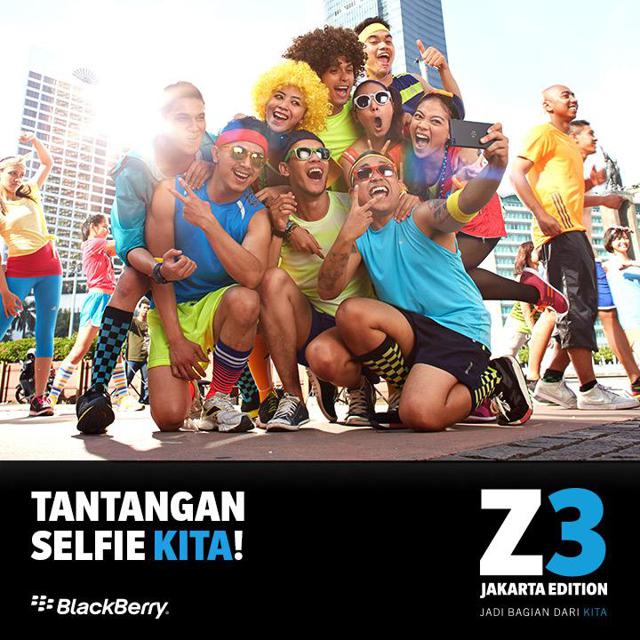 Source: BlackBerry BBM Channel
The decision to announce Passport in just three cities is significant. This release represents the first North American device release under CEO John Chen. In targeting three cities traditionally a stronghold for business customers, chances are very high that the launch will be a huge success. Passport will launch in Toronto, London, and Dubai:

Image source: Inside BlackBerry
Critics might rightfully point out BlackBerry is not launching initially in big cities like New York. This makes good business sense, because demand in even the business sector is likely highest for Apple's iPhone and Android. Worse still is that in cities like New York and Cupertino, interest for the iPhone 6 will still linger. Apple (NASDAQ:AAPL) constructed a three-story structure at its "Wish we could say more" event. By avoiding key U.S. cities for now, BlackBerry will not waste precious advertising efforts in places where Apple dominates.
Between now and launch, curiosity for the new BlackBerry device could help drive the stock much higher than at present levels. BlackBerry simply said that: "all eyes will be on BlackBerry as we host exclusive, invite-only events in Toronto, London and Dubai to show off… well I guess you'll have to wait and see."
The bigger picture
BlackBerry will probably introduce more than just the Passport or Classic device. The company already plans to refresh Blackberry Enterprise Server ("BES") to BES 12. BlackBerry 10.2 will be updated to 10.3. eBBM and Project Ion ("IoT") might even be considered more important initiatives the company is taking. Investors need only look at Sierra Wireless (NASDAQ:SWIR), another once weak Canadian firm that sold its mature businesses and entered new ones. Sierra Wireless is up 136% over the last year.
Ironically, if BlackBerry's shares rally ahead of the September 24th 2014 event, it will be the other initiatives that will support further upside. BlackBerry might succeed in selling a respectable number of Passport and Classic device sales, but monetizing its other assets is more important. Building secure and efficient solutions between machine-to-machine communications will lead BlackBerry towards higher profit margins. The solution, dubbed Project Ion, will run on QNX software and will have the scalability that lets the company leverage its patent properties and technology know-how.
Passport might receive a warm reception from the business community. It will be a bonus if consumers take a liking to keyboard-based devices again. If this happens, BlackBerry could report profits earlier. The conservative investor should assume profitability will take time, while enjoying the ride as shares rebound over the next few months.
Disclosure: The author is long BBRY.
The author wrote this article themselves, and it expresses their own opinions. The author is not receiving compensation for it (other than from Seeking Alpha). The author has no business relationship with any company whose stock is mentioned in this article.