Since I first wrote about Gran Tierra Energy (NYSEMKT:GTE) on June 15, the company's shares have slid about 17%. The company reported earnings that were very mediocre on August 6th, but watch for a comeback, because this company has a lot going for it.
I have 3 main reasons for believing Gran Tierra is a strong buy currently:
1) Extremely strong financial position
2) Sustainable operations and growth in Columbia
3) Massive potential in Peru
One of my favorite things about the company, and why I believe it remains such a strong buy is the fact it currently has no debt and over $300 million in cash. The company also has very strong funds flow from operations, and the capital program is well-funded through the rest of the year and into 2015. Overall, the company's financial position is extremely solid.
Secondly, the company continues to deliver in Columbia. Colombia accounts for about 90% of total production currently, and there is still much more development moving forward. Current production in Columbia averages about 17,000 boe/d, and the company expects to have a 2014 exit rate of about 18,700 boe/d.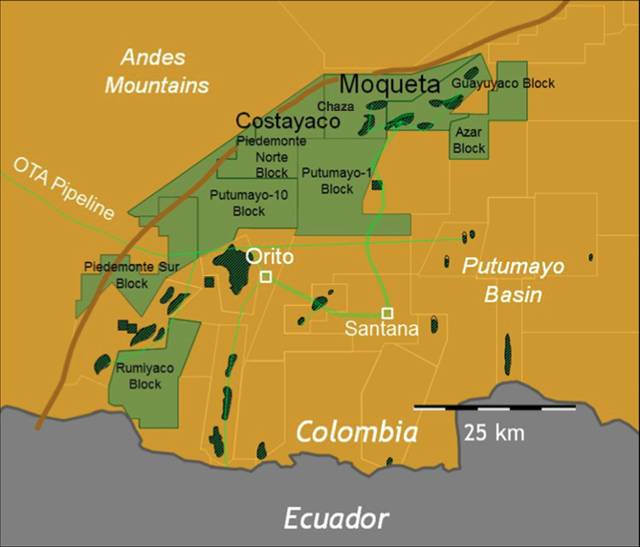 (Source: Gran Tierra website)
The company's main focus in Columbia is the Putumayo Basin, where it is currently the largest producer, land holder, and reserve holder. In total, Gran Tierra has rights to about 3.7 million acres in Columbia, and current 1P and 2P reserves stand at 36 and 44.5 MMboe respectively. The company's drilling program for 2014 in the region calls for 8 new development wells and an additional 4 exploration wells. The company has an nice foothold in Columbia, and production and exploration upside is still very good.
My last piece on Gran Tierra tried to focus on how big of a deal the development of the Peru operations is for the company. In 2013, Gran Tierra made one of the largest onshore discoveries in South America at the Bretaña field (Block 95). With the sale of the Argentina operations early in the summer, the company had said it plans to focus more capital and resources on its core areas, specifically the further development of Peru. 2 developmental wells are expected to be finished by the end of 2014, and plans call for an LTT in Q4 and to be producing about 2,500 boe/d by the end of 2014. As I also mentioned in my piece before, the company came out with stellar news in June that it was seeing accelerated permit approval in Peru, which is a great sign. In terms of potential for block 95, the 2P reserves are 57.6 MMboe (slightly more than the 3P reserves for the Columbia operations as a whole) and 3P reserves of 104.7 MMboe. I would expect lots of news on the developments in Q4 and early 2015, and as of now, things look promising.
The company did not have a great second quarter, though, by any means. It missed analysts estimates greatly, but I would not expect that to continue as the company transitions away from having Argentina operations. A big hiccup during the second quarter was a pipeline problem in Columbia which cost the sale of 0.2 million boe, but the company expects to sell this extra inventory in the third quarter, which should add nicely to third-quarter results, actually.
In conclusion, Gran Tierra has a good-looking future. Huge potential still remains in Columbia, and the company is on the path to unlocking a lot of value with Peru. In the past few months, the stock has taken a beating, and even just looking at the shares, they appear oversold. At current levels, Gran Tierra looks like an extremely good buy.
Disclosure: The author is long GTE.
The author wrote this article themselves, and it expresses their own opinions. The author is not receiving compensation for it (other than from Seeking Alpha). The author has no business relationship with any company whose stock is mentioned in this article.
Additional disclosure: Always do your own research before investing.