Life Time Fitness (NYSE:LTM) shares are up 14% in just the last week. Investors are betting big on a REIT deal. This comes after the company posted a weak quarter that reaffirmed out bear thesis. This isn't the first overreaction we've seen in Life Time's stock this year.
In May, shares ran up from $48 to $56 (a cool 16%) in a matter of days, only to come back to reality a short time later. That came after hedge fund Marcato Capital took a 7% stake and Piper Jaffray tipped off the market that Life Time might be looking into a REIT formation. Piper Jaffray has gone as far as upping its price target from $44 to $61.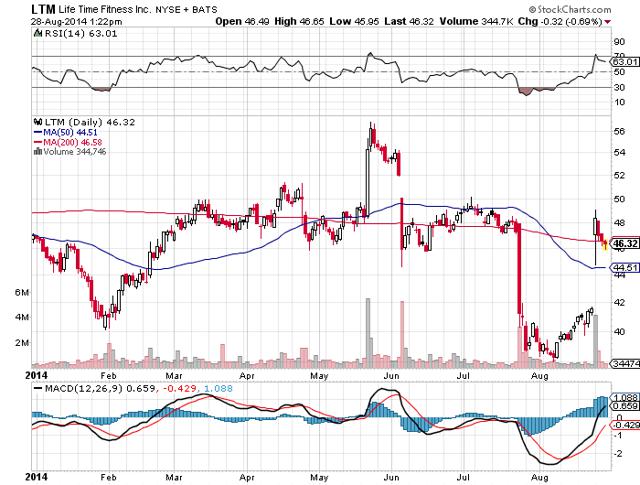 The weak 2Q revealed a number of key weaknesses that will persist going forward. We still believe there's a lot of churn in the industry and that Life Time lacks any sort of moat to promote a long-term sustainable business model. As we noted last year,
Life Time is very susceptible to the idea of "trading down," given its gyms are higher-end (aka pricier) than the average gym. As consumers opt to forego the gym entirely or choose a cheaper alternative, Life Time is likely to see top- and bottom-line weakness, which would not be the first time.
During 2Q, attrition (churn) was up 10 basis points to 8.3%. Its trailing twelve month attrition rate is 35.8%, higher than the 34.5% in 2Q 2013. Its second-quarter same-store sales were down 0.6%, with its 37-month mature store sales down 0.9%. Even its operating margin plunged to 17.6%, compared to 19.8% 2Q 2013.
Bottom line
The key news that has driven Life Time shares higher is simply "exploring" the potential use of a REIT. Recall that Iron Mountain had a two-year saga after announcing it was formally applying for conversion to a REIT. Shares of Iron Mountain are up less than 10% since announcing its plan to convert to a REIT back in the summer of 2012. It would be a similar, long, and winding road for Life Time Fitness.
In looking at the balance sheet, the company remains heavily leveraged with $1.13 billion in debt and only $16 million in cash. The declining revenues, increasing churn and mediocre valuation make the run up in Life Time shares more than unjustified.
Disclosure: The author has no positions in any stocks mentioned, and no plans to initiate any positions within the next 72 hours.
The author wrote this article themselves, and it expresses their own opinions. The author is not receiving compensation for it (other than from Seeking Alpha). The author has no business relationship with any company whose stock is mentioned in this article.