Ellington Financial LLC (NYSE:EFC) has to be one of the under-appreciated "mREIT-like" companies out there. The company owns a grab bag of various investments (mostly agency and non-agency paper), and has so far been able to trounce the performance of many of its peers. Indeed, while many mREITs were cutting their dividends in past quarters, Ellington Financial has held steady, recently declaring its seventh consecutive quarterly dividend at the $0.77 per share. Do note that Ellington Financial is an LLC, not an mREIT, and thus will generate a Schedule K-1 form come tax time.
Ellington Financial secondary offering
On September 2, Ellington Financial announced that it was commencing a public offering of 8M common shares plus an underwriter option (commonly known as a greenshoe) for an additional 1.2M common shares. Pricing information has not yet been released. However, assuming a $23.75 per share price, Ellington Financial stands to get from $190M to $219M in proceeds minus fees. The company plans to use these funds to acquire its targeted assets, for working capital, and for general corporate purposes.
Ellington Financial compared to peers
As I noted earlier, Ellington Financial has been paying its regular $0.77 per share quarterly dividend since 2013. This is in stark contrast to both American Capital Agency (NASDAQ:AGNC) and Annaly Capital (NYSE:NLY), both of which have had numerous dividend reductions. Do note that the large "bump" in the dividend for early 2013 was caused by a one-time special dividend in 2012.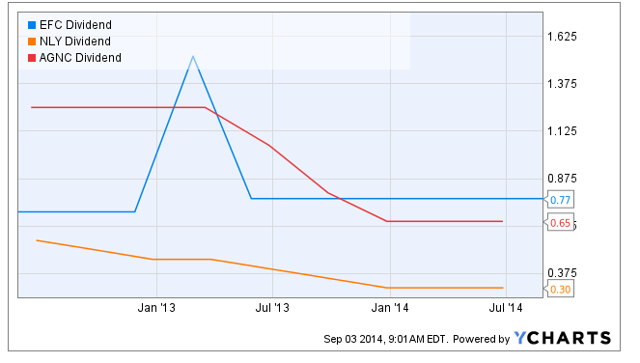 Furthermore, EFC's book value per share, a key metric for the sector, has remained steady, even posting modest growth. By comparison, AGNC and NLY have both seen major book value swings and have yet to recover from the 2013 declines.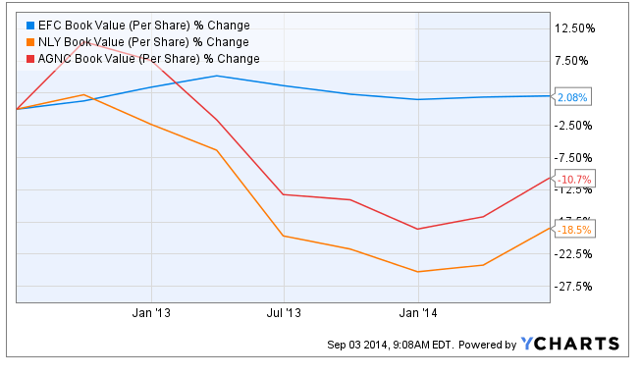 Why has Ellington Financial outperformed?
For the dividend, Ellington Financial has not had to lower its payout despite the major headwinds facing the mREIT sector caused by Fed policy. This is mostly due to active portfolio management and the LLC structure, which allows Ellington Financial to move into and out of investments more quickly.
As for the book value, this is mostly an effect of Ellington Financial's investment into higher risk assets. While in theory agency paper should be more stable, the higher net interest margins on non-agency investments allows for the use of less leverage. As an example, Ellington Financial's leverage ratio is normally below 2.0x, while AGNC and NLY are between 5.0x to 7.0x. This reduced leverage, compared to your typical mREIT, reduces Ellington Financial's exposure to interest rate shocks.
Buy the dip?
Ellington Financial is currently down 4% to $23.65 in early trading. This decline may represent a buying opportunity for those looking for a high income LLC. At current prices, the yield is well over 12%. Furthermore, the stock is trading at a 3% discount to its July 2014 book value of $24.38.
Disclaimer: The opinions in this article are for informational purposes only and should not be construed as a recommendation to buy or sell the stocks mentioned. Please do your own due diligence before making any investment decision.
Disclosure: The author is long EFC, AGNC.
The author wrote this article themselves, and it expresses their own opinions. The author is not receiving compensation for it (other than from Seeking Alpha). The author has no business relationship with any company whose stock is mentioned in this article.