BlackBerry (NASDAQ:BBRY) is expected to launch its new Passport device at an event scheduled for September 24, 2014. The new BlackBerry will have unparalleled screen clarity, something medical professionals might find useful as shown by this chest X-Ray shown on a Passport screen. Sometimes, size matters.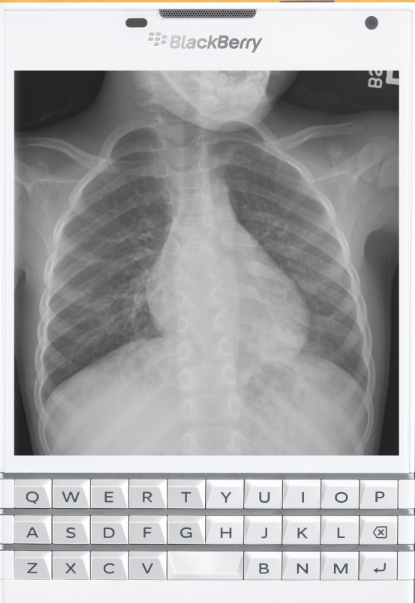 Source: Inside BlackBerry
With 3GB of DRAM; 32GB of internal storage; and, a micro-SD slot for another 64GB of external storage, the new Passport has plenty of room for detailed images like X-Rays. A 3450 mAH battery should give Passport users all-day support without becoming "wall-huggers" like so many competing products and the Snapdragon 800 chipset offers plenty of power. Likewise the cameras should be state-of-the art with 13 megapixel rear facing and 2 megapixel for selfies and Skype. The oddly-shaped device will test the market for the unconventional without doubt.
There is a lot of hype approaching hysteria for the new iPhone which may finally support NFC with some payments functions although the recent hacking of iPhone images stored on iCloud may put a bit of damper on enthusiasm for iPhone security, an issue which is unlikely to be a concern for BlackBerry users. Security is a key selling point for BlackBerry and likely to be more important as time goes by and the larger and more vulnerable iOS and Android ecosystems become the playgrounds for malware, phishing and virus infestations.
There is no similar hype for the new BlackBerry despite its high security features and high end specifications.
BlackBerry's near death experience was attributed to many factors, not the least of which was the absence of a substantial applications library, a criticism also leveled at Windows Phone OS devices. That criticism was and is valid, but its validity is faltering. The recent tie up of BlackBerry and Amazon.com (NASDAQ:AMZN) giving BB10 devices access to the Amazon.com App Store remedied most of the gaps for BlackBerry. It is useful to compare the app availability on each platform today.
The top 25 apps based on unique U.S visitors was recently published by Quartz.com.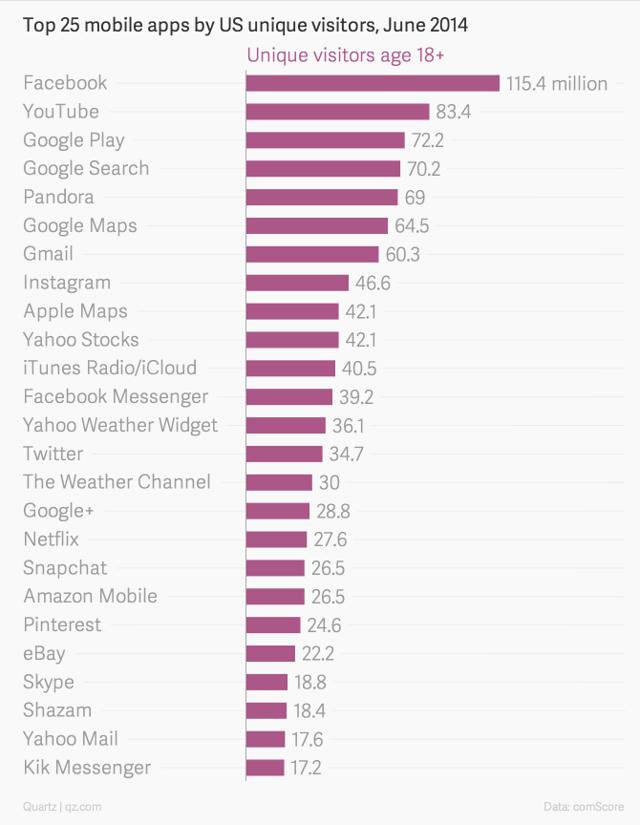 By doing a bit of digging, I was able to identify which of these apps are available or missing from each of the major ecosystems. Surprisingly for many, neither BlackBerry nor Windows Phone OS have many gaps and those they do have are by no means fatal. In my view, Pandora (NYSE:P) is the only real gap on the BlackBerry platform that should cause anyone to eschew a BlackBerry for another device in my view. Of course those still using BB7 devices have access to the Pandora BB7 application.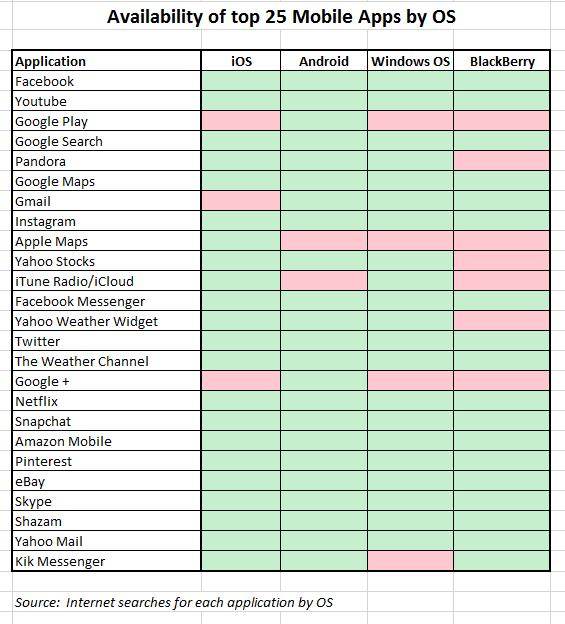 I don't have any illusions that the BlackBerry Passport will sell millions of units out of the gate as most expect the new iPhone will. It is more likely to sell tens of thousands. But BlackBerry has a market capitalization of only $6 billion, a rounding error for its global competitors like iOS and Android. Sales of 1 million BlackBerry Passports would be enough to move the needle and while not expected, that sort of volume is not beyond the range of sensibility either over the next year or so.
If the Passport gains acceptance, it could be a real boost to BlackBerry. I expect it to command a price in the $600 range with margins in the 40% range. If that is the case every 1 million units could add $0.50 to BlackBerry operating earnings. The days of BlackBerry selling ten million handsets a quarter are long gone, but 3 or 4 million seems quite possible if the new devices capture the interest of consumers who value the security of a BlackBerry and the convenience of a keyboard.
BlackBerry is a speculative stock. There is a real risk of insolvency over time. There is also a risk that BlackBerry will not only survive but also prosper. It is that upside risk which attracts me to the name. I am long the stock through long dated options.
Disclosure: The author has no positions in any stocks mentioned, and no plans to initiate any positions within the next 72 hours.
The author wrote this article themselves, and it expresses their own opinions. The author is not receiving compensation for it (other than from Seeking Alpha). The author has no business relationship with any company whose stock is mentioned in this article.