By Angus Robertson
An Alacra Pulse analysis of upgrade and downgrade activity shows a bullish trend over the last three months of 2010 among sell-side and independent analysts following the North American Retail Industry.
In the fourth quarter, upgrades of retail companies slightly exceeded downgrades, but breaking the data down by month shows a strongly improving trend over the three months. In October, there were only two thirds as many upgrades as downgrades, while in November there were a few more upgrades than downgrades and in December there were 1.36 upgrades for every downgrade.
No doubt the expectations of strong Holiday spending contributed to the December upgrades. Bloomberg reported last week that Retail stocks in the S&P 500 had climbed 26 percent, the second-biggest gain among 24 industries after autos and auto parts since September 2008. U.S. retailers' 2010 holiday sales surged the most in five years as shoppers snapped up clothing and jewelry, according to MasterCard Advisors' SpendingPulse.
However, as evidenced by Best Buy (NYSE:BBY), sales in some areas did not live up to the high expectations, so we may see a slowing or reversal of this trend in the first quarter. Best Buy was downgraded by three analysts in December, after receiving four upgrades in the quarter.
US retail sales rose slightly less than expected in December, but sales for all of 2010 reversed two years of contraction, posting the biggest gain in more than a decade. The biggest increase took place in the online and mail-order segment. Sales jumped 2.6% for the biggest increase in almost three years, MarketWatch reports.
Sales at building-supply and gardening stores rose 2.0%, while pharmacies and personal-care stores registered a 1.6% increase — the best performance since before the recession. Also, sales increased 1.0% at furniture and home stores.
Department stores recorded the biggest decline as sales fell 1.9%. Other categories to post monthly declines in sales included electronics, appliances, clothing, groceries and liquor.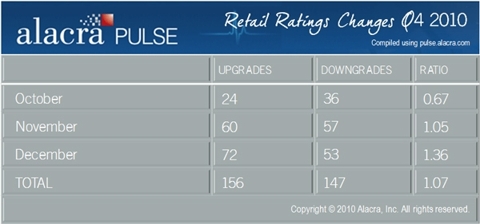 Below we a take a closer look at the companies with the highest levels of analyst recommendation activity during the quarter, those with five or more upgrades or downgrades:
Most Upgraded Retailers:
Abercrombie & Fitch (NYSE:ANF) received six upgrades in the quarter, all of them coming in December. There were two downgrades of the apparel retailer earlier in the quarter, though one was later reversed. As Trefis notes, Abercrombie recorded strong December sales and has largely avoiding discounting.
Costco Wholesale (NASDAQ:COST) saw six upgrades, all in December, and one downgrade in October. Zacks notes that the warehouse club posted healthy sales data for the five-week period ended January 2.
Target Corp (NYSE:TGT) had five upgrades, all in December, and no downgrades during the quarter. Target has already received an upgrade this year, with Goldman Sachs last week boosting it to a Buy and raising its price target to $62 from $57.
Analysts this week welcomed Target's plan to expand in Canada through the acquisition and rebranding of Zellers stores. Wall Street Strategies analyst Brian Sozzi said "The opportunity is quite sizable for Target. They're going in there with proven sites. It could move the needle, absolutely."
The Home Depot (NYSE:HD) recorded five upgrades starting in November. There were two downgrades in October, but one was reversed in December. The company has beaten rival Lowe's to the punch in introducing an iPhone app, reflecting its embrace of technology. Colin McGranahan, an analyst at Sanford C. Bernstein says "Over the long run, consumers are going to be a lot more comfortable using their smartphones on a real-time basis researching outside or inside the store."
Walgreen (WAG) had five upgrades spread evenly over the quarter, and one downgrade. The drugstore company was upgraded to Conviction Buy last week by Goldman Sachs, The firm said focus on existing assets is yielding stronger margin and expense control outcomes at Walgreen.
Zumiez (NASDAQ:ZUMZ) had five upgrades, all in November or December and one downgrade in early October. The specialty retailer reported same-store sales growth of 9.2% for the five-week period ending January 1, As Zacks notes, this is a substantial jump from an increase of 0.3% in the year-ago period, though a slower pace than in previous months. Wedbush last week downgraded the company to Underperform in anticipation of decelerating comparable store trends.
Most Downgraded Retailers
Aeropostale (NYSE:ARO) saw nine downgrades, all in December, with no upgrades in the quarter. What's more, the clothing retailer has seen two more downgrades this month, to Underperform by Jefferies and Wells Fargo, while Piper Jaffray has cuts its price target. Wells Fargo expects "Q4 to be the first down comp and EPS quarter since 2007."
BigLots (NYSE:BIG) had 5 downgrades and no upgrades. But Zacks last week upgraded the closeout discounter to Neutral from Underperform. Despite lackluster comparable sales, Zack says the closeout format provides an edge over traditional discount retailers.
JC Penney (NYSE:JCP) saw five downgrades in November and no upgrades during the quarter, and has already been downgraded by Morgan Stanley this quarter despite healthy sales results for the five-week period ended January 1.
Sources: Alacra Pulse, American Banking News, Bloomberg, CanadaEast, Financial Post, MArketWatch, Reuters, StreetInsider, Trefis, Zacks.