A number of articles have recently been published about AT&T (NYSE:T) in Seeking Alpha. Reading these articles again prompted me to look at AT&T with fresh eyes. This made me realize that sometimes you have terrific value hiding in plain sight, just under our nose, even in this high-priced market. Ma Bell has been in my portfolio for years, chugging along, quietly pumping out dividends (but taken for granted and unappreciated, like a parent of a teenager).
Yield
To illustrate my point I draw your attention to the following graph for AT&T over the last 15 years: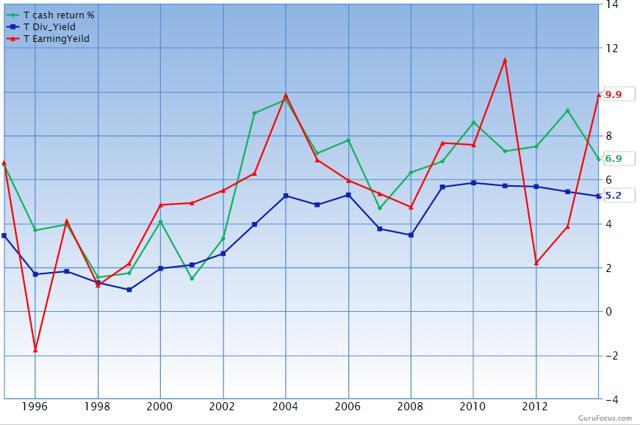 The green line gives T's "Cash Return." Cash Return is one my favorite metrics. You calculate cash return by adding free cash flow (cash from operations minus capital expenditures) to net interest expense (interest expense minus interest income), and then dividing the sum by enterprise value (market cap plus long-term debt, minus cash).
Enterprise value (EV) is calculated as market cap plus debt, minority interest and preferred shares, minus total cash and cash equivalents. Think of enterprise value as the theoretical takeover price. In the event of a buyout, an acquirer would have to take on the company's debt, but would pocket its cash. EV differs significantly from simple market capitalization in several ways, and many consider it to be a more accurate representation of a firm's value. The value of a firm's debt, for example, would need to be paid by the buyer when taking over a company, thus EV provides a much more accurate takeover valuation because it includes debt in its value calculation. It is the value accruing to a hypothetical buyer if he was to buy the company at the current market price.
The goal of the cash return metric is to measure how efficiently the business is using its capital - both equity and debt - to generate free cash flow. Therefore, cash return tells you how much free cash flow a company generates as a percentage of how much it would cost an investor to buy out the entire business. Cash Return is different from free cash because interest paid to service debt is added back to calculate Cash Return. We add back interest expense to free cash flow so that capital structure doesn't impact cash return.
As you can see from the graph above that AT&T is generating a return of 6.9% on enterprise value. AT&T's dividend yield is 5.2% (blue line). In comparison, a 10-year US treasury bond currently yields 2.34%. Morningstar's credit rating for AT&T's debt is A- and the debt/equity ratio is 28.64%. I have also provided AT&T's earnings yield at 9.9%. Earnings yield is the inverse of P/E or earnings per share divided by current stock price.
An examination of the three yield-based measures indicates that compared to the last 15 years, AT&T is selling at a very decent valuation, which has rarely been exceeded.
Price versus Median Price Ratio's
This undervaluation is confirmed by looking at the median Price to Earnings (P/E), Price to Sales (P/S) and Price to Book (P/B) for AT&T since 1996 in the chart below.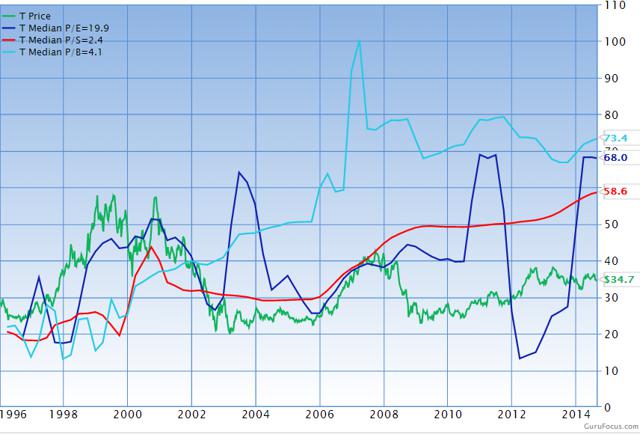 Return on Equity
Return on equity (ROE) reveals how much profit a company earned in comparison to the total amount of shareholder equity found on the balance sheet. Shareholder equity is equal to total assets minus total liabilities. It's the sliver of the balance sheet which shows what the shareholders "own." This also is known as "book value." Shareholder equity is an accounting construct that represents the assets created by retained earnings of the business (i.e., earning NOT paid out to shareholders) and the paid-in capital of the owners. A business that has a high return on equity is more likely to be one that is capable of generating cash internally. For the most part, the higher a company's return on equity compared to its industry, the better. As illustrated by the ROE graph below, AT&T is at present generating 20 cents for every $1 of shareholder investment.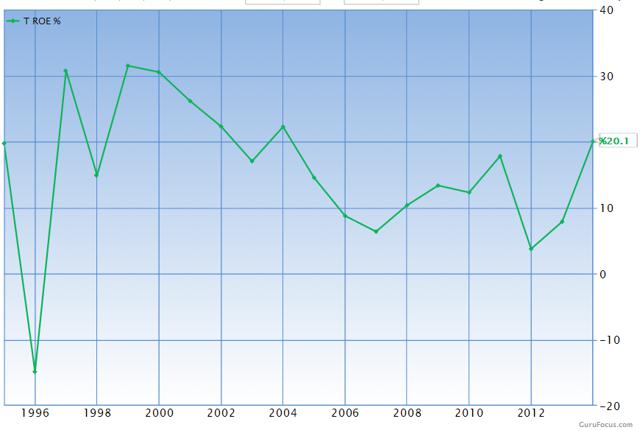 Price / Book ratio (P/B)
Value investors look for some other indicators besides earnings growth, ROE and so on. One of the metrics they look for is the Price to Book ratio or P/B. This measurement looks at the value the market places on the book value (Assets - Liabilities) of the company. You calculate the P/B by taking the current price per share and dividing by the book value per share. The following graph shows AT&T's P/B ratio over time. P/B shows that currently a stock investor is paying $2 for every $1 in AT&T equity.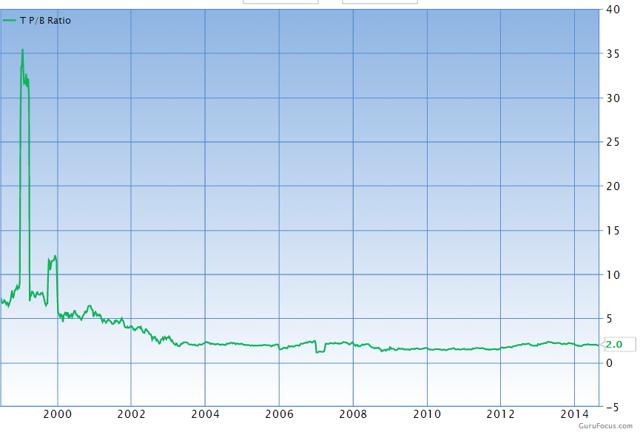 Combining ROE with P/B
One of the problems with ROE is that usually you pay a high price for a high ROE business. If you overpay for an excellent ROE business, it makes for a lousy investment.
I thought that since ROE measures the efficiency with which a business turns shareholders equity into earnings and price to book ratio measures the premium (or discount) a prospective equity buyer is paying for that equity, why not combine the two to get a composite measure. By dividing ROE by P/B you get what I call "Return on Price paid" or RoP. RoP gives you an idea of what the business will earn on every dollar you invest in it now. The following table gives AT&T RoP over time.
| | | | |
| --- | --- | --- | --- |
| Fiscal Period | ROE % | P/B | RoP % |
| Dec-99 | 30.53 | 6.31 | 4.84 |
| Dec-00 | 26.15 | 5.31 | 4.93 |
| Dec-01 | 22.29 | 4.05 | 5.50 |
| Dec-02 | 17.03 | 2.71 | 6.28 |
| Dec-03 | 22.24 | 2.26 | 9.85 |
| Dec-04 | 14.53 | 2.11 | 6.89 |
| Dec-05 | 8.75 | 1.47 | 5.96 |
| Dec-06 | 6.37 | 1.19 | 5.36 |
| Dec-07 | 10.36 | 2.19 | 4.74 |
| Dec-08 | 13.35 | 1.74 | 7.66 |
| Dec-09 | 12.3 | 1.62 | 7.58 |
| Dec-10 | 17.79 | 1.56 | 11.44 |
| Dec-11 | 3.74 | 1.70 | 2.20 |
| Dec-12 | 7.86 | 2.04 | 3.86 |
| Dec-13 | 20.06 | 2.04 | 9.85 |
| TTM/current | 19.46 | 1.96 | 9.94 |
(Source: Gurufocus.com)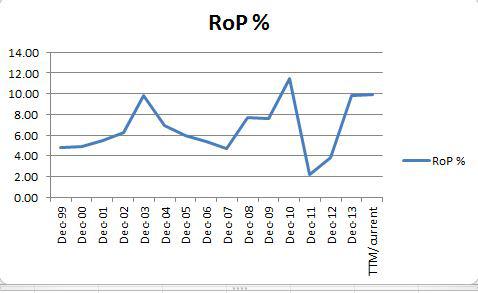 So as you can see you are getting a return of 9.94 cent for every dollar you are investing in AT&T equity today. This was only exceeded briefly in the depth of the financial crisis.
By the way, Return of price paid (ROP) is the same as Earnings Yield, which is the inverse of P/E, just arrived at in a different way.

Dividends
AT&T is currently yielding 5.27%, paying out 57% of earnings and using the rest of its cash at the rate of 3.20% per annum in the last 3 years. Since SBC Communications bought out AT&T and assumed its name in 2006, total return (from 1/1/2006) has been 100.38% (with 58.5% of that coming from dividends).
Competition
AT&T and Verizon (NYSE:VZ) dominate the US wireless industry. They are both investing heavily in their networks and enjoy unmatched scale advantages. T-Mobile and Sprint are attacking with lower prices, yet it's unlikely that they will be able to sustain their attacks over the long term and will have to retreat. T and VZ's scale advantage will reassert itself.
Conclusion
AT&T has strong balance sheet with a A- credit rating and low leverage. With a Cash Return of about 7%, a dividend yield of over 5% and a Return on Price paid of about 10%, AT&T is Terrific in my book and I plan to add to my position shortly.
Disclosure: The author is long T.
The author wrote this article themselves, and it expresses their own opinions. The author is not receiving compensation for it (other than from Seeking Alpha). The author has no business relationship with any company whose stock is mentioned in this article.