Overview
With a market capitalization of $76 billion, Celgene Corporation (NASDAQ:CELG) is one of the biggest biotech companies in the world, although it reports sales of only $7 billion and earnings of $1.4 billion in the last twelve months. The company is headquartered in Summit, New Jersey and has 5100 employees. Celgene's most important drug is Revlimid, which is used to treat multiple myeloma, and which accounts for 60% of revenue.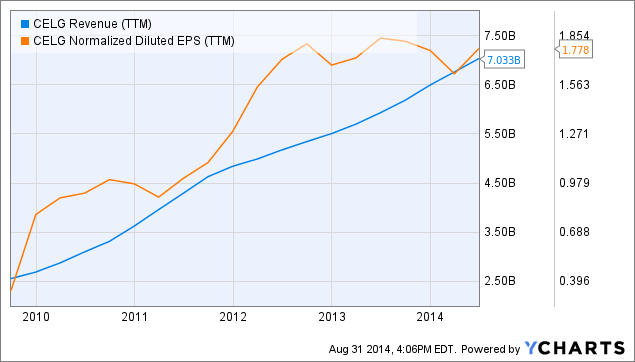 CELG Revenue (NYSE:TTM) data by YCharts
Celgene managed to grow both revenue and EPS steadily and fast over the last years.
Celgene's fundamentals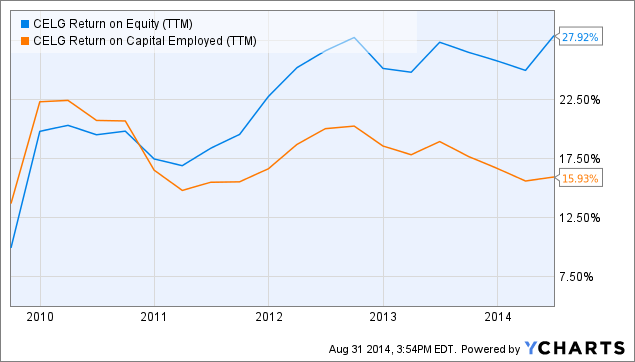 CELG Return on Equity (TTM) data by YCharts
Celgene offers a very healthy ROCE of 16% and an excellent ROE of 28%, which has been growing steadily over the last years (this is partially a result of increased leverage). This signals good management, the company's executives invest money in an efficient, rewarding way.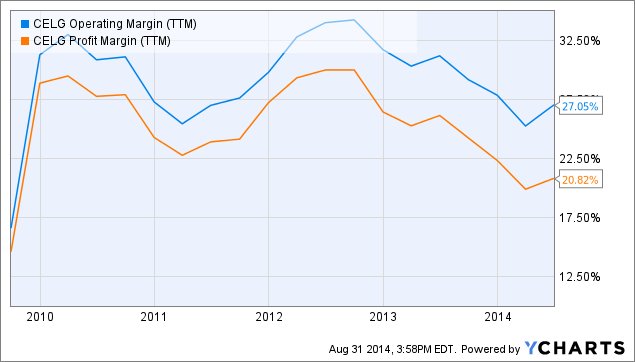 CELG Operating Margin (TTM) data by YCharts
The company's operating and profit margins are high but not outstanding, investors should keep an eye on the profit margin especially, since it has been declining slightly over the last four years.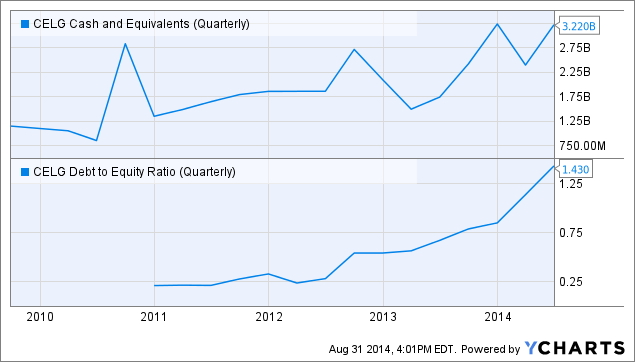 CELG Cash and Equivalents (Quarterly) data by YCharts
Celgene's balance sheet discloses an increasing leverage. Debt/Equity stands at 1.43, relatively high, although the cash position has been growing steadily over the last years and both quick ratio and current ratio are at a low levels (5.2 and 5.4 respectively).
Celgene's valuation
CELG PE Ratio (TTM) data by YCharts
Celgene seems to be overvalued compared to its peer group consisting of Amgen (NASDAQ:AMGN), Gilead Sciences (NASDAQ:GILD) and Biogen (NASDAQ:BIIB), with PE, EV/EBITDA and P/S ratios above all of its competitors' multiples.
Determining Celgene's Fair Value
Since the above multiples are static and don't account future growth prospects, I will use the DCF method with a couple of scenarios to determine whether Celgene could nevertheless be undervalued right now.
As a starting point I will use this years estimated earnings of $3.67 per share, a discount rate of 10% and the estimated annual EPS growth rate of 26% over the next five years. This equals:
| | | | | | |
| --- | --- | --- | --- | --- | --- |
| FY | 2014 | 2015 | 2016 | 2017 | 2018 |
| EPS in $ | 3.67 | 4.62 | 5.82 | 7.33 | 9.24 |
For the time after that, I will lay out different scenarios.
If we assume no growth from 2019 on, fair value (for an investor aiming for a 10% annual return) is $100.
If we assume that EPS will grow at 5% annually, fair value is $180.
If we assume that EPS will grow at 8% annually for the time after 2019, fair value is $419.
If we aim for an average annual return of 12%, things look a little different:
If we assume no EPS growth after 2018, fair value is $82.
If we assume EPS will grow at 5% annually, fair value is $126.
If we assume that EPS will grow at 8%, fair value is $205.
It seems that, despite current high multiples, the company is undervalued in most scenarios right now, and it looks like Celgene has major upside potential. I personally think an annual EPS growth rate of 5% is the best assumption, it is not too conservative, yet not especially ambitious either.
How can Celgene achieve this kind of EPS growth?
The annual EPS growth rate of 26% I used in the model above (analyst consensus) may seem high, but there is a lot of reasons that indicate the company could reach this level of growth (Celgene even projects higher growth, their target is $8.50 in 2017 compared to the $7.33 I used in my model).
The first base of growth is revenue from existing drugs. In the last couple of years, Celgene managed to grow revenue from its "old" drugs they had already released earlier, a trend that will likely continue. The key growth generator for Celgene is Revlimid, the company expects this years revenue of the drug to increase 16% yoy. Abraxane is another important drug that will likely take over huge parts of the pancreatic cancer market.
A second foundation for growth is Celgene's pipeline, which will lead to new products that will increase sales. Right now, the company has several drugs in Phase 3 trials, among them new indications for existing drugs like Revlimid (Myelodisplastic Syndroms; Lymphoma) and new drugs like CC-486 (Myelodisplastic Syndroms; Acute Myeloid Leukemia). Celgene also is in trials for two Anemia drugs (ACE-011 and ACE-536). Celgene will also become a player in cellular therapies, with products for (among others) Crohn's disease and diabetic ulcers.
A third reason that will push EPS are Celgene's share buybacks. Celgene reduced shares outstanding by 15% over just the last 3 years, future buyback programs will likely be even bigger due to growing cash flows from Celgene's operations.
Those reasons should provide ample room for growth in EPS over the next five years, thus I think the analyst consensus of 26% growth is valid (and even conservative compared to the company's own estimates).
Growth rates for the time after that are more difficult to forecast, but I think an average annual growth rate of 5% is very likely here, probably a little more in the near future and then declining as the company matures. Celgene's expanding portfolio of drugs (new drug developments and new indications for existing drugs), the growing amount of people in need for medical care (and able to afford it), and Celgene's share buybacks should allow this kind of EPS growth (5% annually) over a very long time.
Possible risks
Like every other equity investment, an investment in Celgene bears risks. As of today, the possibility of bankruptcy seems very small, but investors should keep an eye on debt levels and the company's liquidity.
The more plausible risk is that Celgene's investments in R&D are not prolific and that, over time, other companies (with better drug developments) take away customers from Celgene, which would result in lower growth than expected.
Conclusion
Celgene offers good fundamentals, with great capital returns and margins, but a relatively high leverage. Compared to its peers, Celgene has high multiples, but the high growth expectations for Celgene justify current prices. Depending on the exact assumptions for future growth, Celgene is slightly to clearly undervalued right now.
It is not a bad idea to buy Celgene at current prices, but I personally prefer Gilead right now (here is my analysis), yet if one aims for more exposure in the healthcare industry or wants to diversify, buying Celgene now should be rewarding over the long term.
Disclosure: The author is long GILD.
The author wrote this article themselves, and it expresses their own opinions. The author is not receiving compensation for it (other than from Seeking Alpha). The author has no business relationship with any company whose stock is mentioned in this article.