Target (NYSE:TGT), in its first expedition outside the U.S., has announced its plan to expand into Canada by acquiring leases for 220 Zellers stores, owned by Hudso Bay Company.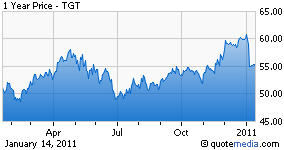 Target will be gaining the leasehold interests on the properties by paying C$1.825 billion to Zellers Inc. The transaction amount will be made in two equal payments of C$912.5 million, expected in May and September, 2011.
Zellers, one of the largest mass-merchandise retailers in Canada, has more than 270 stores and was founded by Walter P. Zeller in 1931. During the transition period, Zellers Inc. will continue to operate these stores under the Zellers banner by subleasing these sites from Target.
Minneapolis, Minnesota-based Target plans to open 100 to 150 stores in Canada by 2013 and 2014, expecting revenues similar to those from new stores in the US.
Moreover, these stores will offer a well-built preliminary underpinning for a more dynamic Target presence in Canada. Further, Target, through the deal, expects to establish an affordable and trendy approach to retailing, despite stiff competition from Wal-Mart Stores Inc. (NYSE:WMT) and Costco Wholesale Corporation (NASDAQ:COST) .
Additionally, Target also announced that it has hired an adviser to sell its $6.7 billion credit-card receivables portfolio, an act it chased before the credit crisis occurred. The probable sale of credit-card receivables portfolio comes amid the successful launch of its REDcard Rewards program.
The company believes that the current environment of the capital market offers a striking prospect to slot in interested parties for the sale of these assets. However, Target intends to retain operational control of its strategically imperative financial services business along with its intense integration with retail operations.
Meanwhile, the company will focus more on store renovations and improving store sales productivity. Target plans to remodel nearly 380 stores, including an expanded grocery offering, improved store layout, and enhancement of in-store shopping experience across departments in fiscal 2011. Moreover, Target plans to introduce P-fresh in-store food and grocery sections in approximately 850 discount stores.
Target's efficient marketing, multi-channel strategy, product innovation, compelling pricing strategy, and new merchandise assortments should help drive comparable-store sales and operating margins in the long term. We expect the company to gain market share, and believe that more focus on consumable items should boost sales and earnings in a sluggish consumer environment.
Target currently operates through 1,752 stores across 49 states. Currently, we have a Neutral rating on the stock. Moreover, Target holds a Zacks #3 Rank, which translates into a short-term Hold rating, and correlates with our long-term recommendation.