One of the better performing sectors in the 2014 stock market, alongside real estate, precious metals, pharmaceuticals, semiconductors and energy, has been the video game group. The near double in total industry sales for the new upgraded console generation vs. the same point in the last upgrade cycle (9-12 months from launch roughly for the hardware makers) is testament to this entertainment segment's expanding demand curve. With a world increasingly stressed from poor macroeconomics and rising geopolitical friction, staying at home and playing a video game helps to de-stress and entertain individuals of all ages and backgrounds. The inexpensive nature of playing a free or cheap game online, to buying a new or used high-end console plus some software titles for a few hundred dollars a year, highlights the ease of access and wide availability of this entertainment medium. Video game development, spending and demand are now in the process of surpassing the movie and music industries in terms of acceptance and dollar volume on the planet.
Software Game Developers
I have written about a few of the strongest performing video game software companies on Seeking Alpha the last year. You can review my detailed thoughts about Activision Blizzard (NASDAQ:ATVI) and Electronic Arts (NASDAQ:EA) penned in July 2014 here.
Last week, Activision scored at the #29 spot and Electronic Arts at #31 using my proprietary Victory Formation computer sorting screen. The system takes the equities in the U.S. stock market holding the best fundamental undervaluation characteristics and sorts them on a variety of technical trading pattern, price action and volume considerations each week. The two largest independent gaming software stocks have scored in the Top 10 at different points during the summer.
Since my July story, Activision has been in the early rollout stages of the much anticipated Destiny video game. Activision Publishing Chief Eric Hirshberg was quoted in August the game is "the most pre-ordered new IP (intellectual property) in history," according to retailer GameStop. A welcome development for Activision shareholders, the company has been forecasting big things for Destiny. With high hopes of re-branding, redesigning and reselling this new game franchise "online" far into the future, regularly updated versions may become another pillar of earnings and revenue growth. Activision upped guidance for revenues and profits going into the important Christmas selling season. Successful launches of new games to date in 2014, and a powerful lineup of yet to be released titles the next six months, point to strong sales and income growth for the remainder of 2014 and 2015.
Trading at a Wall Street consensus multiple of 13.5x free cash flow for 2015 ($23 price/ $1.70 estimate per share), Activision still appears to have wonderful value characteristics against a fairly liquid and conservative balance sheet. Free cash flow is defined by adding estimated non-cash depreciation, amortization, and stock based compensation expenses to GAAP earnings, minus regular capital expenditures.
It is getting more difficult after five years of economic and financial market advance to find stocks that can honestly grow revenues and income from mid-2014. In this respect, video game equities overall stand out as a sector retaining solid growth potential.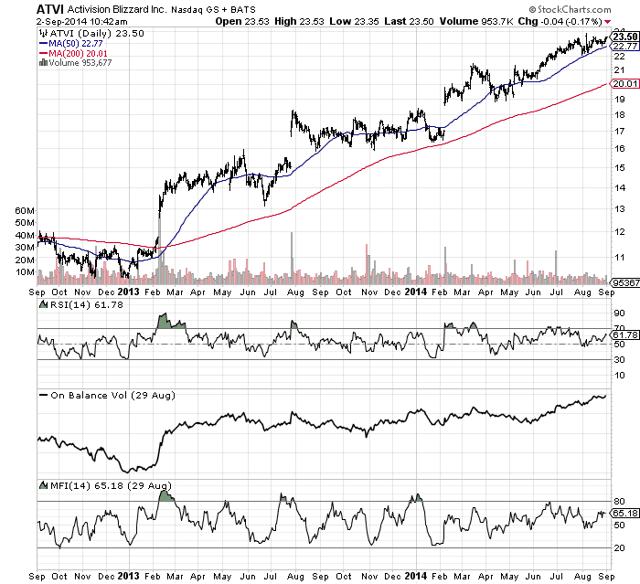 Click to enlarge
Charts courtesy of StockCharts.com
Electronic Arts just released Madden NFL 15 to much fanfare going into the new football season. A bigger deal to me was the announcement of an online monthly subscription service in August for a large number of games and software titles in the expansive EA library. You can read a good Bloomberg article about the subscription service here. Basically Electronic Arts is the best positioned sports game franchiser, and is selling the most software product for the new game consoles and upgrades that have come out in the last 12 months. The company has done a masterful job of controlling operating costs and right-sizing capital expenditures so the bottom line can grow markedly in coming years for shareholders.
At today's $37 quote, Electronic Arts stock is priced just above 13x consensus free cash flow projections per share, by Wall Street analysts for calendar 2015. Compared to present S&P 500 stock pricing using 2015 projections of 15x free cash flow, the company's 13x number looks quite positive if business expansion stays on track. In terms of balance sheet analysis, short-term investments and current asset holdings like inventory and accounts receivable are higher the "total liability" number at the end of June 2014. I would rate the Electronic Arts balance sheet in the "A" category vs. other S&P 500 companies, providing flexibility for future business deals, fluctuating consumer demands, and unexpected changes in the economic backdrop like a recession could produce.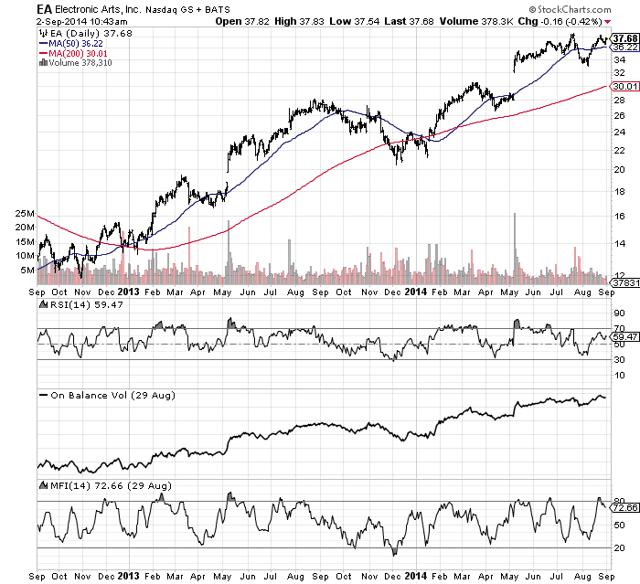 Click to enlarge
Hardware Console Manufacturers
The hardware gaming console makers of Sony (NYSE:SNE) and Microsoft (NASDAQ:MSFT) have also done well the last year. While gaming consoles and software development comprise just a small portion of company sales for the two huge electronics and computer conglomerates, it is quite interesting and noteworthy that plenty of growth is being delivered by the gaming units. Sony is today ranked #7 and Microsoft #20 by the Victory Formation for having great combinations of long-term value for shareholders and rising stock trading momentum (investor interest).
Sony makes the popular PlayStation console and related games, alongside a long list of other electronic products and entertainment industry offerings. So far the newest PlayStation 4 model has sold 10 million units, debuting just last November, with no real slowdown in excitement or sales volume throughout the year. Gaming represented about 10% of total company sales in FY 2014 ended March, with another 35% from related products like televisions, music, movies, cameras and home entertainment gadgets.
From a valuation perspective, the U.S. listed Sony ADRs at $19 per share are trading slightly under the $21 accounting book value at the end of March 2014, and an estimated 5x annual cash flow generation and less than 10x free cash flow using FY 2015 Wall Street consensus estimates. The upside in Sony comes not only from strong gaming results, but the ability of the company to reshuffle its massive list of assets and operating units to pay down debt and total liabilities. Today, the company has roughly the same level of current assets and long-term investments as total liabilities, with a large portion of liabilities in the form of long-term pension obligations. Sony has done an admirable job of restructuring the last several years and paying down total liabilities by $10US billion.
The Japanese economy is a slow-growth animal nowadays, as export demand to the U.S., Asia and Europe for Sony are a hit and miss proposition. Much has been written by the financial press on the government debt load and aging population demographic challenges in Japan, plus macro demand worldwide is a real risk for Sony outlining $30 billion in annual corporate sales globally. However, a leading brand name position, with new products being rolled out all the time is a solid operating foundation, if you ask me. Most of the company's debt and liabilities are long-term in payback span; so room for good news exists if the global economy improves into 2015-16. Given a pickup in demand for Sony products as a whole, the company could be generating $6 or $7 in ADR share cash flow annually alongside $3 or $4 in free cash flow for U.S. stake owners of the enterprise.
Another potential growth opportunity outside of gaming for Sony was announced this past week, as its cheap smartphone offerings will now be sold by the U.S. Sprint (NYSE:S) and Japanese Softbank (OTCPK:SFTBF) phone networks. Well behind Apple (NASDAQ:AAPL), Samsung (OTC:SSNLF) and Microsoft (MSFT), don't count out new competition in this hot sector from a brand savvy, consumer respected Sony entrant.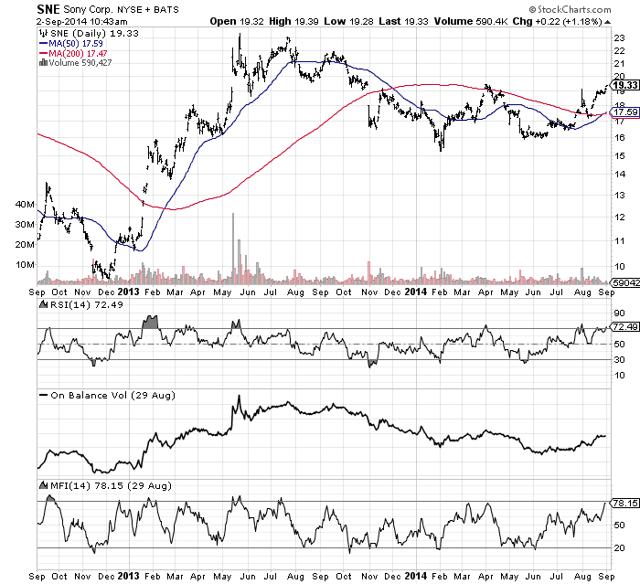 Click to enlarge
I have liked Microsoft as a "value" play for several years, and it has scored near the top of the Victory Formation list, off and on again, since 2012. You can read my Seeking Alpha article on Microsoft from October 2013 here. Microsoft has been a steady gainer for several years, climbing from $23 a share in mid-2011 to $45 today.
Xbox consoles and games have been a resounding success story for Microsoft since being introduced during 2001. The original Xbox, the Xbox 360, and the newest entry last year the Xbox One have sold nearly 110 million combined console units the last 13 years. 11.7 million units were sold in FY 2014, a 20% increase from 2013. Overall the Xbox Platform and related sales account for less than 10% of total company revenues.
The company earned $22 billion in FY 2014, ended in June, against $87 billion in annual revenues. Microsoft has a super strong balance sheet, perhaps one of the strongest for a U.S. based conglomerate, holding $86 billion in cash and $114 billion in current assets vs. $82 billion in total liabilities at the end of June 2014.
On a valuation basis, Microsoft is selling for slightly more than 14x projected 2015 calendar year free cash flow generation by Wall Street analysts, half of FY 2015 and half of FY 2016 for the company. Considering the safer sales environment and trends for Microsoft's brand name computer and electronics offered internationally, alongside the super high profit margins and fortress balance sheet, I feel an elevated free cash flow multiple is more deserving for the company's stock. A premium valuation above the general stock market ratio of 15 would be more appropriate. In all, if Microsoft can hit its current earnings and cash flow estimates for calendar 2015, I would expect the stock price to trade above $50 in 12 months, all other factors being equal to today.
Other reasons to own Microsoft include (1) a new, experienced and well liked CEO changing the capital spending direction for the company in 2014, (2) the high odds of asset sales and partnerships by the incoming top manager leading to stronger business valuations, and (3) the large dividend payout to shareholders providing a nice, above S&P 500 average, annual yield of 2.7%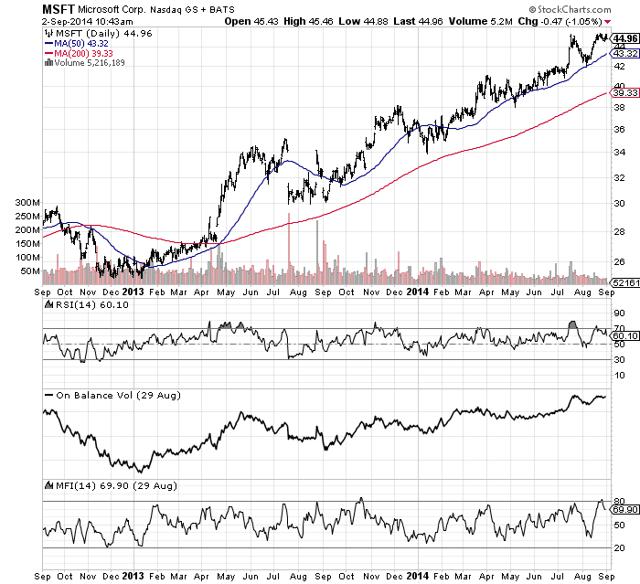 Click to enlarge
Game Retailers
Two of the best performing stocks of 2013, Best Buy (NYSE:BBY) and GameStop (NYSE:GME), were leading Victory Formation scorers at that time, and have reappeared the past couple of weeks near the top of the computer generated list. Retailers of games and entertainment products, they are leaders in the category both in the U.S. and globally for getting software and hardware into the hands of consumers. Whether purchased from your local store or an online location, climbing demand for games is providing a good foundation for income gains at these retailers, despite a sluggish economy and weak retail sales overall. Best Buy ranked as high as #2 last week, with GameStop at the #8 position in the Victory Formation sort.
In the last week, Best Buy reported lackluster revenue growth for the 2nd Quarter and gave a weak assessment of the upcoming Christmas sales season for its physical stores. Best Buy is the leading brick and mortar electronics retailer in the U.S. With 130,000 employees and 1,000+ big box store locations worldwide, the company has grown tremendously from a small chain of music stores during the early 1970s. While gaming software and hardware make up just a fraction of sales, Best Buy's focus on home entertainment as a whole, including smart phones, computers, cameras, televisions, music and movies is quite synonymous with the rising fortune of gaming developers and manufacturers.
Best Buy has been restructuring and rationalizing its cost structure for years (getting a smaller physical footprint by closing numerous stores) to better match demand at retail locations, and is expanding its online sales operation. Retailing/marketing games and electronics as a third party is still a lucrative business model, and will continue to be, in my humble opinion. Best Buy has the name brand and full range of integration globally to remain the leader in this field.
Best Buy's stock valuation is very low at the present $32 price. The 10x price multiple on estimated annual free cash flow in Fiscal 2016 by Wall Street analysts, roughly calendar 2015 for other companies outside of retail, is what catches my attention. Against other large general merchandise retail businesses with stock prices trading at 12-15 multiples of 2015 estimates, Best Buy may indeed be a best buy!
Best Buy's valuation is low mainly because naysayers and short sellers believe most all retail will be done online in the future, leaving any company with stores to whither on the vine and die. Especially negative on entertainment related names that appear to be losing traffic to online sales avenues faster than other retailers, short sellers have aggressively attached stocks like Best Buy. Selling shares they do not own, short sellers hope to tank the stock price, forcing regular longs to panic sell and causing rumors of operating problems to become self-fulfilling.
Even if retail becomes largely an online purchase experience, Best Buy has been toiling diligently for years to become "the" online electronics, third-party retailer, go-to site for the entertainment and computer industries. An investor's personal view of Best Buy can likely be summed up after answering one or two formative questions. If you believe we will have NO economic competition in the future, only Amazon (NASDAQ:AMZN) as the lone surviving retailer to the world, then by all means stay away from Best Buy. If you believe a hybrid, common sense based, physical store and online approach is the future of retail in the U.S., with price and delivery competition a mainstay, then consider Best Buy. The company has actually "earned" more in retained operating profits than Amazon has mustered over their respective histories (Best Buy approaching $4 billion vs. just $2 billion for Amazon).
Based on fundamental analysis of price to cash flow, earnings, sales and book value per share the last 10 years overall, only the panic selling 2012 to early 2013 valuation was cheaper than the 2014 level for Best Buy stake owners. Management shake-ups and a massive restructuring since 2012 have helped to lower costs and more appropriately balance ongoing expenses with flat to slightly falling same store sales. Using today's 10x estimate of free cash flow for calendar 2015, and the typical 10-year average of 14x "trailing" free cash flow for Best Buy specifically, one can argue a fair value for shares will be closer to $45 in 12 months. Using similar comparative analysis on a variety of fundamental metrics, not just free cash flow, Best Buy remains quite undervalued.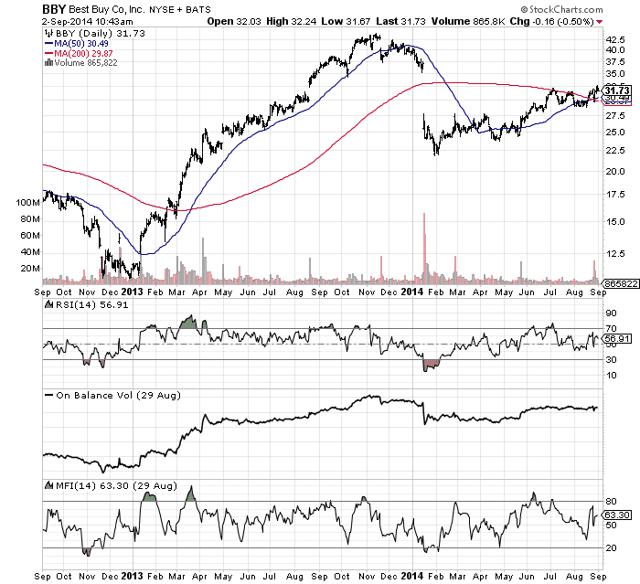 Click to enlarge
GameStop is the leading game-centered retailer in the country. With over 6,000 small stores in outlet malls and shopping centers throughout the U.S. and Canada, selling new and used gaming supplies, software, equipment, plus expert resources, the company has witnessed a regular and sustainable rise in fortunes since public trading of its stock began in 2001. Again the only serious argument to avoid GameStop ownership revolves around consumer demand for game buying in a physical store environment. While I believe the movement of gaming to online only delivery is a real threat to GameStop, it is working hard to become "the" main third-party distributor of games in the world. In the end, the advantage of reviewing/sampling games, buying console hardware and software titles, plus related accessories just down the street for most American consumers gives this company a better survival proposition than other retailers selling/marketing more general items, in my opinion. The demand pull of gaming industry growth overall in coming years is a wind blowing at your back situation investors should consider.
The all-time peak in GameStop's stock price was $63 in 2007, when fundamental metrics were markedly LOWER than today. Whether comparing cash flow, income, sales or book value per share, the underlying worth of each ownership unit today on trailing results is a good DOUBLE the level of 2007. All else being equal (many valuation discounting and business growth variables are not the same), you would think a double of the $63 per share 2007 high [$126] would be possible, far from the current $42 quote! Additionally versus 2007, GameStop now pays out a handsome dividend with a 3.2% annual yield and regularly buys back common shares at such a low valuation of present and future operating yields. Combined these actions are returning shareholder capital and profits, while adding to future results per share! That's called a win-win in my book.
You can read an article I published on the Motley Fool website in early 2012 when GameStop was selling in the low-$20s. It explained the real advantages to existing shareholders of a large stock buyback in an undervalued, low liability, cash flow rich enterprise like GameStop.
Priced at just 9x free cash flow projections for calendar 2014 and 8x for 2015 by Wall Street consensus forecasts, GameStop is still an outstanding value for your investment money. Riding the wave of growth in the gaming industry taking place this decade, the company sports a super-conservative balance sheet with more current assets than total liabilities. GameStop's management team is top-notch and success proven. Several smart hedge funds and respected institutions own shares and help in the big direction, capital reinvestment decisions also.
A bonus kicker for long holders of GameStop is the massive and remaining short interest position, representing about 30% of float at 32 million shares in early August. Based on data found on shortsqueeze.com and Yahoo! Finance, institutional and insider ownership is an incredible 140% of the common share "float." While reporting periods overlap for institutions, and the timing of stock buybacks can skew the float numbers, the odds of an illegal naked (under-reported to the SEC) short interest position appear high. Altogether, the common share holdings of small investors, large institutions and insiders are well above the normal ownership reading of the average publicly-traded company closer to 100% of shares outstanding. Translation: a monster short position remains that will require covering (the purchase of GameStop shares) to close out the round-trip trade. My question for the marketplace and future price quote of GameStop is where will the supply of stock come from if 32 million shares are purchased (shorts covering) beyond normal trading volumes, as the company's fundamentals continue to improve? From my analysis, the high odds of either a rapid or slow-motion short squeeze in late-2014 or 2015 could add extra buying fuel to GameStop's stock price, pushing it well above $50 a share.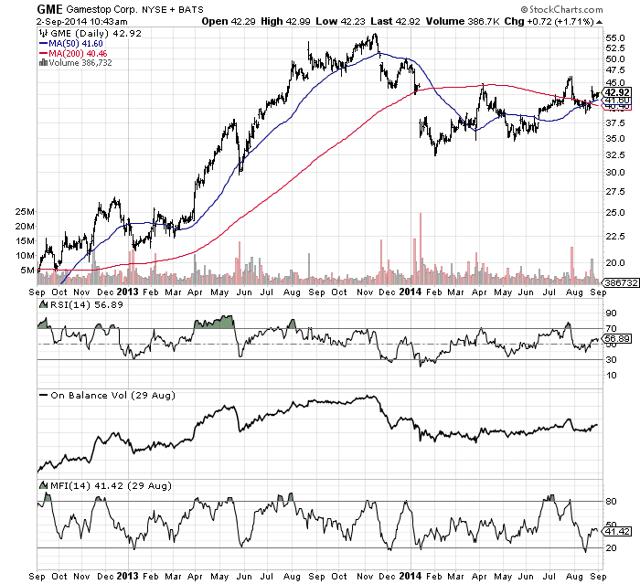 Click to enlarge
Conclusion
I am quite positive on the long-term outlook for investors in all six gaming stocks outlined in this article - Activision, Electronic Arts, Sony, Microsoft, Best Buy and GameStop, especially relative to the U.S. stock market overall. An even better opportunity to purchase them may arise in coming weeks, as the stock market generally is long overdue for a 10% or greater correction in price. We have gone a good 27 months without a 10% drop, quite a distance without a healthy shake-out of weak hand holders historically. On the contrary, we usually average one 10% market drop every 12-13 months! Since September-November have hosted some of the scariest declines in U.S. stock market pricing, my gut feeling is investors should be patient in committing new capital for a month or two, and/or raise liquidity right here. I have made my portfolios much smaller targets for a bear sell-off, owning just a small handful of regular long investments as of this writing.
My working plan is to invest in several, if not all, of the positively mentioned stocks in this article on a market sell-off. In the context of properly hedged and diversified portfolio creation, video game investment selections appear to be solid growth ideas. The cheap entertainment and diversion characteristics of video gaming, with ever better graphics, sound and creative development appear to point to rising demand trends years into the future.
Whether you decide to purchase video game stocks today or wait for a 10%-20% decline (that may or may not come to pass), each of the Victory Formation blue-chip favorites holds the potential to continue "outperforming" the major Wall Street averages, like the S&P 500. Buying a basket of them can lower your capital risk, without giving away too much individual upside. Please do your own diligence, and good luck hunting for big long-term winners in your personal portfolio.
Disclosure: The author has no positions in any stocks mentioned, and no plans to initiate any positions within the next 72 hours.
The author wrote this article themselves, and it expresses their own opinions. The author is not receiving compensation for it (other than from Seeking Alpha). The author has no business relationship with any company whose stock is mentioned in this article.