Jason Russ, a fellow SeekingAlpha contributor, put together a well-written piece on the largest holding in my portfolio, Gilead Sciences (NASDAQ:GILD), the other day. The stock has gained some 60% over the past five months from its sell-off in the quick biotech slaughter of early March so it is prudent to ensure the shares have not overran its investment case. Mr. Russ looks at the question from a conservative discounted flow perspective and comes up with a fair value that postulates the shares are still 40% undervalued at current levels.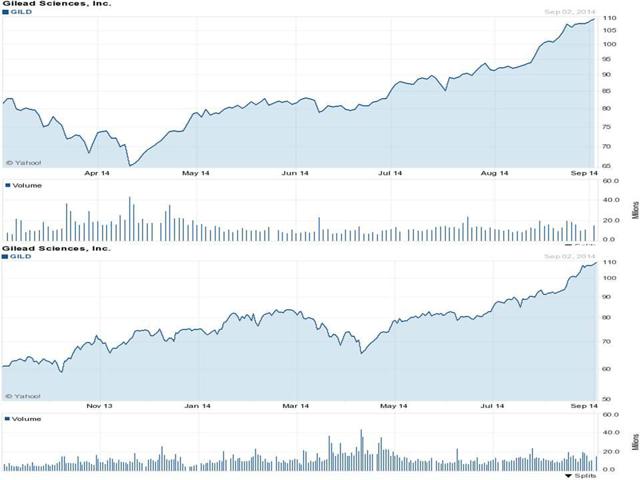 It is a good analysis based mainly on projected earnings rates discounted back to present value. Discounted cash flow is a useful tool but it is hard to predict earnings growth 12 months out let alone 5-15 years. I want to come to the question of whether Gilead still is a strong investment from a slightly different perspective using some other factors.
Valuation:
Yes, earnings are critical in determining whether a stock is undervalued or not. However, it is important to understand how investors look at earnings. Professional investors look forward to where earnings are going, not where they have been. Unfortunately, less seasoned investors tend to look backward using filters that are based on trailing earnings. When earnings are exploding, this method just misses rockets like Gilead. Based on 2013 earnings per share, Gilead is selling at over 50 times earnings. Priced correctly at the $8 a share consensus earnings estimate for this year, and the shares are selling at a very cheap 13.6 times earnings.
This is a discount to the overall market multiple of 16-17 times 2014 earnings projections. Gilead is also growing revenues and earnings multiple times faster than the 8% to 10% growth rate for the market for earnings on back of a 3% to 4% year-over-year increase in sales this year.
Momentum & Catalysts:
More important than retail investors obviously are fund managers. So ask yourself, given Gilead's recent rise, are any managers not going to want to show they hold a good chunk of Gilead when quarter end reports go out at the end of the month? This should create its own buying pressure over the next few weeks.
It is also important to note that Sovaldi is not even racking up much in the way of global sales yet. The company just received permission to distribute the drug at its requested price in the United Kingdom. Major markets like Japan should come on line over the next year as well boosting sales.
The company continues to benefit from growth - albeit at a slower rate (~10% year-over-year) - of its other drugs such as its market leading HIV franchise. In addition, the company has a nice pipeline of drugs for other major disease in late stage trials which I covered in another article recently.
Summary:
2014 has been a banner year for Gilead. Sovaldi is turning out to be the biggest new drug launch in history. This has driven almost a quadrupling of earnings year-over-year on better than a 135% surge in revenues.
This sort of growth at a major biotech is unlikely to be repeated in the near future, nor will it at Gilead. Earnings growth is projected to slow to 15% to 20% Y/Y in 2015 on back of a revenue increase in the mid-teens. Putting a multiple to match next year's growth rate on the current consensus earnings estimate for 2014 of ~$8 a share produces a price target of $120 to $160 a share on Gilead. While that is not the ~80% gain Gilead has provided shareholders over the past 12 months, it is not shabby either and should position Gilead to continue to outperform the overall market. BUY
Disclosure: The author is long GILD.
The author wrote this article themselves, and it expresses their own opinions. The author is not receiving compensation for it (other than from Seeking Alpha). The author has no business relationship with any company whose stock is mentioned in this article.