I don't try to jump over 7-foot hurdles: I look for 1-foot hurdles that I can step over - Warren Buffett.
Qualcomm (NASDAQ:QCOM) is, in my mind, a 1 foot hurdle if I can get it below $70. It is an arms supplier of the mobile internet industry and its intellectual property is embedded in almost every mobile phone in the form of 3G compatibility. Yet it is selling at a reasonable price. A picture is worth a thousand words. The following diagram illustrates the returns produced by Qualcomm over the last 15 years.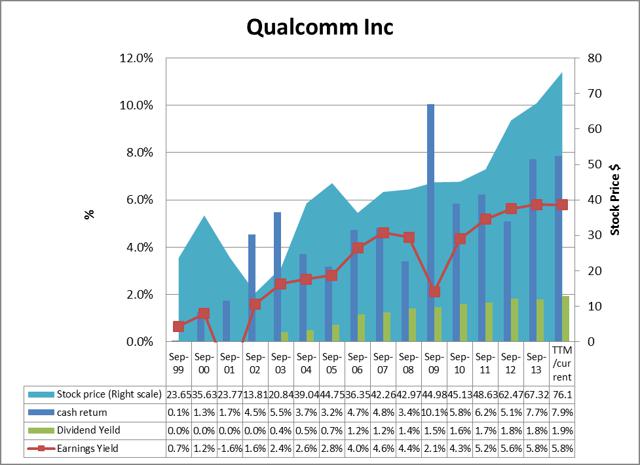 The right axis provides the stock price. The left axis gives the % yield.
Earnings Yield
The red line is the "Earnings Yield" Earning yield is the inverse of the P/E ratio i.e. earnings over price. It shows what you are getting for the price you are paying. As you can see you are getting a return of 5.8% at present (which is the highest it's ever been).
Cash Return
Cash Return is one of my favorite metrics. I calculate cash return by adding free cash flow (cash from operations minus capital expenditures) to net interest expense (interest expense minus interest income), and then dividing the sum by enterprise value (market cap plus long-term debt, minus cash) or EV. Enterprise value (EV) is calculated as market cap plus debt, minority interest and preferred shares, minus total cash and cash equivalents. Think of EV as the minimum current theoretical takeover price. In the event of a buyout, an acquirer would have to take on the company's debt, but would pocket its cash. EV differs significantly from simple market capitalization in several ways, and many consider it to be a more accurate representation of a firm's value. The value of a firm's debt, for example, would need to be paid by the buyer when taking over a company, thus EV provides a much more accurate takeover valuation because it includes debt in its value calculation. It is the value accruing to a hypothetical buyer if he was to buy the company at the current market price.
The goal of the cash return metric is to measure how efficiently the business is using its capital -- both equity and debt -- to generate free cash flow. Therefore, cash return tells you how much free cash flow a company generates as a percentage of how much it would cost an investor to buy out the entire business. Cash Return is different from free cash because interest paid to service debt is added back to calculate Cash Return. We add back interest expense to free cash flow so that capital structure doesn't impact cash return. Cash Return is capital structure agnostic.
Cash Return is illustrated by the deep blue bars in the diagram. Again, Qualcomm has impressive Cash Return of 7.9% (the highest it's ever been in its history). Because Qualcomm has no debt there is no interest to add back - so basically Cash Return is free cash flow / EV.
Dividend Yield
The third yield measure is the dividend yield. Qualcomm pays a small but growing dividend at present at 1.9% (also the highest it's ever been).
Capital Structure
The next diagram provides a snapshot of Qualcomm's capital structure. The company has no debt and no interest expense. Earnings before depreciation and amortization are growing nicely. The balance sheet is as pristine as it can be.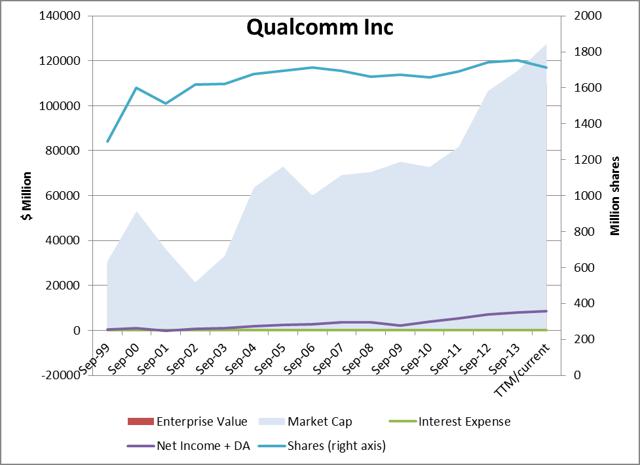 Qualcomm continues to plow massive amount of money into R&D ($5 billion in 2013) which should continue to strengthen its already wide moat going forward. In addition to its own IP, Qualcomm opportunistically adds to its patent portfolio to build bundles of patents which it licenses to other manufacturers. As an example, QCOM recently bought Palm patents from HP.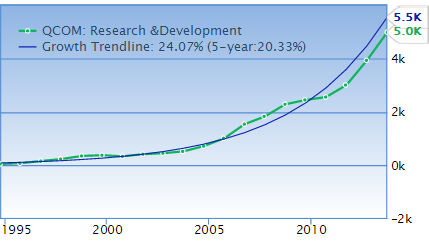 The above charts show that QCOM is an exceptional company which is firing on all cylinders. As the company matures it will- like Apple, Microsoft and Intel- increasingly start to return dollars to its shareholders through dividend increases and stock buybacks.
Valuation
My Discounted Cash Flow Calculations using Free Cash Flow indicates that QCOM is currently fully valued.

This stock is on my watch list and I will be a buyer of this wide moat stock below $70.
Disclosure: The author has no positions in any stocks mentioned, and no plans to initiate any positions within the next 72 hours.
The author wrote this article themselves, and it expresses their own opinions. The author is not receiving compensation for it (other than from Seeking Alpha). The author has no business relationship with any company whose stock is mentioned in this article.