Kirkland Lake Gold (OTCPK:KGILF) is a junior gold miner that owns and operates the high-grade Macassa mine in Kirkland Lake, Ontario, on the Southern Abitidi gold belt, one of the best mining jurisdictions in the world with historical production spanning more than 100 years.
The mine currently produces slightly more than 120,000 ounces of gold a year, but that figure it expected to jump to 140,000 and higher by 2015-16 as the company recently completed an expansion project which expanded the mill, added a new haulage ramp and a new hoist shaft.
With an attractive, high-grade gold reserve and resource base, a completed mine expansion which should increase production and lower costs further, and significant exploration upside, I think Kirkland Lake Gold is just getting started.
Company: Kirkland Lake Gold
Recent Stock Price: $5.22
Shares Outstanding: 70 million
52-week Range: $2.21 - $6.09
Insider Ownership: 21%

(Credit: Yahoo Finance)
Cash Balance: $38.8 million
Debt: $106 million convertible debenture maturing 2017
Working Capital: $17 million
Enterprise Value: $443 million
(As of April 30, 2014)
Why Buy Kirkland Lake Gold?
Kirkland Lake Gold has more than 3 million ounces of gold in one of the most prolific mining camps in the entire world. The company enjoys a low federal tax rate of just 15%, with easy access to quality labor. Historically, the area in which Kirkland Lake operates produced 21.8 million ounces of gold at grades of 15 g/t.
Recently, Kirkland Lake Gold implemented a new mine plan that focuses on lower tonnages at higher grades, with a focus on producing gold at lower costs. The mine plan has been successful so far, with operating costs falling from $1,100+ to less than $839 in January of this year.
All of the company's expansion projects are now complete and capital expenditures should drop off significantly - from more than $80 million in 2014 and $90 million in 2013, to sub-$60 million in 2015. Upgrades included a mill expansion to increase production capacity, a new hoist shaft and haulage ramp and a loading pocket automated.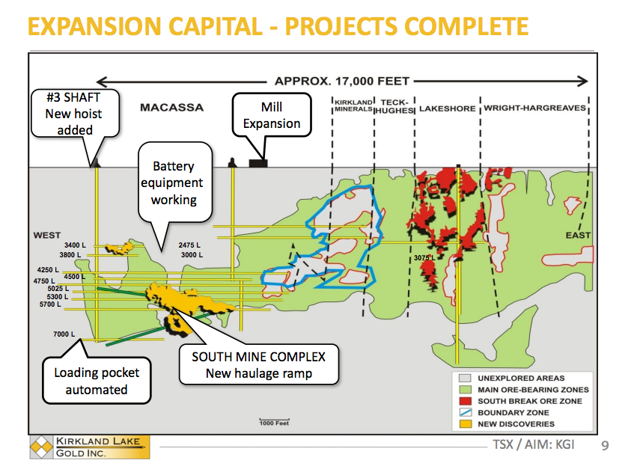 Click to enlarge
(Credit: Kirkland Lake Gold)
In addition, the company's all-in sustaining cost per gold ounce produced is dropping rapidly, from as high as $2,500 last year to $1,466 as of this April.
Production from the South Mine complex has increased from just 68,000 ounces of gold in 2012, to 81,000 ounces in 2014 and 100,000 ounces estimated for 2015. Meanwhile, production from the main break came in at 33,000 ounces for 2012, increasing to 40,000 ounces in 2014 and 2015. You'll see below that total production has grown from 50,000 ounces in 2008/09 to 120,000+ ounces in 2014, with a 18% year-over-year increase since 2011.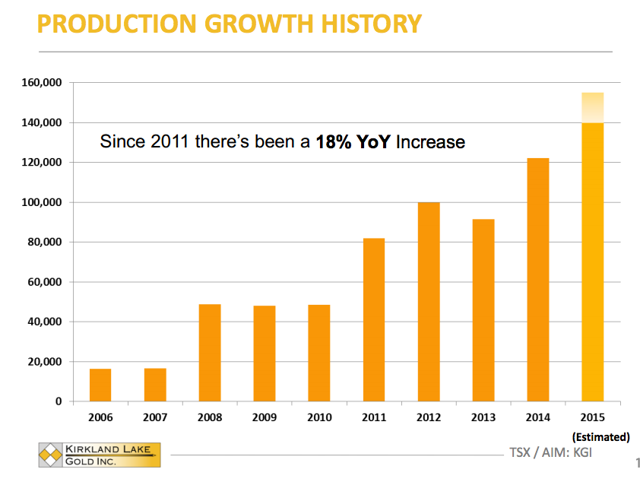 (Credit: Kirkland Lake Gold)
The best is yet to come for Kirkland Lake and I expect 2015 to be the turnaround year for the company, as production increases to 150,000+ ounces, while all-in costs drop further and the resource base is upgraded, potentially extending the current 10-year mine plan.
Year-Ended April 30 Results Impress
For full-year 2014 (ended April 30) the company sold 125,273 ounces of gold for revenue of $173 million and cash flow from operating activities of $27 million. Kirkland Lake ended the year with $38.8 million in total cash resources and working capital of $17.2 million.
More importantly, the $95 million mine expansion project was completed on budget during the fiscal year. A mine optimization plan was also introduced at the start of Q3 2014, along with a cost-cutting program aimed to increase profitability by focusing on higher grades.
The company now expects to become "consistently profitable" from the second quarter on, with grades improving to 14.4 grams per tonne as of June 24 and all-in sustaining costs dropping to 18% year-over-year, according to the fiscal 2014 full-year results.
Exploration Program Reveals New High-Grade Results
Kirkland Lake's reserve and resource base includes 1.38 million ounces of gold (17.1 g/t) proven and probable, plus 2.05 million measured and indicated (16.8 g/t) and 1.13 million ounces inferred (18.5 g/t). However, there is significant potential to increase the reserve and resource base, as made evident by recent drill results.
The share price has gotten a recent boost from the latest results released on August 26. The company announced a new footwall wall was discovered at the South Mine Complex, with drill results of 442.3 grams per tonne gold over 1 feet. A deeper footwall was also discovered, assaying 594.5 grams per tonne gold over 1.7 feet. These are spectacular, "bonanza" style drill results.
The two drill intersections are expected to upgrade the company's gold resource category, and the company expects that on-going exploration will continue to increase the resource and reserve base.
Is Kirkland Lake Overvalued?
With 3.1 million ounces of gold in all categories and an enterprise value higher than $400 million, the company is valued currently at $129 per gold ounce. This makes the stock seems overvalued when you compare the company major producers like Agnico Eagle (NYSE:AEM), valued at $209 per gold equivalent ounce, Aurico Gold (NYSE:AUQ) at $127 an ounce, El Dorado Gold (NYSEMKT:EGI) at $104 an ounce, and Goldcorp (NYSE:GG) at $175 an ounce, according to GoldMinerPulse.com.
However, Kirkland Lake Gold's asset base is very high quality, with gold grades of more than 15 g/t. In addition, considerable exploration upside remains and investors can expect a resource update this year based on the past drill success. With operations located in a great mining jurisdiction, a major expansion just completed with production increasing, cash costs decreasing, successful exploration with high-grade drill results and a resource upgrade coming soon, Kirkland Lake is not as undervalued as it appears.
Disclosure: The author is long KGILF.
The author wrote this article themselves, and it expresses their own opinions. The author is not receiving compensation for it (other than from Seeking Alpha). The author has no business relationship with any company whose stock is mentioned in this article.
Editor's Note: This article discusses one or more securities that do not trade on a major U.S. exchange. Please be aware of the risks associated with these stocks.