In a previous article introduced the extended SIB [simpler is better] or ESIB [extended simpler is better]. We have been comparing its performance with the SIB in three class portfolios.

We compared the results with a strategic asset allocation:


We noted that the returns were better in the short term but the long term results were similar enough that the extra trading may not be worthwhile.
When we look at tactical asset allocation, the results are a little different.
Portfolio Performance Comparison

We now compare trading behavior between the ESIB and SIB that enables the ESIB to have higher returns.
Click to enlarge: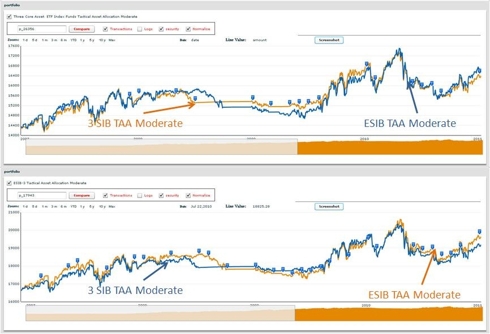 Click to enlarge
The two charts above show the transactions based on the portfolios. The brown line (SIB in the top diagram, ESIB in the bottom) have the transactions marked with a blue shield. The SIB has 21 (SAA 13) transactions in the period whereas the ESIB has 29 (SAA 20).
We would have expected that the ability to optimize funds in each asset class would give about a 1-2% additional return. While that has proven to be the case in the short term, over the long term the differences are less. However, in this case, the additional activity does squeeze out extra returns over short and long horizons.
We note from a
previous article
that a four asset SIB -- one fund in each of four asset classes beats the ESIB -- several funds in each of three asset classes and so moving to more asset classes is still the preferred path.
Portfolio Performance Comparison
The results clearly justify moving to a simpler four asset class portfolio.
Takeaways:
Increasing asset classes beats out adding funds into fewer asset class portfolios

Adding additional funds to a three asset class portfolio provides additional returns; this requires more portfolio activity but is probably worth it in this case.
In the next article we will look at how SIBs and ESIBs behave with six class portfolios.
Disclosure:
I have no positions in any stocks mentioned, and no plans to initiate any positions within the next 72 hours.