UPS's Exposure to the US and International Economies
Presently, the largest business segment of United Parcel Service (NYSE:UPS) is US Domestic Package. According to trefis.com, UPS derives about 63% of its present value from this segment. The International Package segment currently makes up about 26% of UPS's present value. The Supply Chain and Other Business and UPS Freight segments together make up about 11.3% of UPS's present value. UPS has a significant exposure to the US economic cycles as it derives most of its business from the US. However UPS's mix of exposure in the US and international economies is evolving.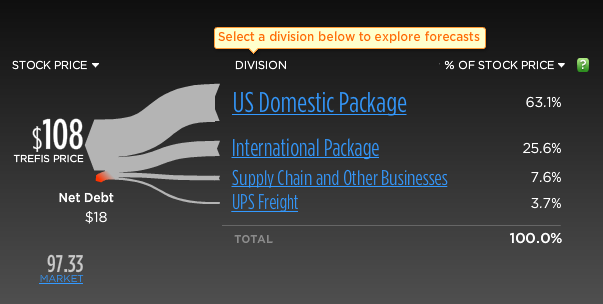 Growth Opportunities in Emerging Economies
Emerging economies present healthy growth prospects for UPS. The emerging economies are expected to exhibit higher growth compared to the developed economies. Economists estimate that 75% of the future growth has to come from the emerging economies between 2010 and 2025. In 2010, the emerging economies had a much smaller GDP of $23 trillion compared to the $40 trillion GDP of developed economies. This situation is expected to change in the coming years. Economists estimate that by 2015, the emerging economies are expected to have a higher GDP of $60 trillion compared to the $53 trillion of developed economies. UPS is growing its presence in the emerging markets to capitalize on the growth opportunities presented by these exploding markets.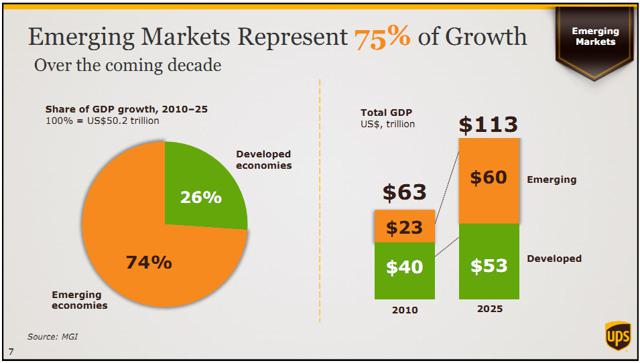 Click to enlarge
UPS's Growing Presence in the Emerging Markets
UPS has successfully increased its presence in the emerging markets in the past years and this helped UPS to diversify its exposure worldwide. In 2000, UPS derived 14% of its total revenue from the International segment. In 2014, the International segment produced 23% of the total revenue. The Supply Chain and Freight segment's share of total revenue grew from 5% to 16% over the same period. The proportion of revenue contributed by the US Domestic segment decreased from 81% to 61% during 2000-2014. Operating profit showed the same trend and UPS managed to grow its proportion of the operating profit from overseas markets during 2000-2014. As a dynamic company that is determined to capitalize on every growth opportunity and every opportunity to increase operational efficiency, UPS is in a good position to benefit from the exploding growth of the emerging markets.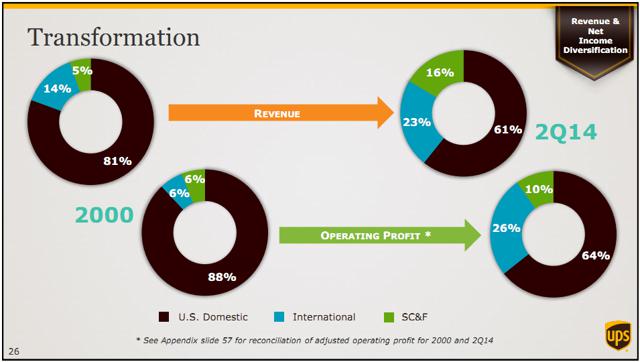 Click to enlarge
UPS started its international expansion in 1975 and it now operates in 220 countries and territories. In 2013, UPS extended the offering of its UPS Expedited products in 220 countries worldwide. UPS expanded its network in Vietnam by acquiring a joint venture company. During 2014, UPS worked to expand its package delivery network in Brazil.
Improving Return on Capital Employed
UPS has managed to improve return on invested capital (ROC) over the past few years. During 2009, the economy experienced numerous challenges and UPS's ROC fell to 15.2%. With the recovering US economy, UPS steadily improved its operating margin each year. In 2013, the company's ROC reached 27.6%. UPS is a cyclical stock but it has the strong ability to improve its financial performance with an improving operating cycle.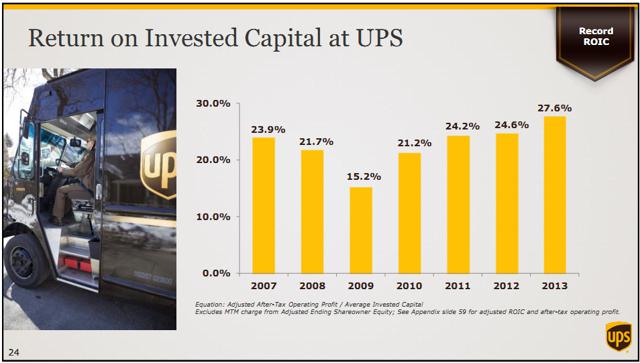 Click to enlarge
Leading Operating Efficiency Revealed in Leading Margins
UPS is a proactive enterprise that shows a continuous zeal to pursue opportunities to improve the efficiency of its operations. The company uses the latest technologies to help achieve this goal. As a result of this continuous effort, UPS managed to produce higher operating margins in small package parcel service compared to its rivals DHL, FedEx (NYSE:FDX) and TNT Express (TNTE).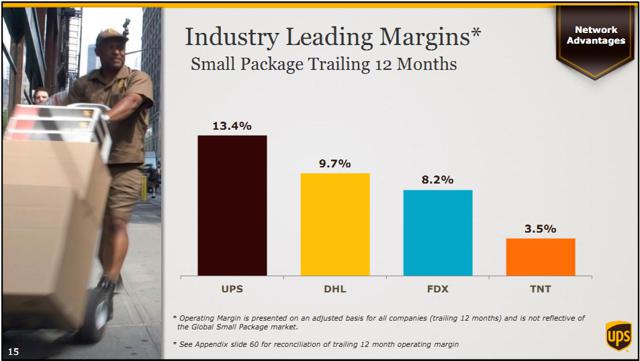 Click to enlarge
Consensus Target Price Reveals Attractive Upside
The consensus target price polled by Thomson/First Call shows UPS's shares are underpriced at their current price of $97.33. The mean target price is $109.43, which presents an upside of 12.4% at the current price. The median target price is $110 with an upside of 13%. The highest target price is $120 if realized and presents an upside of 23% at the current price level. The most conservative target price is above the current share price with positive upside of about 2%. There has been volatility in the stock in the past few months and the share price fell in the second half of July, which caused UPS's share to be undervalued. Investors should consider investing in UPS at current price level.

Relative Valuation
The price/earnings ratio shows that UPS's stock is undervalued compared to the industry and the sector but overvalued compared to the S&P 500. Once we incorporate growth in the P/E analysis, the PEG ratio shows that UPS's stock is undervalued compared to the industry and S&P 500 but overvalued compared to the sector. An analysis of the relative valuation indicates relative undervaluation at the current price.


Rewarding Shareholders
Apart from reinvesting strong cash flows, UPS shares its success with its shareholders. UPS has paid out increasing dividends for over 45 years. UPS's dividend has grown at a healthy CAGR of 10.3%. The company's stable financial performance over time makes UPS an attractive long-term investment and the current dip in price is a good opportunity for long-term investors to take a position in UPS's stock.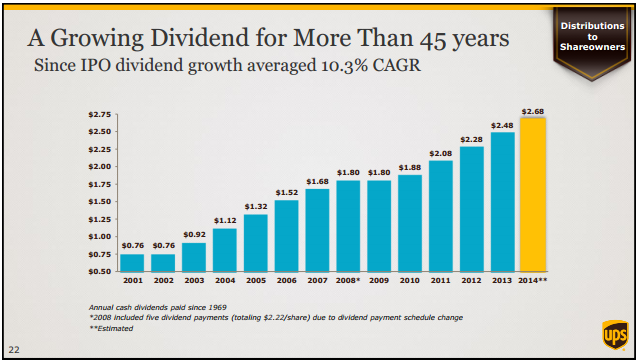 Conclusion
UPS is a dynamic company that consistently improves its operational efficiency and operating profits in the recent years. UPS is increasing its exposure in the emerging markets in order to capitalize on huge growth opportunities. The consensus target price reveals upside at the current price so investors should consider investing in UPS.
Disclosure: The author has no positions in any stocks mentioned, and no plans to initiate any positions within the next 72 hours.
The author wrote this article themselves, and it expresses their own opinions. The author is not receiving compensation for it (other than from Seeking Alpha). The author has no business relationship with any company whose stock is mentioned in this article.