Amazon (NASDAQ:AMZN) has recently rolled out a new offering straightforwardly-named Amazon Student. The service, offered to college students, includes one free year of Amazon Prime. While giving away a teaser membership to Prime is not a new strategy for Amazon, the duration is significantly expanded; students will get 12 months, while the general public is only offered a one-month free trial. The Prime membership, with a $79 annual cost, provides the customer with free 2-day shipping regardless of order size and an upgrade to overnight shipping for just $3.99 per item.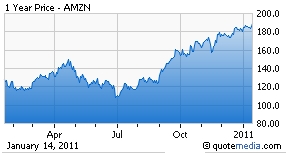 Amazon's generous shipping terms have always attracted customers. My experience selling through the Fulfillment-by-Amazon program (FBA) has provided insight into just how great of a deal it is for buyers and sellers. The only entity that pays for shipping for an FBA item is Amazon – both the buyer and seller enjoy not being charged for shipping. While these customer-friendly terms have surely contributed to Amazon's amazing revenue growth, the bottom-line costs are significant – and increasing.
During 2009, Amazon lost $849 million on shipping (this, and all figures, are according to the annual report for fiscal 2009). This amount includes all shipping revenues, including FBA fees and shipping charges paid by customers, and then subtracts Amazon's total "outbound shipping costs." In a void, that number may not seem alarming – after all, Amazon sold $24.5 billion in products and services during 2009. However, when compared to profit, it seems bigger, as Amazon's net income for 2009 was $902 million. Unfortunately, costs are increasing faster than revenue – in 2009, cost increased by 21% while revenue increased by only 11%, leading to a 35% year-over-year increase in net shipping cost (from $630m to $849m).
Amazon's explanation does not seem very reassuring; they state,
We seek to partially mitigate the costs of lowering prices over time through achieving higher sales volumes, negotiating better terms with our suppliers, and achieving better operating efficiencies.
However, the trend observed between 2007-2009 doesn't show any benefit from volume increases. The top line grew a total 65% over two years, and profits increased by 89% - but shipping loss increased by 95%.
While these figures may be considered trivial by bullish observers, I believe that they are meaningful enough to merit close observation and potentially concern shareholders. Amazon is attractive to customers for a few primary reasons: free shipping, no sales tax, and the ability to find almost anything in one place. Sellers, many using the FBA service, are attracted for the same reasons. But if Amazon has to take action to lose less money on shipping, implications could be significant. Squeezing sellers may force many to retreat back to individual websites or lower-fee marketplaces, which diminishes the one-stop shop appeal of Amazon to buyers. Increasing shipping fees – whether directly, by increasing the free cap to a $50 basket, by increasing the cost of a Prime membership, or in other ways – certainly makes Amazon a less compelling marketplace.
While the effects are impossible to quantify, I think that eBay's (NASDAQ:EBAY) struggles paint a bleak picture of the cost of losing the war for shoppers' wallets. After scaring away sellers (and buyers) due to unfriendly fee structures and policies, investors suffered; shares traded above $50 in 2005 and only fetch $30 today. Amazon benefitted, luring sellers (like me) and many displaced buyers to their marketplace. Now, Amazon needs to figure out how to simultaneously preserve its margins and internet retail dominance or the company, and its shareholders, may face similar consequences.
Disclosure: I have no positions in any stocks mentioned, and no plans to initiate any positions within the next 72 hours.