As I discussed here, TeliaSonera (OMX: TLSN, OTCPK:TLSNF) is in an excellent position to profit from smartphone growth in the Nordic and Baltic regions. Seven out of ten phone sales in this region are smartphones and due to the higher margins available on smartphones and their dataplans, this should generate increasing revenues and profits for TeliaSonera.
This article will examine the quantitative aspects of TeliaSonera – in particular, the large cash flows generated by this company.
In Q3 2010, the latest quarter for which data is available, TeliaSonera had a free cash flow of SEK 3,857 million.
click to enlarge images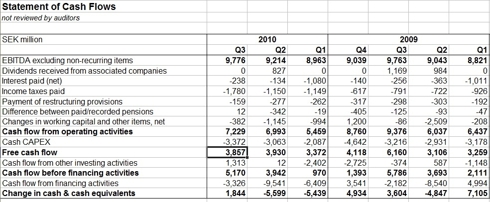 Click to enlarge
On January 16, 2011, the exchange rate was SEK 6.6594 to $1. Here is the cash flow chart when converted into US dollars: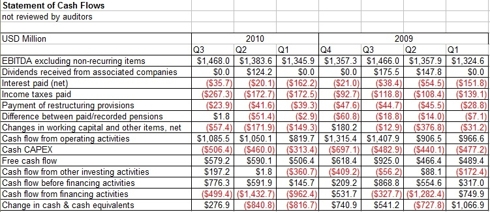 Click to enlarge
In recent quarters, the company has been increasing its capex spending. The company is in the process of rolling out an advanced 4G network in the Baltic countries and Finland – a process that would necessitate higher capex spending. The company has managed to increase or hold steady its free cash flow while simultaneously increasing its capex investments. This is a testament to its continued growth as well as the higher margins on smartphones and data packages. These revenues should increase over the next few years as the 4G rollout completes. That should also lead to increasing free cash flows due to the lesser need to spend heavily on capex.
Disclosure: I have no positions in any stocks mentioned, and no plans to initiate any positions within the next 72 hours.